Hey all,
I'm new to the planted tank hobby, and I've decided to start with a low-tech 30 gallon planted tank, which I might transition to high tech once I get more money. I was wondering if yall could give me pointers to the tank I wish to set up.
The Gear:
30 Gallon (36Lx12Wx16H) Tank
Aquatic Life T5 Dual HO 39W Light Fixture (I bought this light before I realized it was way to intense of a light, so I plan on dimming it to low-mid light with fiberglass window screens)
Marineland C160 Canister Filter (I'm going to make a DIY spraybar for this)
Jaeger 100W Heater, as it gets really cold here in Iowa
Substrate:
1-1.5 Inches of MGOCPS capped with 1 inch of red flourite
Aquascape/Hardscape
I plan on purchasing manzanita driftwood and using sand to make a layout inspired by this: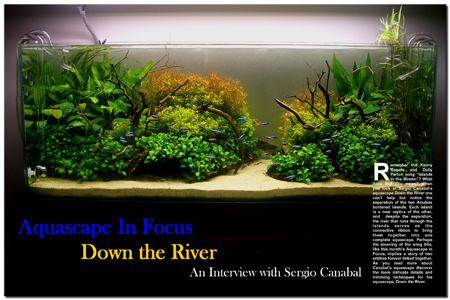 Plants:
I plan on using low-light plants that resemble the plants chosen by Sergio for his aquascape:
Foreground:
Anubias Nana v' Petite
Midground:
Hygrophilia (Haven't chosen what type)
Rotala Rotundifolia 'Green'
Background:
Hygrophilia (same as before)
Rotala Rotundifolia 'Red'
Fish:
Although I haven't decided on the fish yet, I know that for this tank, I want a single species schooling fish. I was thinking about doing 10-20 rummy-nose tetras or cardinal tetras (or maybe I could do 15 rummies and 15 cardinals?).
My questions to you:
I'm having trouble deciding how many of each plant I want to start the tank out with, how did you guys decide?
I was planning on dosing carbon with Excel and nutrients with the EI method, would that be overkill for a soil based tank?
Will putting 2-3 screens on my T5 fixture be enough to reduce the light to low/medium, as right now, using Hoppy's PAR charts, I'm at really really high light?
What other recommendations do you guys have?
Thanks all!