Discussion Starter
·
#1
·
I have everything I need for a 10 gallon tank just laying around the house. 15watt fluorescent tube, tank, kitty litter substrate, and plants. I've been reading up on emmersed setups lately, and I wanted to try my hand at it.
Where the tank will sit when finished.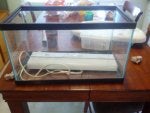 The tank and light.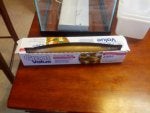 Plastic wrap to hold in humidity.
The substrate.
100% clay kitty litter.
After adding kitty litter and water(from an established tank)
More to come. Input appreciated.
Sent from my Galaxy Nexus using Tapatalk 2