Hello. Purchased my first my first
Ada Mini-S
tank. Really excited about having this on my desk.
SPECS:
Tank: Ada Mini-S
Light: Tom's 9 Watt (not in use in photo)
Substrate: Ada Colorado Sand + Fluval Stratum
Filter: Azoo Palm Filter (coming soon)
Hardscape:
Ada Wood (not sure what it is, but it's from Ada Japan apparently)
Manzanita branch
River rock
Mystery stone (also from Ada?)
Narrow Leaf Java
Flame Moss
X-mas Moss
*No CO2, but will be using Excel.
Fauna: To be determined...
---------
Here is the tank in the process of being setup. Sorry for the horrible photo.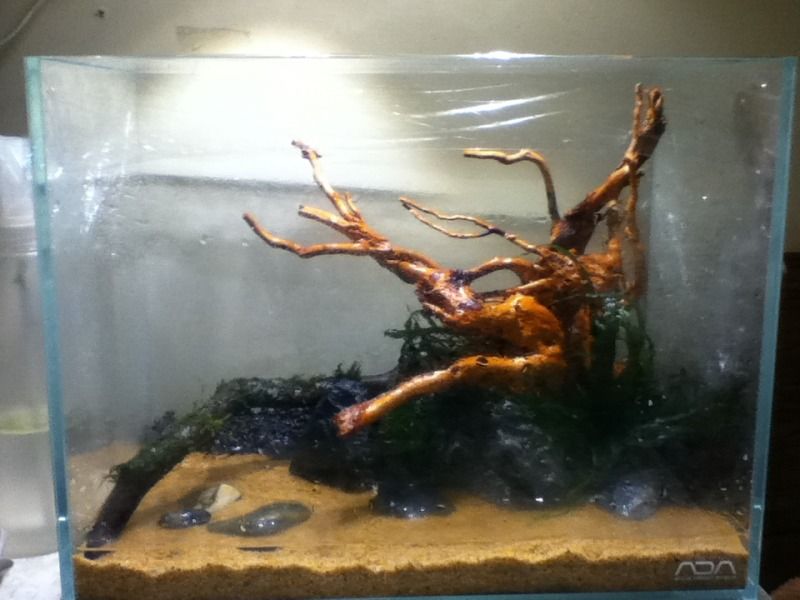 I think it may require a few more small ada rocks or big one. What do you think?
I added a manzanita branch covered with some christmas moss. I hope the ada wood stump will darken to match the manzanita. If not I will remove it. I am thinking fisseden or Xmas for the ADA stump, but just a little in the crevices.
Suggestions for a easy low/med light background plant? Rotala, stargrass? I want to fill the entire back area.
Midground, I have some 1 or 2 Blyxa Japonica I can use, but the plant tends to melt when I move them into new tanks. I have Anubias Nana as well, but not sure if I like the look of them in this setup.So far I have narrow leaf java and some flame moss planted.
Foreground, fisseden moss on the round stones (left) and I have a little marisilea I can use, but it's going to be pretty open I think.
Would love to hear your thoughts and suggestions on placement, plants, and whatever. I'm open to ideas.
Thanks.
P.S. Does anyone have anything to say for the EcoPico Led lights? I'm thinking of upgrading the light. I find the tom's too dark (not pictured).