Discussion Starter
·
#1
·
HI,
So I'm starting on my journey (technically already started) with the 75 Gallon that I got a great deal on Craigslist on. It has been running for about 5 weeks now and is starting to stabilize.
Lets get just the facts:
75Gallon tank standard dimensions
Pine (maybe) stand
Self built canopy (pine for sure
Filters:
Emperor 400 filter (on the left)
AquaTech 30-60 filter (on the right)
Heating:
2x very elCheapo 200W heaters
(Came with the tank no money to replace yet and they seems to be holding temperature as I set it so... if it ain't broke... yet)
Substrate:
30 lbs of Special Kitty litter for base (iron mostly)
150 lbs of Pool Filter Sand
Decorations:
3 rocks from my retention pond
1 piece of driftwood also from Craigslist
Miscellaneous river stones from "PetWhateve" big box store
Water:
Temp 80F
Hardnes ?? most likely pretty hard since it is Chicago area City water
PH: 7.6 at least that is how high my ph test goes would not be surprised if it is higher.
Fish:
7 x Tiger barb
6 x Otto
5 x Head and Tail Light Tetra
4 x Cherry Barb
1 x Angelfish
1 x Siamese White Cloud (schools with Head and tail light tetra... go figure)
1 x Amano Shrimp (He is my Loch Ness Monster because he hides well so if you can find him, you can probably find Nessie
Plants:
Hard to answer because I'm not 100% sure what they are but I'm sure you guys can help me figure it out
Thanks in advance.
Amazon Sword?
Crypt ??
Jungle Val (for sure
Red Ludwiga ??
Giant Something or other ??
+something that I'm letting float for a bit looks like weeping willow leaves (not on pictures yet)
The story:
I have a limited budget but I did get a 10gallon planted going with little trouble and that gave me the "bug" after a few years (read decade) out of the hobby.
So i found some 75 gal tanks on craigs list and with cash in hand started looking. Got one for $150 and had to do allot of cleaning and scraping to make it look like a fish tank (10+ hours) Then there was the stand which was pretty beat up and since it did not match my wife's Amish furniture it had to be refinished! Three days later it turned out OK at best (warning about Minwax Polyshades very hard to make it look OK on a large piece of wood) and then built a simple canopy of of pine boards.
Home depot electronic blasts and fluorescent lamp holders provided the equipment for lighting. it is a setup that uses 3 over-driven T8 Phillips daylight bulbs for an approximate total of 220 Watts of light. I mounted the whole thing in the canopy about 3 in off the glass tops. Made a flat reflector using some silver Mylar to help keep the light in the tank.
Over the weeks added the fish and plants and have gone through struggles to keep algae under control so I had to go down to 2 tubes for now and only 5 hr photo period as well as Flourish and Excel dosing and that helped allot. I'm still working on acquiring my Co2 setup but I have a commitment on a 10# tank from a local seller and a regulator shipping off Ebay. I still need a Needle Valve but that will take a bit of saving for and this weekend I made a drop checker. But enough of the rambling here are the pics so far.
Here it is at a week old or so: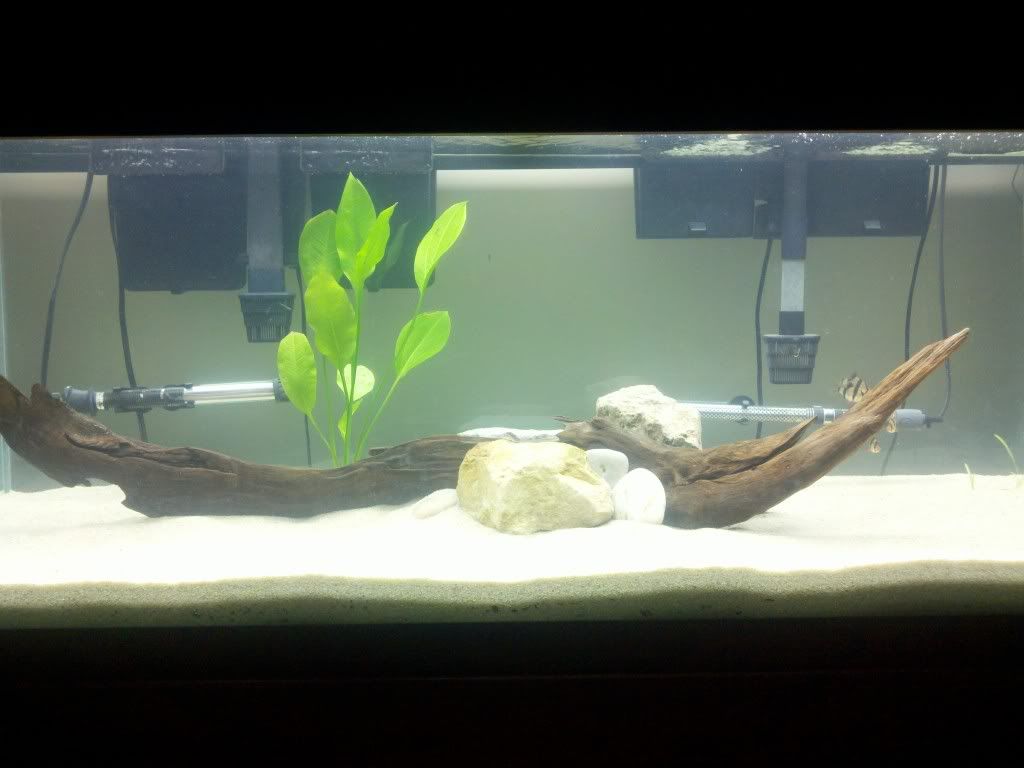 Whole Thing as of this post: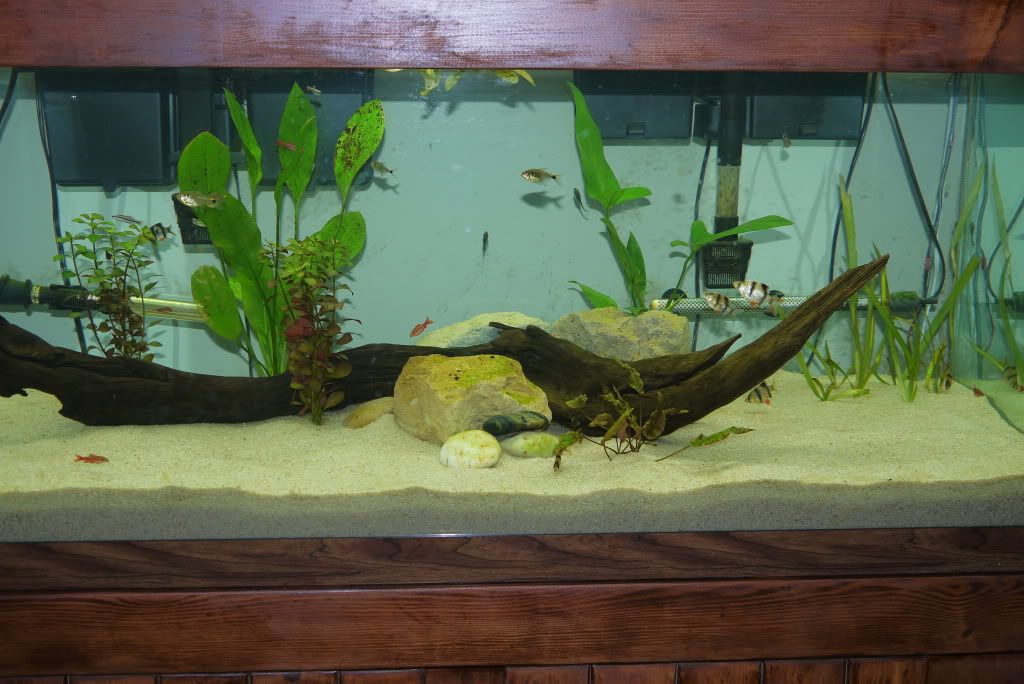 Left Side: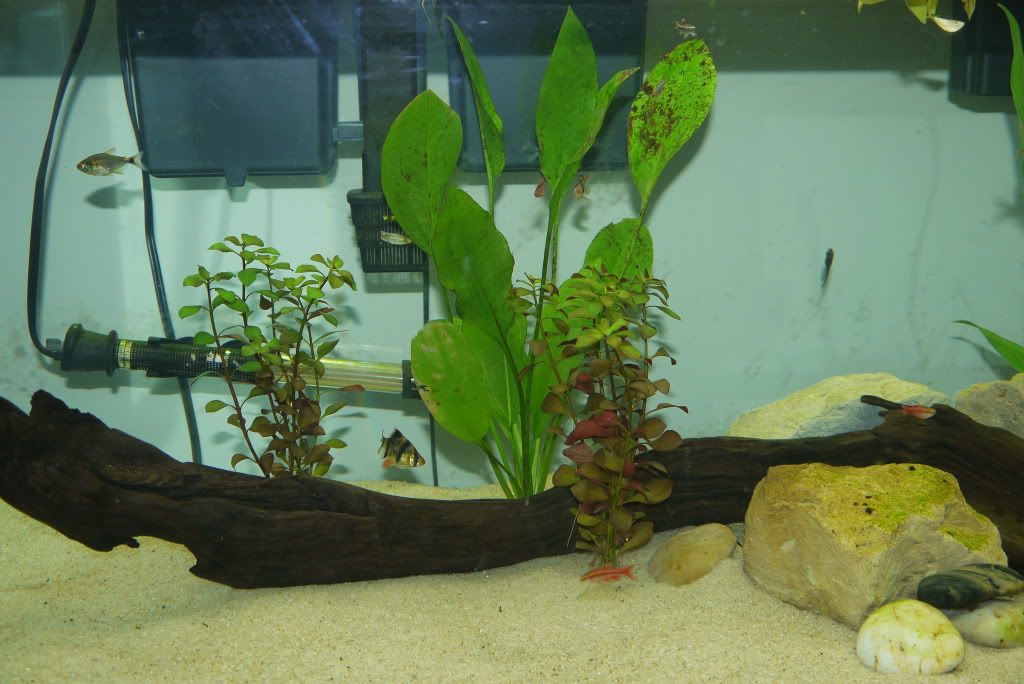 Middle: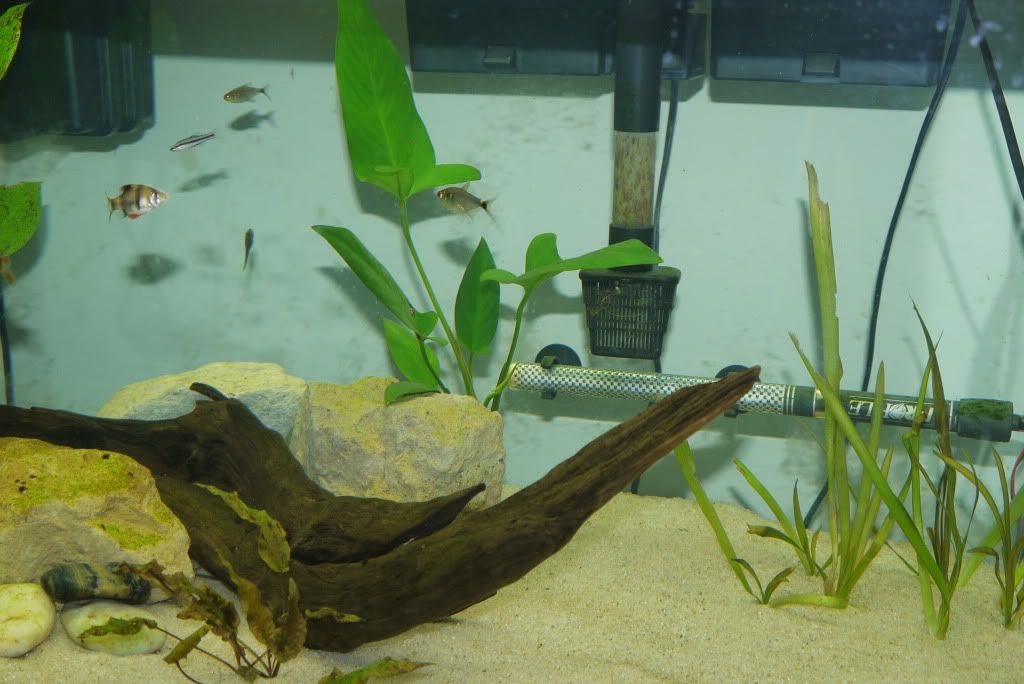 Middle focusing on the poor little plant: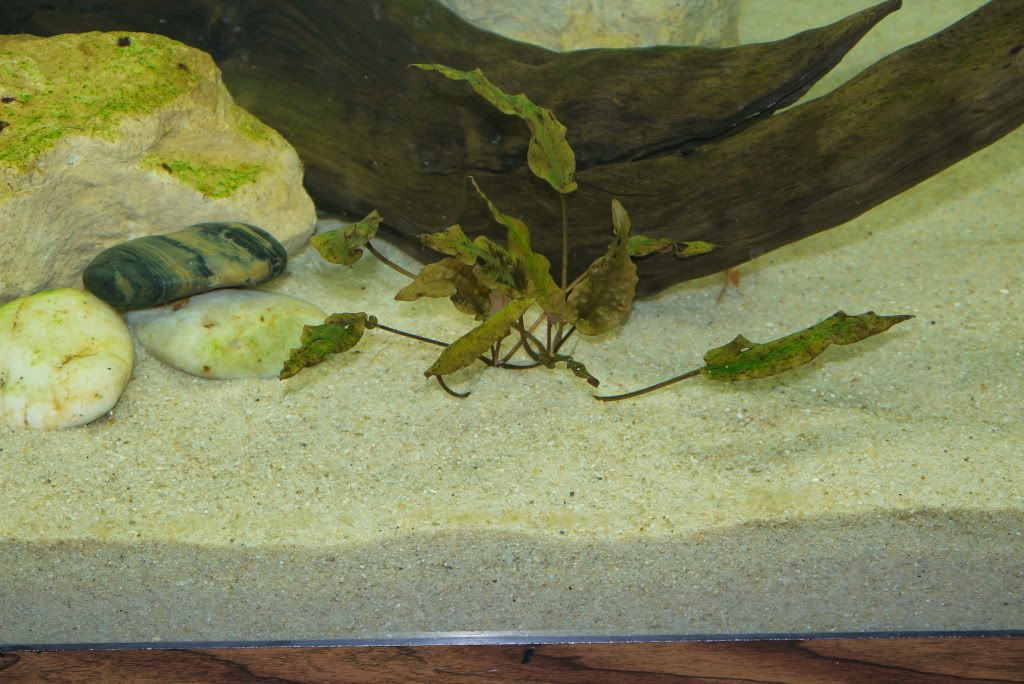 Right side: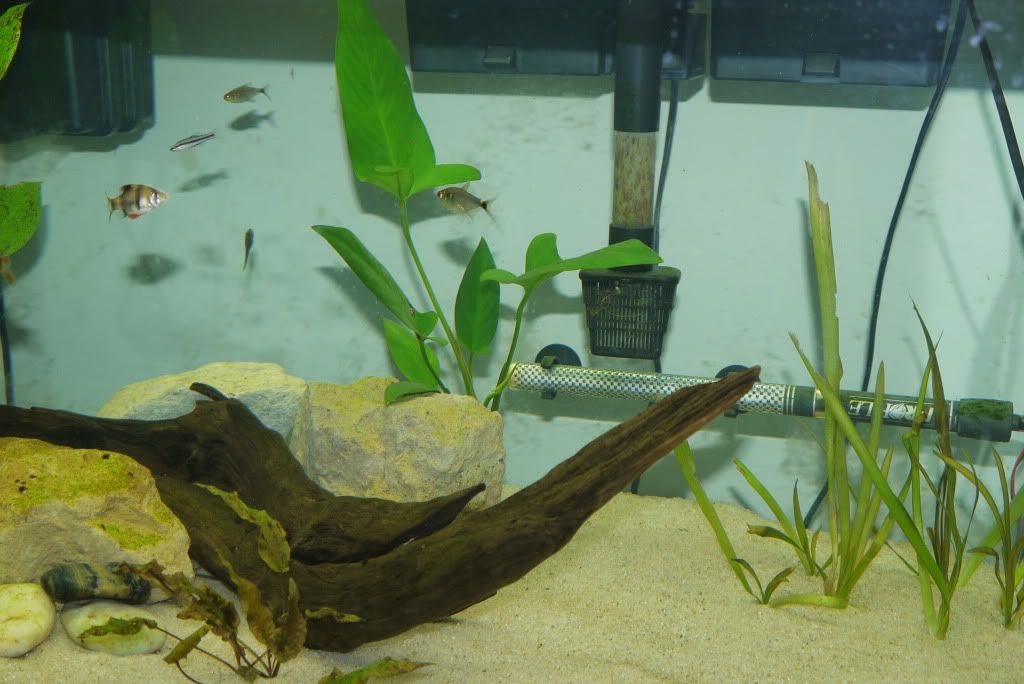 Will try to keep this up to date.