Since I'm rescaping my
10 gallon NPT
I'm taking the opportunity to establish my 5 gallon; my 2.5 gallon and another nano (which I haven't purchased yet) for my office desk. They will all be soil based substrates and I am eagerly awaiting my invitation to join the Fraternity of Dirt! And if my nano's don't get me inducted I purchases a 55 at the last $1 per gallon sale and am planning that for next summer!
So, on the tank specs.
5.5 Gallon tank
23w 6500K CF bulb set to a height that produces on the high end of the low-light range (low/med).
Soil based substrate.
I have a Tom's mini-internal already but I might opt for a HOB instead (read "almost definitely will").
No ferts; Glut as needed.
What should I cap with?
I have lots of extra 2mm pea gravel from my 10 gallon but I'd really like to use sand. What's everyone experience with sand on a nano?
My Theme
The tank will located in a place where three sides of the tank will be visible so I wanted the outsides of the tank to be mostly open. I have the two rocks (not perfect renditions), one is tall and almost goes above water (left stone); the stone that is more middle is more elongated and shorter (and will probably get a java fern on it.)
The stones are surround by three small groupings B. Monnieri which will be allowed to grow emergent. I'm considered mixing in another thin stemmed emergent plant as well. This side of the tank will be openly visible and carpeted with some S. Subulata.
Moving right I transition to some bushier plants with the Lutea and Tropica. Their height will be softened by the emergent Bacopa and Sagittaria.
The right side of the tank which will be the "closed" side, will be carpeted with pygmy chain swords; this will give a contrast to the slightly taller subulata and will also give a bit more depth with the floating/emersed Hydrocotlye above.
I'm debating putting a couple small groups of E. Najas in the corners to fill in the space a bit and create a bit of a bushier zone to keep this side of the tank from being to open. Another possibility would be to plant some C. Willisii along the right side to create the same effect. The advantages of the Najas is that is grows fast but this could also be a disadvantage. The Cyrpt, of course grows more slowly. So If my current plant selection is fast growing enough to ward of algae and establish the tank then maybe I'll just go with the Crypt.
My Layout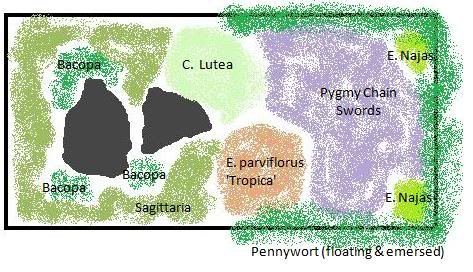 The Fauna
I'm not really sure what I want to go with and am very open to suggests here. After reading about Dwarf Puffers I'd really like to get one but I don't think this layout is especially built for them so perhaps my next 5 gallon will be more jungle-like. Betta's are always great and I think this would be a great fit for one but I already have a betta so some variety might be in order. My 10 Gallon is going to have either H. Rasboras or Cherry Barbs. So if I go with barbs in the 10 I can go with Rasboras here.
Any suggestions on shrimp or fiddler crabs (especially if I go with a sand substrate cap)?