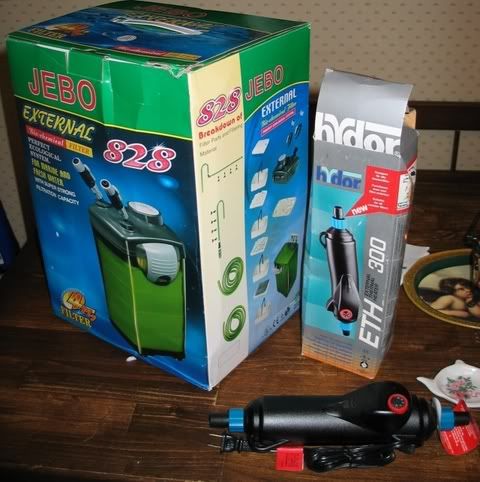 Unit Model: Jebo 828
Company: Zhongshan Zhenhua Aquatic Accessories Co., LTD.
Power Consumption: 28W
Rated flow: 1200 L/h (~317gph)
Price: $68
Accuracy, not Attitude
Disclaimer- I'm a pretty average guy when it comes to intelligence, mechanical ability and the sort of talent it takes to evaluate a piece of aquarium gear. My experience is also limited- I have owned a whole two canister filters to date. The Jebo is one of them. I'm sure I might have a different impression about some of Jebo's virtues/weaknesses if I had used a wider variety of product. So please bear that in mind while reading this review. If I missed anything, and you're a Jebo owner that can enhance this review with your experience, feel free to post comment. I've really tried to be fair-minded and factual, I have no axe to grind, and I see no value in presenting anyone with my "attitude"- it only damages the hobby. So any errors, omissions or other inaccuracies are honest mistakes. I hope anyone else who contributes will do so in the same spirit.
Jebo lists 4 models: the 825, 828, 835 & 838. The latter 2 models lack the translucent green housing, but appear the same otherwise. No other information about those models was provided. Maybe they run on European voltage. I'm guessing.
The box came delivered "pre-textured" from UPS, but all appeared to be well inside. My other canister is the Filstar XP-1, and I was surprised by the sheer size of the 828. It could have swallowed a pair of XP-1s and burped afterward. The 828 has the really nice facsimile-Eheim green color. This is not a coincidence. I saw a photo of an Eheim Pro II the other day. That's very similar to what the Jebo looks like, especially due to the large round priming button.