Discussion Starter
·
#1
·
2 weeks ago, I started using EI with a liquid mix approach, and wanted to get a second (or third) opinion on the amounts and method I am using.
The tank is a 75 gal, with mainly crypts, some java fern (narrow, windelev, and normal), red lotus, and one e tennelis sword just hanging on. Lighting is a fishneedit T5 fixture with a pair of 54 watt bulbs roughly 6 inches over the tank. It has CO2 via a reactor in line with the eheim 2028 filter. Substrate is aquarium gravel with laterite, and root tabs.
In early August/Late July, there was a huge bloom of BBA, which turned out to be low CO2, which I have since increased, and subsequently seen a drastic reduction in the BBA. The next thing was a bloom of BGA which covered everything on the left side of the tank (end of tank away from filter return). At that time, I was just using Flourish once per week. After doing some research on the BGA and the growth in the tank, it sounded like two main issues were lack of iron and nitrate. This brought me to EI.
I measured out the following amount of ingredients, then added water so that it provided 4 weeks worth of doses.
daily -
1/4 Tsp KNO3
1/16 Tsp KH2PO4
1/16 Tsp K2SO4
Based on 3 doses per week I came up with the following:
3 Tsp KNO3
3/4 Tsp KH2PO4
3/4 Tsp K2SO4
I then added enough water to make a 12oz solution, of which 1 oz is dosed Sun, Tues, Thurs. On Mon, Wed, Fri, I am adding a capful of florish, and florish iron.
In the 2 1/2 weeks since this started, the BGA is significantly reduced, there does not seem to be any new growth in the BBA, and some of the plants are starting to grow again. However, the Rotala is still sending out stunted leaves. The Red Lotus are sending up new leaves daily.
Some Pics (lousy) taken just prior to starting EI.
Left Side:
Center:
Right Side: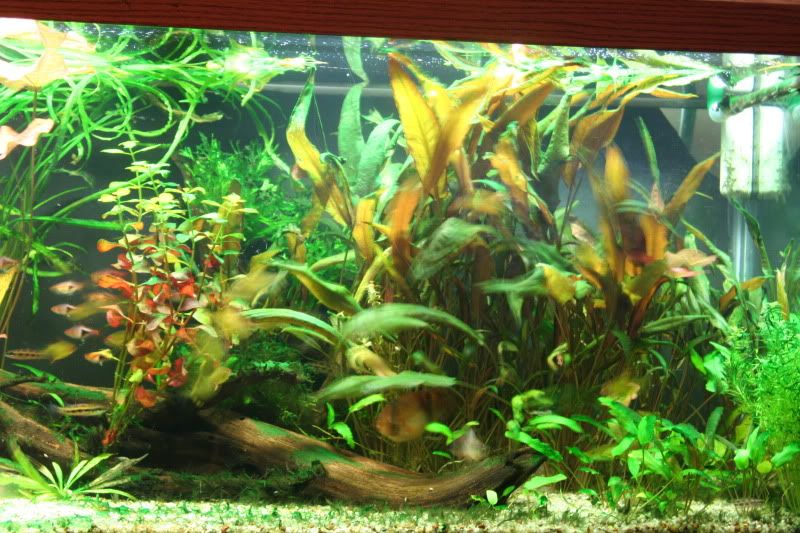 It feels like the tank is going in the right direction, but I'd appreciate any advice that one might have.
Thanks
nodima