Current photo:
March 2015: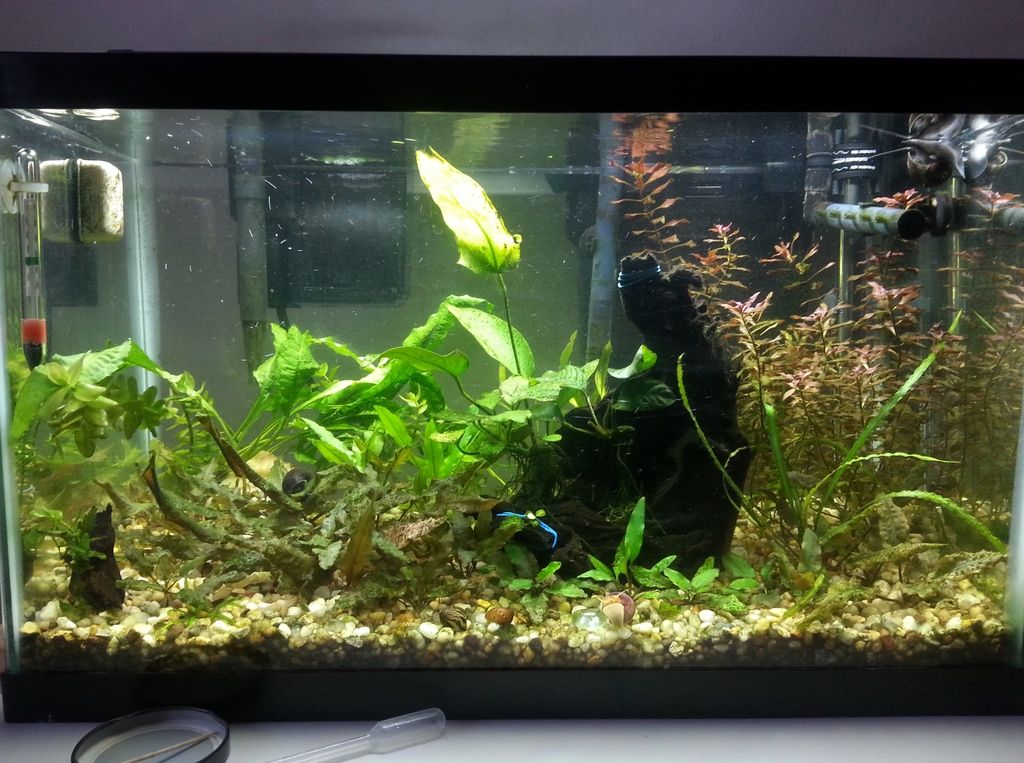 ~~~~~~~~~~~~~~~~~~~~~~~~~~~~~~~~~~~~~~~~~~~~~~~~~~~~~~~~~~~~~~~~~~~~
Hey everyone,
I'm looking for some advice on a tank I just set up, a 10g with a few fish and plants that were scavenged from previous tanks. It's only my second planted tank (the first was one of the ones I took the stuff from) and I want to keep the hardware fairly minimal. So... here's what I got:
Plants:
corkscrew vals
Cryptocorynes (wendtii and spiralis)
Anubias nana
dwarf sagittaria
Fish:
Krib (one grumpy dude)
Australian Rainbowfish (the only egg-layer fry I've ever successfully raised)
Upside-down catfish (Synodontis sp.)
Setup:
10 gal tank
2.5 inches of 4mm gravel
7000k led lighting
Finnex PX-360 filter (brand spankin' new)
I got the canister filter to replace a little overhanging one because I figured my bioload was pretty high and the increased flow would help keep the cyanobacteria down. However, I'm thinking about adding some other fish to help keep the Krib from beating up the rainbow fish, maybe some zebra danios or rosy barbs.
I also want to get more Crypts and Sags to fill in the foreground, so this tank is very much a work in progress. Stay tuned!