Discussion Starter
·
#1
·
I scored a couple of 55 gal tanks for half-price and wanted to make stands for them. Initially the tanks go on top of the stands, but I built bottom shelves capable of holding two more tanks if I want to add them down the road.
These are built out of 1-1/4" 11ga square tube, welded with a HF 220v MIG welder, finished with rattle can primer and hammer texture black paint, and will get a stained pine top with a beeswax coating for waterproofing.
This was a long hot weekend project. Like near record heat. There isn't much air circulation in my welding area, and with heavy pants, welding leathers, heavy gloves, respirator, safety glasses, a welding hood, and ear plugs it was downright uncomfortable. Lots of water and frequent breaks. I was a little grumpy from the heat so I didn't break out the DSLR camera, the photos aren't that great.
Shown below is the square tube I used. The good folks at Metal Distributors in Ft Collins cut it into 6ft sections. These ship in 24 ft lengths, so buying full sticks and having them cut gets a better price. Most of the pieces of the frame are around four feet or a little less than two feet, so the six foot length is a good cut-to-carry size. The 16ga tubing flexed under its own weight a little, so I paid almost 3x for the 11ga.
For adjustable feet the stand uses 1" nuts and bolts. The local farm store sells grade-5 hardware that isn't galvanized so I used that. The photo below shows them assembled, and coated with cooking oil to protect them from weld splatter.
The nuts get welded on with the bolt in place to make sure it stays square. A little shim under the tubing helps support for the weld.
Below are all eight legs with the feet installed, and prepped for the next step.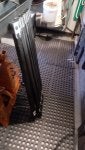 Things need to be really really square for holding this much weight. I usually just hold square with one hand, and weld with the other. In this case I clamped a brace in place, tacked one side of the tube, then laid a bead on the other side.
The resulting 4ft sections are shown below. The long piece that holds the length of the tank is capped on the leg to avoid a shear load on the weld. The bottom tank support is just over the width of the tank so a new tank can slide straight in the opening. The bottom support is welded in at 90 deg to the leg.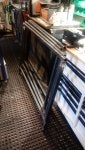 Besides being square, the tubing needs to absolutely flat. I used a very thick and straight piece of steel to clamp everything in place. The steel alignment bar is where the edge of the tank will sit. I ground the weld bead flat.
More to follow . . . .