Discussion Starter
·
#1
·
So: research, research (see the
DIY LED FAQ
about all that mess), blah, blah, purchase, wait... BUILD! Woohoo! I'm working on this in my living room, by the way - I do not have a shop or any other space that works for this. Time becomes a huge issue, as my wife gets pretty annoyed with the mess and the odors of my gadgetry. I have to work quickly and efficiently to keep the peace
As for the heat sink, some might feel it's not rightly DIY as it isn't built from whatever hunk of aluminum I could find, and they're partly right. I feel that this is more of an LED hobby kit than a proper DIY, but no worries
It's still an awesome light!
The basic design is 2x18" heat sinks with 28 white Cree XT-E LEDs and 6 Bridgelux Moonlights all with 60 degree optics for an ADA 120P. I plan to hang this about 10"-12" above my tank. I went with
[email protected]
" sections rather than
[email protected]
" in case I wanted to downgrade these lights in the future for say, a 90-P. This setup is totally modular, so I can replace anything or tear it down and start over again.
I am using a DIM4 Controller for sunrise and sunset effects. I'm using 2 Inventronics 40W 700mA dimmable drivers (one for each Cool White and Neutral White), and the moonlights will be driven by the DIM4. Things I added are 2x12' medium duty extension cord for power to the drivers, one 8' section of 3/4" u-channel aluminum for joining and hanging the fixture, various nuts, bolts, eyebolts, wires, 60/40 solder, rubber grommets, heat shrink, plastic conduit, 1/4" clear acrylic sheet, sweat, and a little cursing here and there.
Pre-tinning my emitters and wires, to make assembly smooth and efficient: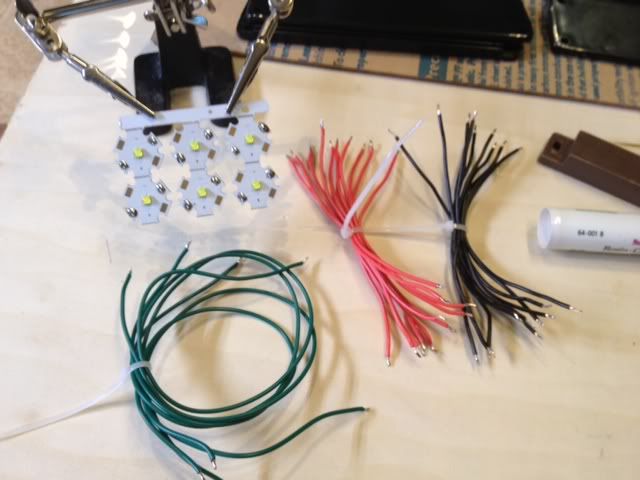 Here's the heat sink. It's really a pretty gorgeous piece of aluminum. many might just be ok with a regular heat sink, but I really like the rugged construction, utility, and polish of this setup. It comes with plastic caps for the ends that can be drilled for wire access, etc. You'll see as I go along what I did with mine.
There I was lining the grooves with my bolts to get my pattern laid out. I had already drawn up a good diagram of how I wanted to lay out and wire the thing, so this was pretty easy. It was time consuming putting vinyl washers and nuts on the bolts. Ugh.
I also labeled each spot with the direction I wanted to mount the leads, so everything lined up smoothly. More on that adventure later. I used a wet-erase marker, and just wiped it off with alcohol and a paper towel.
I started to attach the emitters, one color at a time: Cool White, Neutral White, and Royal Blue for moonlights:
A dab of thermal grease to smooth things out...
...and ta-daaa!
I apparently didn't get any shots of the wiring process, but suffice it to say, It was relatively swift. My one hangup was when I decided to drive each color independently, so I replotted my wiring. This led to space issues when it came to my drivers. I originally didn't want to keep the drivers on the light itself, but necessity dictated that I do so. It works out ok, but the light weighs about 20 pounds now, haha... hanging this might be fun. So, the drivers for the cool white are on one heat sink, and the driver for the neutral white are on the other. This meant I had to creatively deal with hiding wires. Here's what I came up with.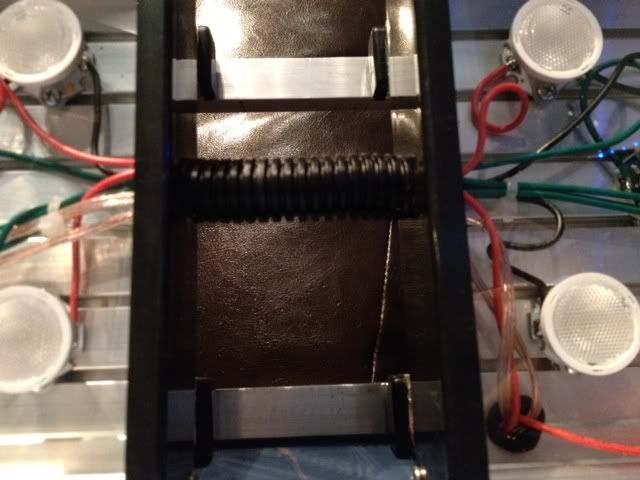 I drilled through the base of the heat sink to the top and grommeted the hole with a rubber wiring grommet to prevent shredding of the wires. I did this for both heat sinks. The wires go up to the top and straight to the driver. I did this on the back for the power cords, too.
I don't have pics of my first power-up as that was when I had my first round of fervent cursing. I had wired one heat sink's cool whites to the other heat sink's neutral whites. D'oh! There goes my nice and neat color coding for my lights. the solution I chose was much more time and patience friendly. I just switched a few connections, and presto!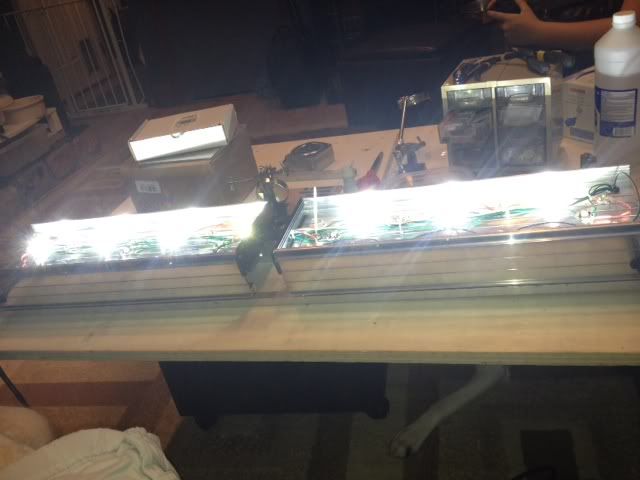 And with the neutral whites added in: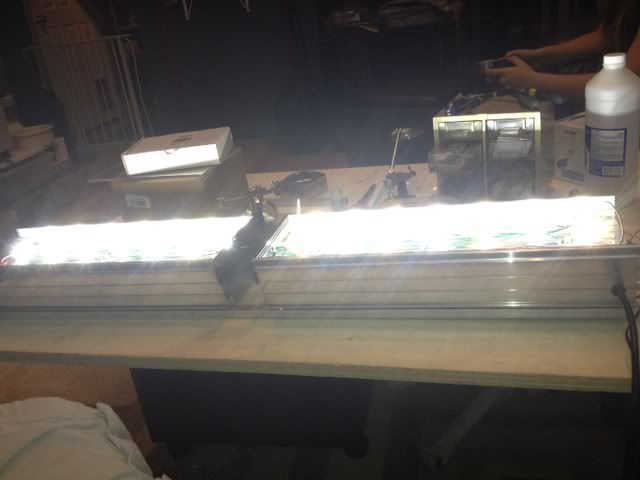 Here's a look at how the drivers, fans, and controllers are set up. The fan on the left is without a housing, temporarily. It was forgotten in packaging :icon_redf
A shot down the long edge so you can see how the wiring is hidden, as well as the end caps for the heat sink. The DIM4 is fastened to a 1/4" sheet of acrylic, and slid into the gap above the heat sink fins. I didn't enclose it as it needs to be cooled as well. I might figure something out for that though. For now, it's accessible and safe from water.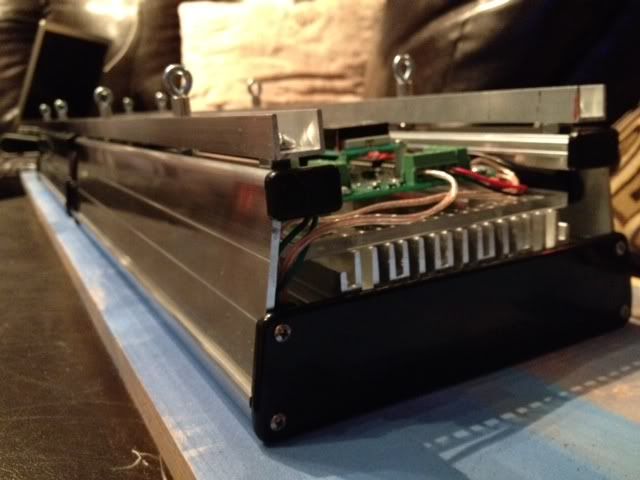 A shot of the emitters and wacky wiring: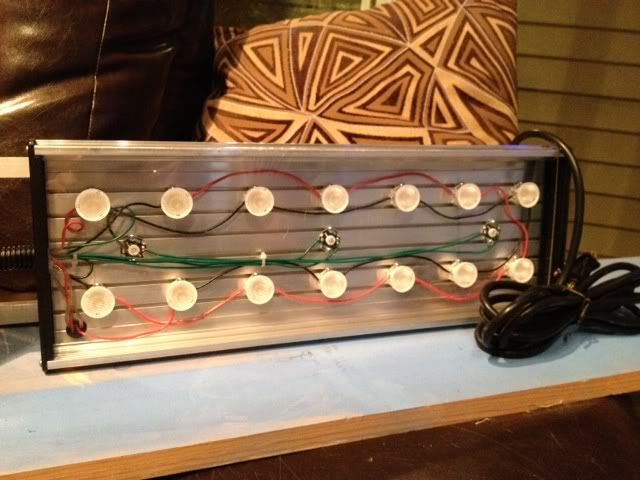 A final shot from the front, with sleepy puppy:
I would absolutely buy this kit again. It is super versatile and made assembly mostly painless. Best of all, it looks great - I can't wait to see it over my tank! I just need to wait on an A/C adapter for the DIM4 (the one I have is a little short on current to support all my gadgets at once), and the fan housing from
LED Group Buy
.