Discussion Starter
·
#1
·
I would like to start out by saying thanks to all the members here. I've never posted anything before however I have read many articles and gotten a lot of inspiration from this site. That being said thought I would share this week's project for anyone who was interested.
Couple weeks ago I upgraded the lighting in my 75G. Guess my Amazon swords really liked it because both of them became mother plants at this time. Not being able to bare cutting them back I watched as more and more babies sprouted off the shoots. (ended up with about 20) :icon_eek: Anybody in SC need some Amazon swords? Gotta get rid of them before they outgrow there tank.
Wow turning into a full novel of a story here........
Anyway was stuck needing a place to put these untill they get a bit bigger. In comes my 10 gallon. Only one problem the lighting is horrible and it's xmas season so kinda short on cash. I wanted to keep the hood low profile by using the stock hood. So went to HD and picked up two 18watt Compacts. All the other pieces I had on hand but i'm sure one could pick them up for under 40 bucks. Now to retrofit them.
Here's the original hood
(tried some twists but no good bulbs would fit)
Here's the new bulbs
6500K full spectrum
Gutted the light fixture. Will end up keeping the fixture itself and the reflector.
40mm fans scavenged from an old hard drive cooler.
Had some blue LED's left over from Moonlight Xmas presents I had made some friends. Got them really cheap on e-bay. Just remember to diffuse them first or you will end up with blue spot lights.
To power the fans and LED's I scavenged a 12V power adapter from an old keyboard. (To adapt the LED's a resister must be used - 330ohms)
Now the tricky part to power the lights themselves. I pried open two 19watt twist style power compacts and robbed the ballasts out of them. (IF YOU DO THIS REMEMBER DO NOT BREAK THE GLASS THERE IS MERCURY IN THERE and that's bad ummmkay).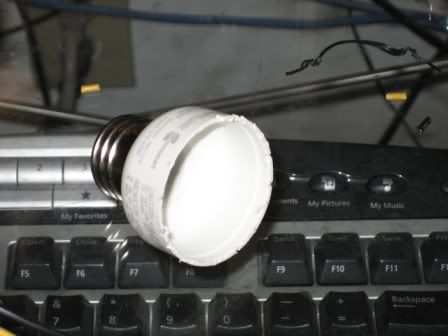 Here's the ballast
These are great because they are designed to operate in a small very hot space. And the bulbs cost about 2 bucks each.
roud:
Now that i had all my parts time to cram them into the hood
First the Fans and LED's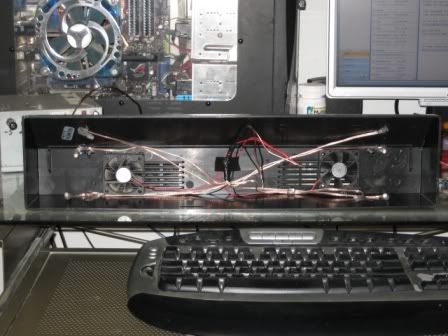 Used a hot glue gun to hold everything in place and dampen the vibration from the fans. This also allowed me to insulate all of my connections from any water that may get into the hood.
To attack the ballasts to the bulbs I salvaged some molex connectors from an old power supply (was very pleased to see how well they fit)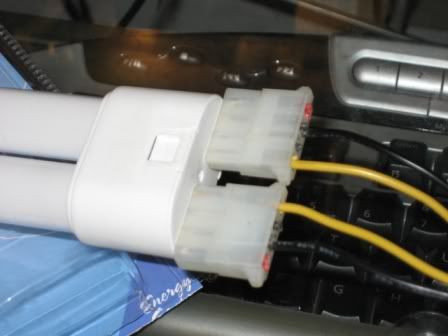 The outputs from the ballast where as follows. Starting from the bottom connection in the picture up 1,2,3,4 repeat for other bulb.
A quick test to see if they fired
Yippie we have light.
Attached the ballasts to the hood with some hot glue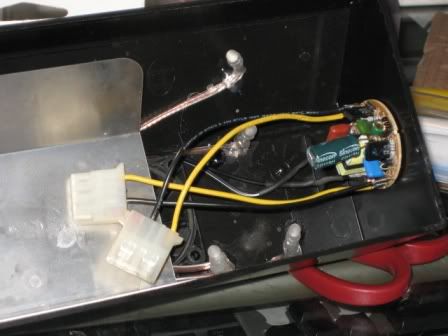 Then installed the bulbs
All lit up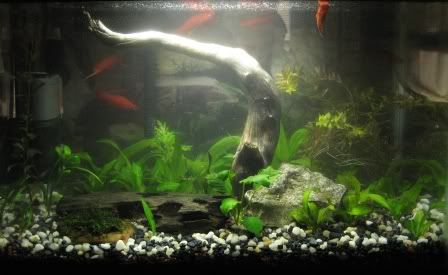 Need to work on spacing the bulbs out a bit more. Got them to close to center but it will work for now.
Testing with a light meter I was able to get 400 lux at a distance of 20inches before. After, at the same distance, I got 1300 Lux. Not to bad for 15 bucks in bulbs.