This is my first semi-large tank. I currently have a 10G planted that I will use all of the plants from in addition to the plants I have bought on our S&S (thanks TexGal!). I will also be transfering the fish from my 10G to get this 50G started while I redo my 10G with MTS and PFS.
I have my Rex Griggs style reactor already inline with my CO2 inlet blocked until I get my tank filled. Just wanted to do a bit more research before hooking it up.
The driftwood is Mopani in case anyone is interested.
Dimensions:
48 x 13 x 18 (same as 55G only 2" less tall)
Substrate:
Mineralized Top Soil topped with pool filter sand
Lighting:
2 x 24" 19W T8 factory fluorescent fixtures with 15W bulbs
1 x 48" 56W T5 Coralife Fixture with 1 28W 6700K bulb and 1 28W Colormax Full-Spectrum bulb
I may be swapping the full-spectrum bulb later per our lighting guru's advice (Hoppy)
CO2:
10lb tank with regulator, needle valve, and reactor (not yet hooked up)
Ferts:
EI dosing with ferts from GLA (thanks Orlando!)
Filtration:
Marineland Magnum 350 canister filter with DIY spray bar across top of tank
Heater:
Marineland Stealth 200W
Updated stock:
20 Rummy Nose Tetras
1 Neon Tetra
4 Tequila Sunrise Guppies
6 Ottos
Sorry for the low quality camera phone pics. I will get more once it clears up. It has only been full for about 2 hours so far.
Any and all comments are welcome.
Cloudy shot of the front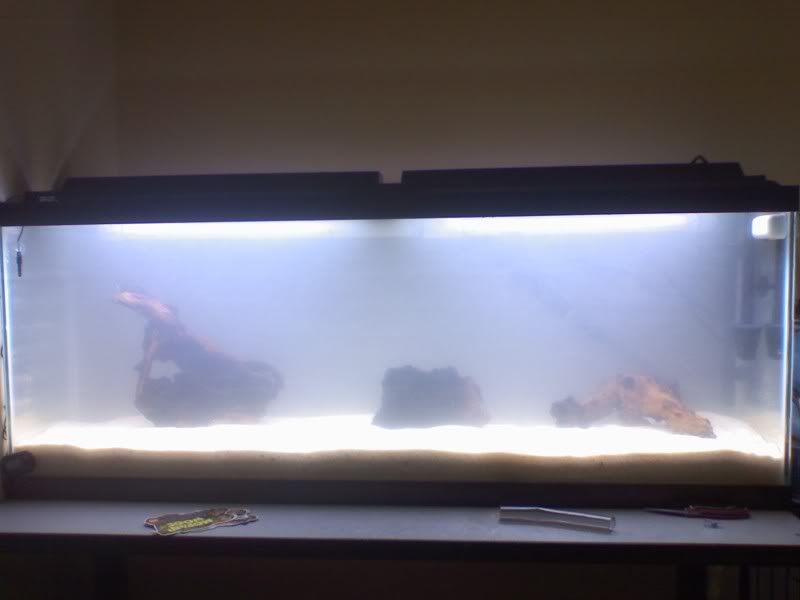 Top of tank
My reactor