All have ben sold, thank you very much!
Rescaped the tank this afternoon, so I have quite a few nice plants to sell! I would love to sell them in a group if at all possible.
I have:
1 large Amazon Sword (also pictured on the left in my sig.)
baby plantlet (about 4 inches tall) from the above mentioned Sword
Dwarf Hairgrass, Eleocharis acicularis I bought three pots from aquariumplants.com (at 3.19 each!), this is all of it, plus a little bit of growth. The hairgrass has a bit of a brownish algae on it, as I planted it incorrectly, and didn't separate/space it enough
4 Argentine Sword plants (also pictured on the right in my sig bar.)
Nymphaea zenkeri (Red Tiger Lotus) Also purchased from aquariumplants.com, has 2 leaves already, and has sent out about 4 surface leaves (I have trimmed them as per instructions)
Ludwigia repens, 13 or so stems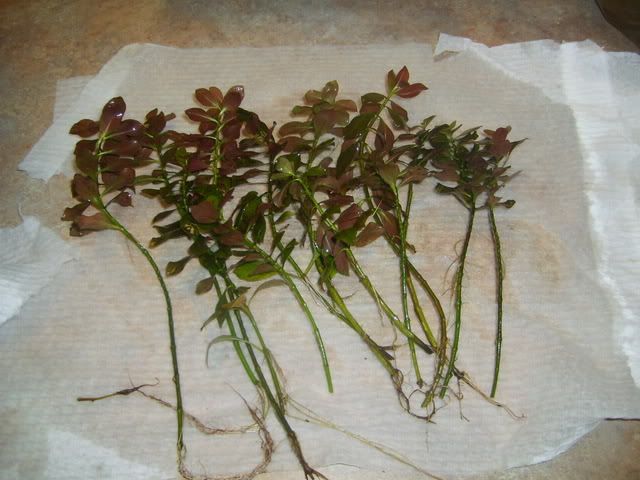 Tropica Fern Plantlets some still on leaves (although I have read they do not look like the parent plant when mature)
I would like to get 22.00 for the whole package, shipped via priority mail, I will ship on Monday or Tuesday. I will split the package up for 4.00 plus 4.00shipping for each plant group, except the hairgrass, it would be 6.00 plus 4.00 shipping.
I accept all types of paypal, or postal Money Order.
I do have snails in my aquarium, some pond snails, MTS and Ramshorn, if you do not treat the plants you might too
I can be reached at mrsmelissage @ msn.com (remove spaces), please post a reply to this thread and send me either an email or Pm if interested! Thanks so much!