Discussion Starter
·
#1
·
I really like my last custom light fixture, and I'd like to build on the concept for my 58 gallon. Tank dimensions are 36"L 18"W 21"H, and the light will suspended.
My goals are good coverage, manageable full time light output, the ability to burst high light, and LED shimmer.
Here is what I came up with.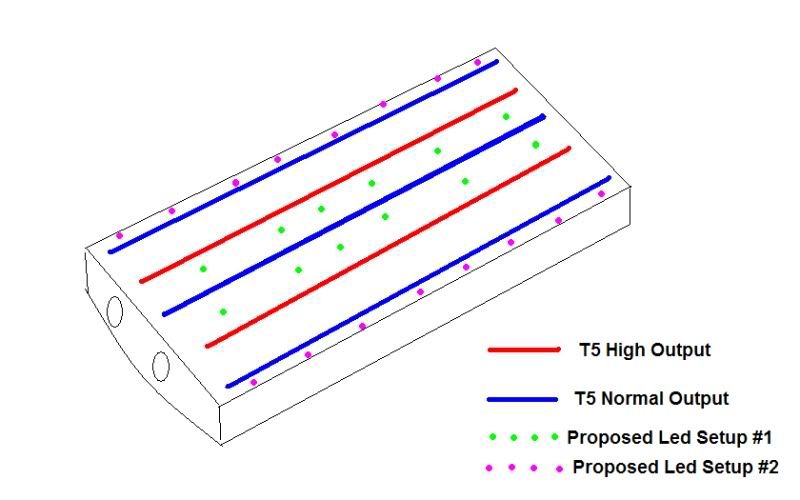 I plan on Icecap SLRs for all T5 bulbs, NO & HO.
I'd like to do a combo of T5NO and T5HO. I was planning on T5NO on for the either the full photoperiod, or off for 4 hours while the T5HO burst. This way, I can keep my PAR down, still have a decent window of time to view the tank, (hate 7 hr. photoperiods!) and have full penetration/light intensity.
I want the LED shimmer effect, in addition to the color rendition of T5 tubes. As seen above, I've come up with a couple proposed locations for LEDs. Any of the LED gurus here *cough*Evilc66, Hoppy*cough* have input for location and size/type? I was thinking of 1W Luxeon or Cree, but was curious if SMDs would work for what I want. I'm not planning on using the LEDs to boost par, just for shimmer. Something pre-made (
like this
) would be awesome, as I don't know how to solder.
If anyone has any input, please share!