Hey all, thanks for reading another of my journals. This tank has come a long way, and I'd like to preface the whole story of this tank with a full tank shot that I'll keep pretty current.
------- The journey from the beginning.
I've been saving this for a weekend project, and a lot of my business just cleared up, so I can finally get to this!
I've recently started an 18" long 2.5 gal tank and it has sucked up my time and resources, but it is set up and has fauna in it now. But now this tank will be my focus for a while!
So if you don't know the dimensions of a Fluval Spec, it is almost awkwardly tall.
Roughly 10" tall, 6" deep and 7" across. Something like that.
I'll have some rocks to work with
And some driftwood
And of course the tank, which will be a clean slate. No plants, removing this gravel and cleaning the tank up.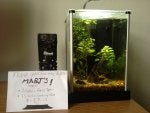 Basically I'll be working with a cycled this:
Finally, I hope to keep nerites, ramshorns and only CRS in this tank.