Ok everyone, i've kept with the same scape for awhile now, but its getting kinda old for me so here's the deal. First off, opinions/ideas/rants on my tank are encourage and welcomed, what would you do, what do you think etc etc.
Secondly, i've never officially named or had a theme of any form for my tank and I think it's time. Here's your chance to take part in someone else's tank other than your own (yeah, i'm sure we all need that burden
). If anyone would like to name this tank, put it down and lets see what we come up with! If's there's any questions about anything, I'll do my absolute best to asnswer. We'll go from there.
Thanks ahead of time!
Brad/snoz0r
To the goods, this is what it currently looks like as of 1-7-10 so you know what we're working with: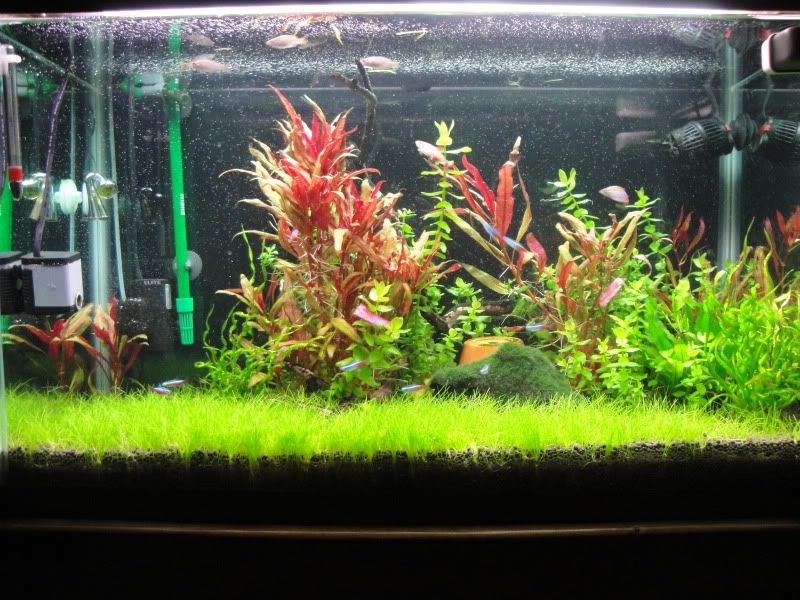 as per request, a few details about the tank, any and all other information can be found in tank journal via signature pic:
Specs:
Filtration/Flow: Eheim ECCO 2234 with Eheim SubstratPro, Hydor Koralia Nano
Lighting:
2 Coralife 30" Double Light's. 2 (10,000k) and 2 (6700k). 72W Total.
Heating:
Hydor ETH 201 Inline
Substrate:
1 1/2 9 Liter Bags of ADA AS Amazonia I
Co2:
Pressurized co2, 5# tank, Milwaukee MA957, using Hagen Elite-Mini for diffusion.
Flora:

Bacopa
Eleocharis acicularis (Dwarf Hairgrass)
Microsorium pteropus (Java Fern)
Alternanthera reineckii 'rosaefolia
Echinodorus 'vesuvius' (Echinodorus Angustifolia)