UPDATED PICTURE 11/16/2014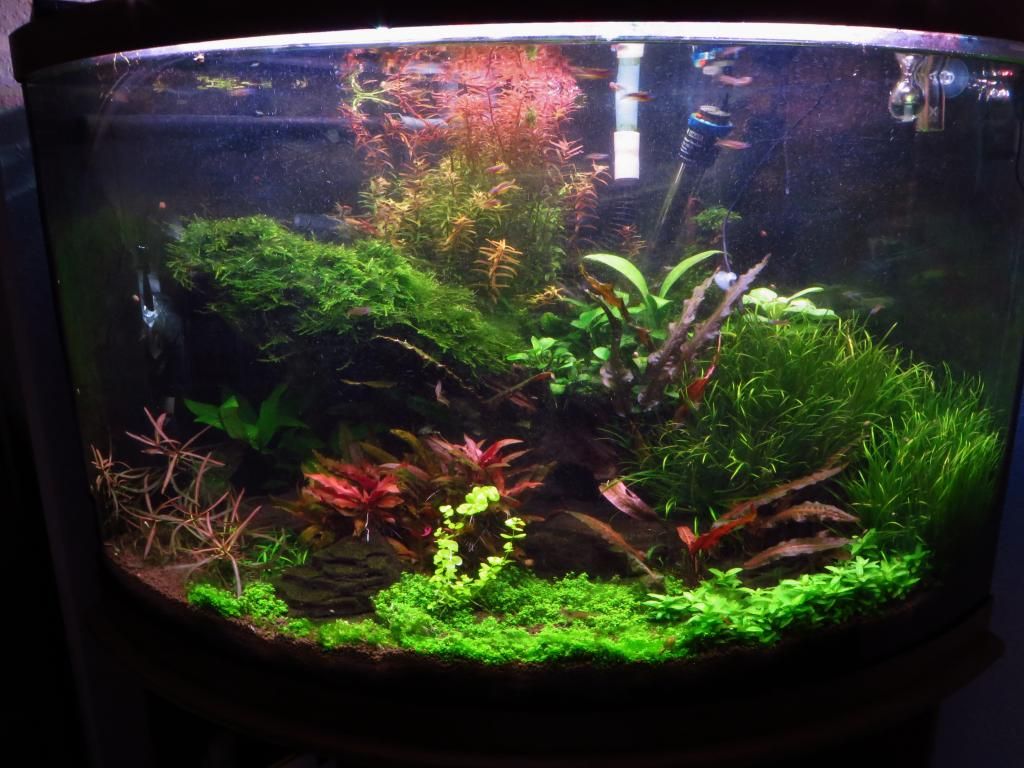 I just set up a tank for my betta (just posted that tank right before this one), but it's not my first planted tank. I had a few before, but they have been taken down and most things now moved into this bad boy. I found this tank on craigslist and am quite happy with it. The tank fits perfectly in a corner of my room (go figure!).
This tank will soon become more high-tech. I hope I'm not getting over my head here...
This first picture is the tank setup, day one, about half a month ago.
I had the plants in a 20 gallon and moved them into this one. Substrate is Eco-Complete in the back, down to sand in the front. Went for kinda the beachy feel. Picked up the rocks at my LFS, I liked the ones that had the striations in them with the lights and darks and tried to kind of match them up as if there was a natural erosion between them. I initially wanted a full cliff face but couldn't find the right rocks locally, so I settled on this scape.
I have two lights, small Finnex white light and a slightly larger Finnex Planted+ placed on the back and front, repectively. I use Flourish and Flourish Excel to keep things growing, though many of these plants are basically weeds anyway, I'm looking at you wisteria and water lettuce.
BOOOOOOOM, things have grown tremendously! This picture was taken yesterday, 2 and a half weeks after setting it up.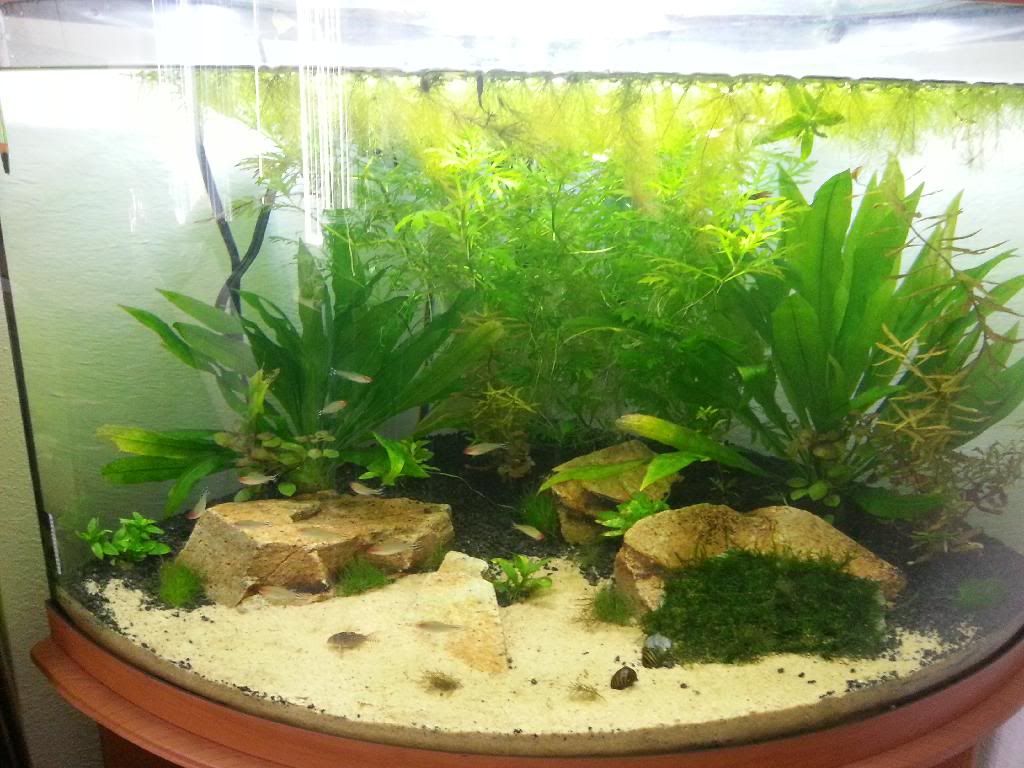 It's already about time for a trim! I'm holding off though. I ordered a much nicer LED from Build my LED and have a CO2 tank and system ready to go once I get the new light. The LED should be delivered Tuesday so I'll trim things in a few days and get the CO2 set up. I'm pretty excited for this! I want to get some plants to go on the interface between the Eco and sand, so once I get things set up, new plants will be purchased! Any suggestions will be appreciated. I've been considering adding some glosso, looks nice I think.
Oh, current inhabitants: 12 rummy nose tetras, 5 sterbei corys, 1 opaline gourami female, 3 zebra nerites, and some of them pesky pond snails that I fish out whenever I can in attempt to keep their population down.
I haven't done much upkeep other than a water change each week. I've been letting the tank mature on it's own mostly undisturbed otherwise. Haven't noticed any algae yet, knock on wood. I'll have to clear some of the dead/dying plant matter soon though, it's looking a little bit of a mess.
Ok, that's enough. Long post and I'll keep things updated as I can with the new equipment and the trimmed plants.
Any advice, suggestions, or questions are welcomed and appreciated! I'm very new to the hobby so I'm bound to screw some things up!
Thanks for looking!