I figure it's time I make a journal for this tank. I've had the tank for a few years, but it used to be a non-planted cichlid tank. I decided to switch it to a planted tank a few months ago.
Tank Specs:
90 gallon tank – 48" length x 18" width x 24" heigth
Lighting - TEK T5HO 4x54w with Geisseman Aquaflora and Midday bulbs
Photoperiod – 12 hours (2 bulbs) with a 3 hour noon burst (4 bulbs)
Filtration – Two Rena Filstar XP4 canister filters
Filtration Tubing – Two Customflo Water System by Lifegard Aquatics
Substrate – Eco Complete
CO2 – Pressurized system, Milwaukee regulator, pH controller, Rex Griggs style reactor
UV Sterilizer – Coralife Turbo Twist 12x 36w
Fertilization – EI dosing with dry fertilizers
Water Changes – 50% weekly
​
I've been using this tank to help me keep some of my plants going while I've redone my 75g. I had a terrible algae outbreak shortly after getting this tank started, but H2O2 treatments resolved that. There's still a little algae on some of the old growth, but the new growth is looking really good.
Here are some pics I took on June 30. The plants are growing so fast, many have reached the surface and have folded over several inches already. I plan to transfer some of these plants to my 75g tank.
At this point, this tank is not scaped. Once my 75g tank settles down (it's going through the end of an algae phase), I will then scape both tanks.
So here's my jungled up mess of plants! :smile:
Starting out with a couple of full tank shots.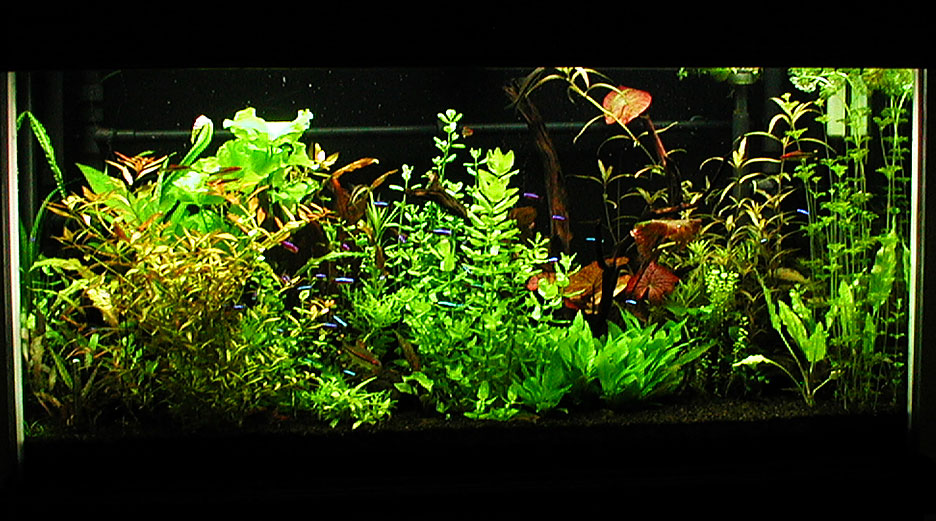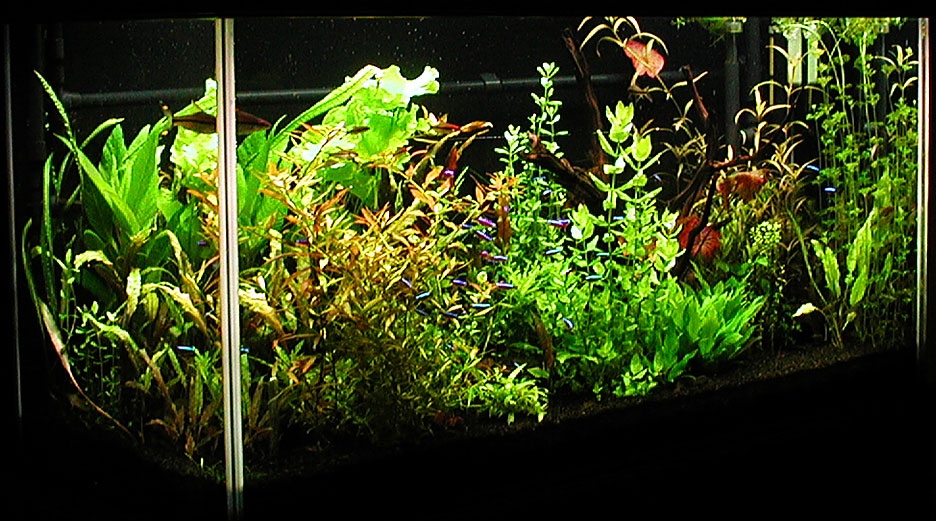 Mixed up Ludwigia. I received Ludwigia x Arcuata and Ludwigia x Lacustris, but they were mixed up in the box so I couldn't tell which one was which. So I planted them all together, hoping I could sort them out once they grew. Now they've grown, I need to figure out which is which. I hope I can! It's hard to tell when I look at them in the tank!
I'll be pulling these out and moving them to my 75g tank (at least one of the species) since they're fast growers.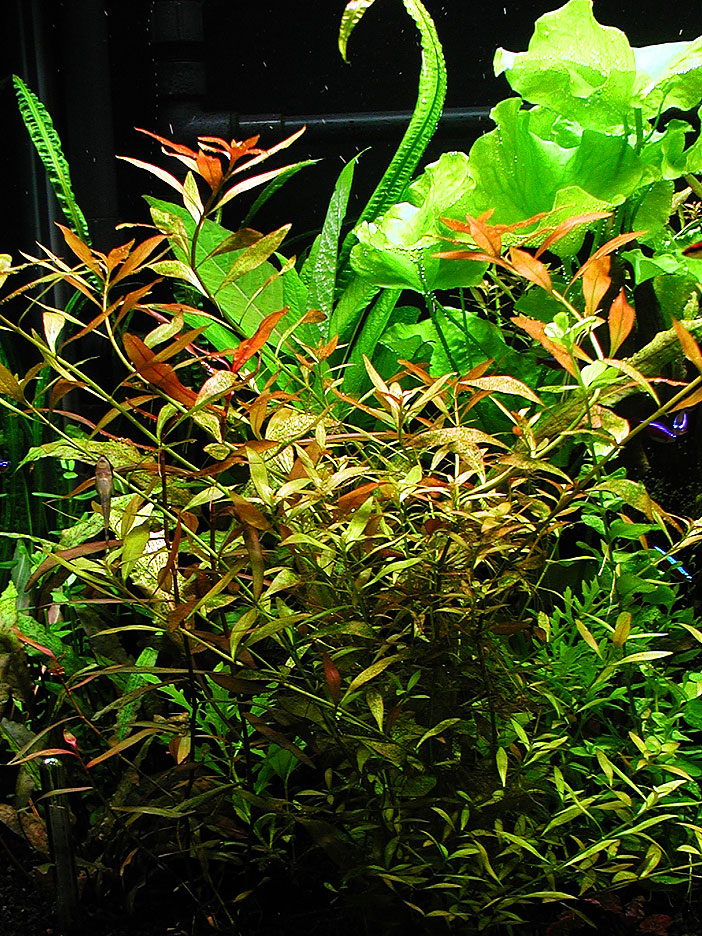 Tucked in the back is some Heteranthera zosterifolia (star grass). It grows really nice in this tank.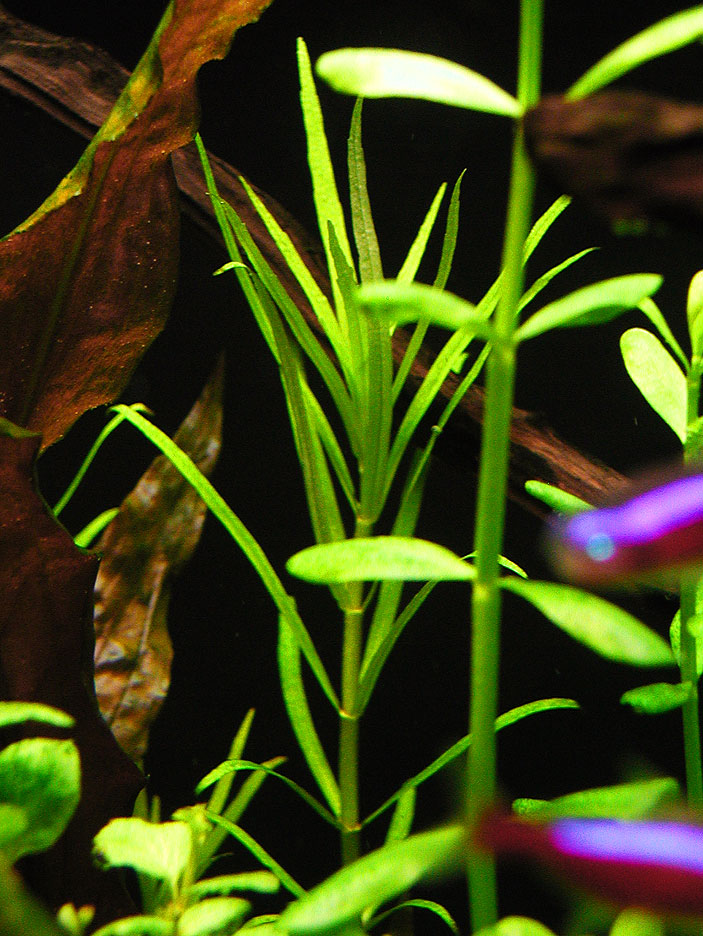 When this Nymphoides taiwan first arrived, it looked terrible. Most of its leaves fell off the instant I picked it up. But I planted it anyway since you never know. Well, it recovered. And then it grew. And then it flourished. And now it's taking over my tank! Ack!
In the 7 days since I took these pics, this plant has at least tripled (maybe quadrupled) its leaf size at the top. I'm not sure what I'm going to do with this plant. It's a monster! But it's really pretty.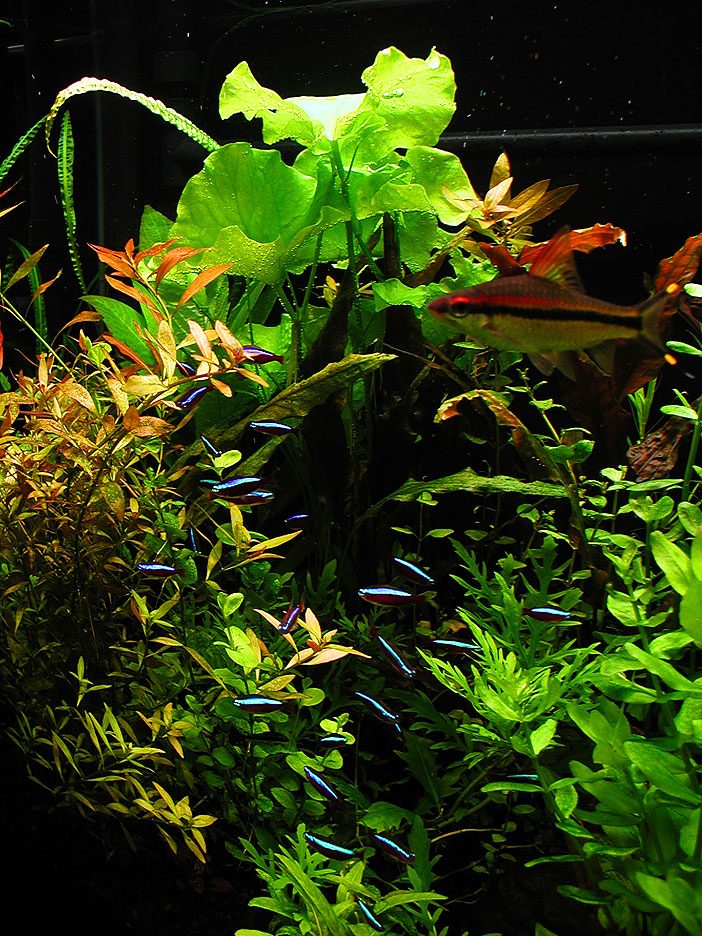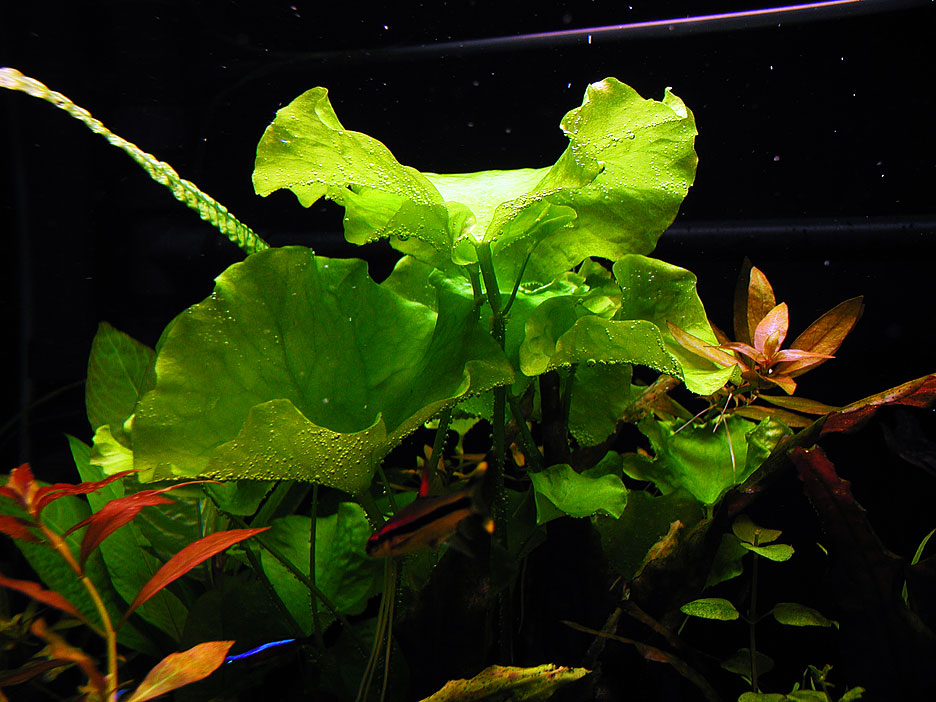 This is my red tiger lotus, Nymphaea zenkeri. It's also growing like gangbusters now. There's actually about 3 plants here. I got some really nice ones in the SNS here which just thrilled me. The leaves are starting to grow larger than the palm of my hand.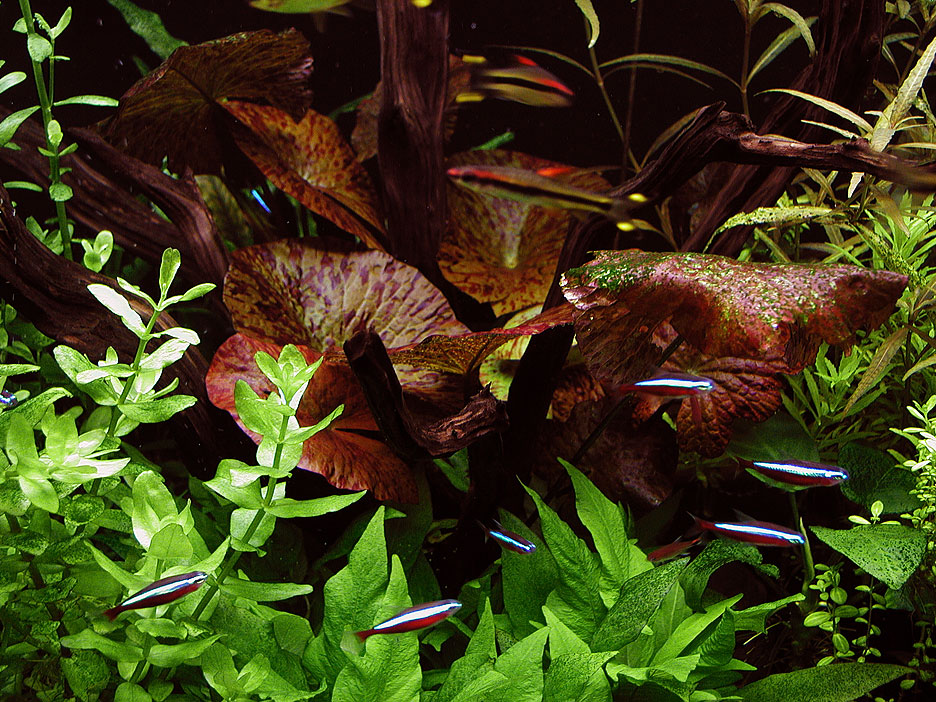 I also got a little baby red tiger lotus plant that was so small, I had to use a lead weight to hold it down so the roots could touch the substrate. It's doing great and will be ready for a tank of its own sometime soon.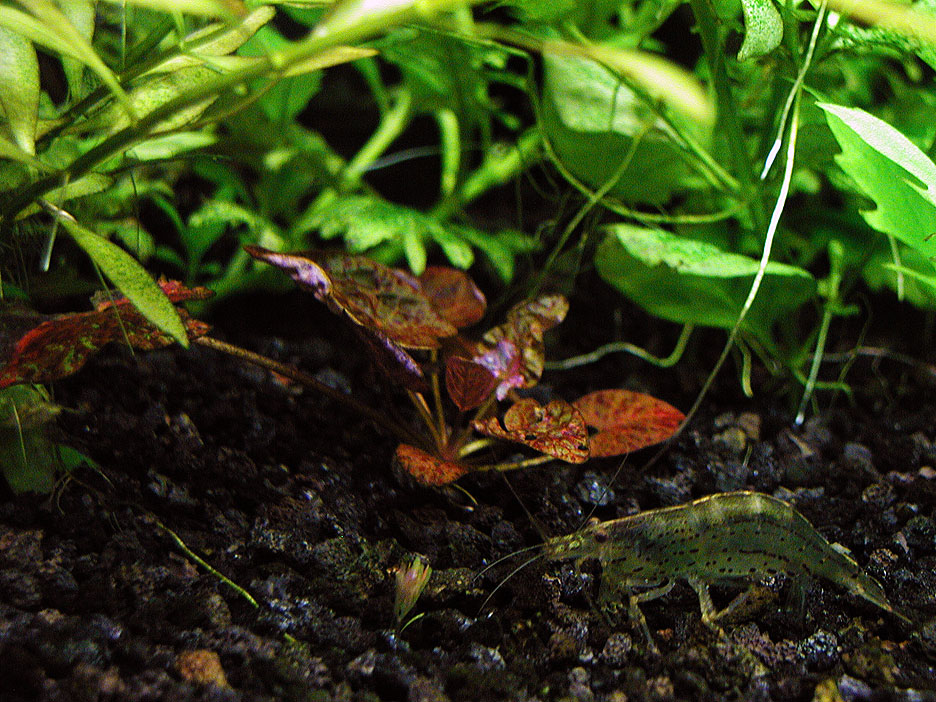 This is Staurogyne 'low grow' which everyone keeps saying is really easy to grow, but it's not doing the greatest in my tanks. It almost died, but it's recovering and putting out new shoots. I'll separate them and plant them separately when I actually scape the tank. I'm not sure how I feel about this plant yet.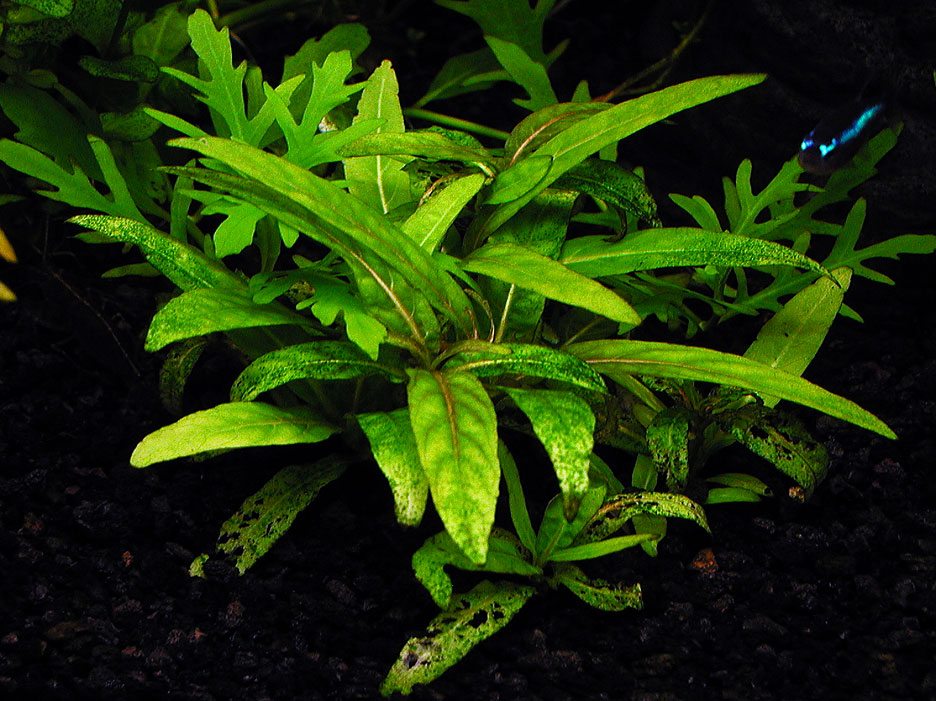 This is Bacopa Caroliniana. I have a lot of different Bacopa plants so I wasn't really wanting another, but it cane with a plant package so I figured why not. This plant has started putting out enormous leaves! They're at least twice the size they were when I first got it. It's not like my other Bacopas. I'm really liking this one. I can't wait to work this one into a real scape somehow.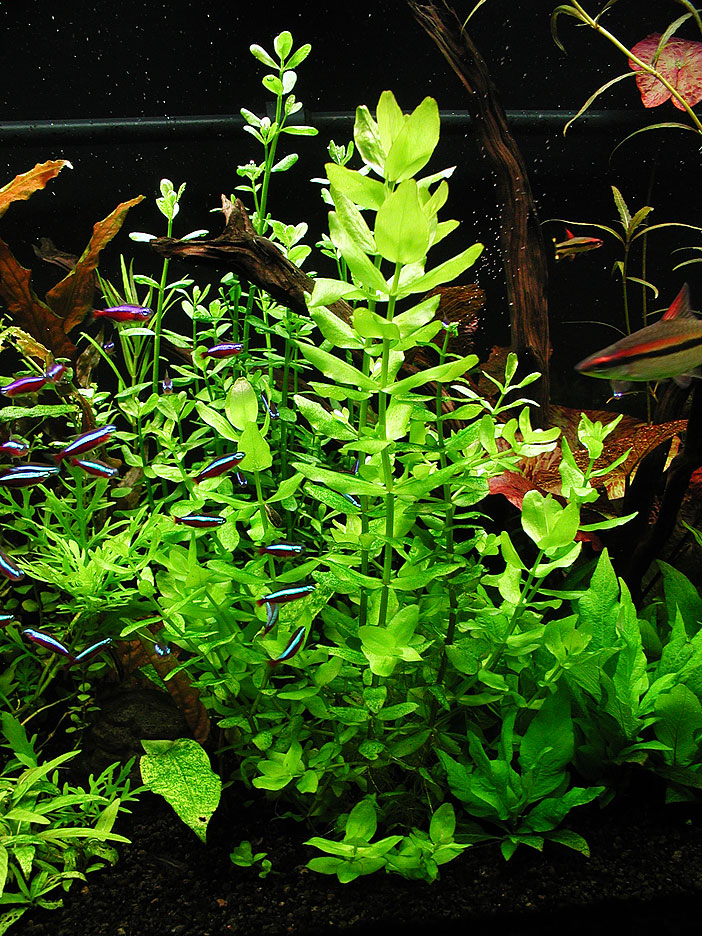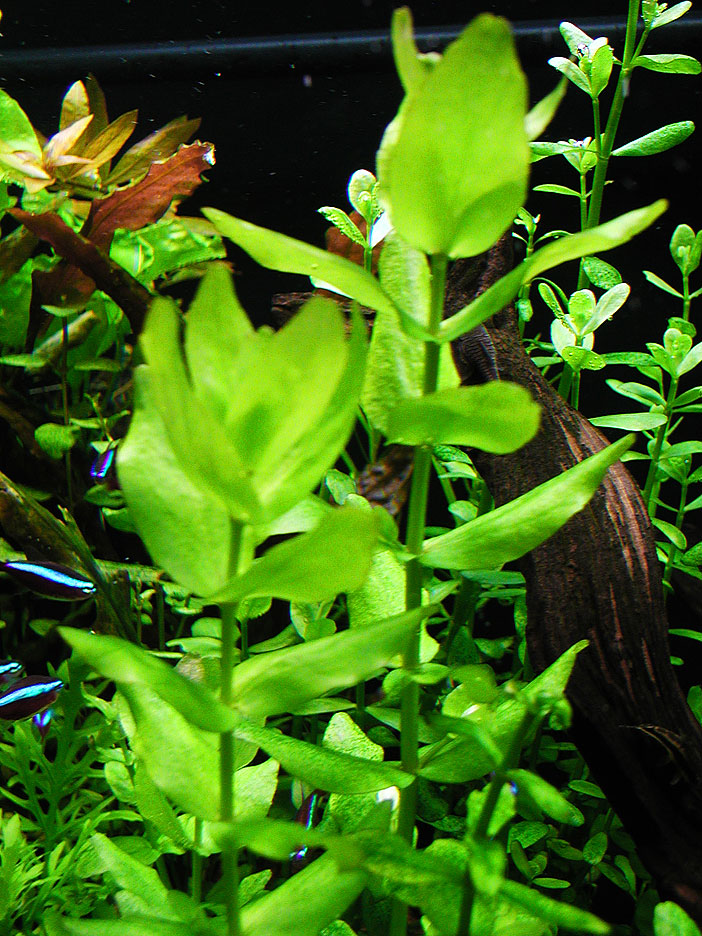 Just a couple of pics showing some of my other plants. There's Hygrophila 'Araguaia' which grows like a weed.
I think the tall plant on the right is supposed to be Limnophila sessiliflora, but it's growing so stretched out that it's not looking right. I need to move it out of this tank and into a low tech tank. Apparently, the space between the nodes is affected by the light, and high light encourages longer spaces. So this plant has to go from this tank.
I'm pretty sure the green crypt in the picture is Cryptocoryne ciliata, but I also bought Cryptocoryne pontederiifolia at the same time so I may have the ID mixed up. It barely grew in my low tech tank, but has really started to take off in this tank.
There are a bunch of other plants jumbled in here, as well, but I'm not going to list them all. There are just too many to name each and every one of them.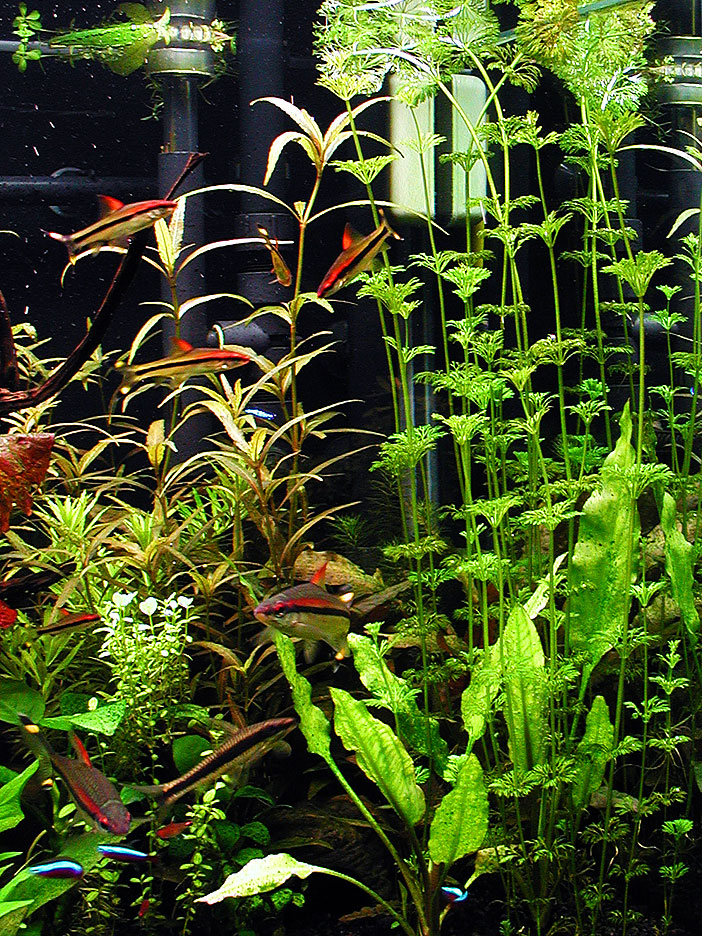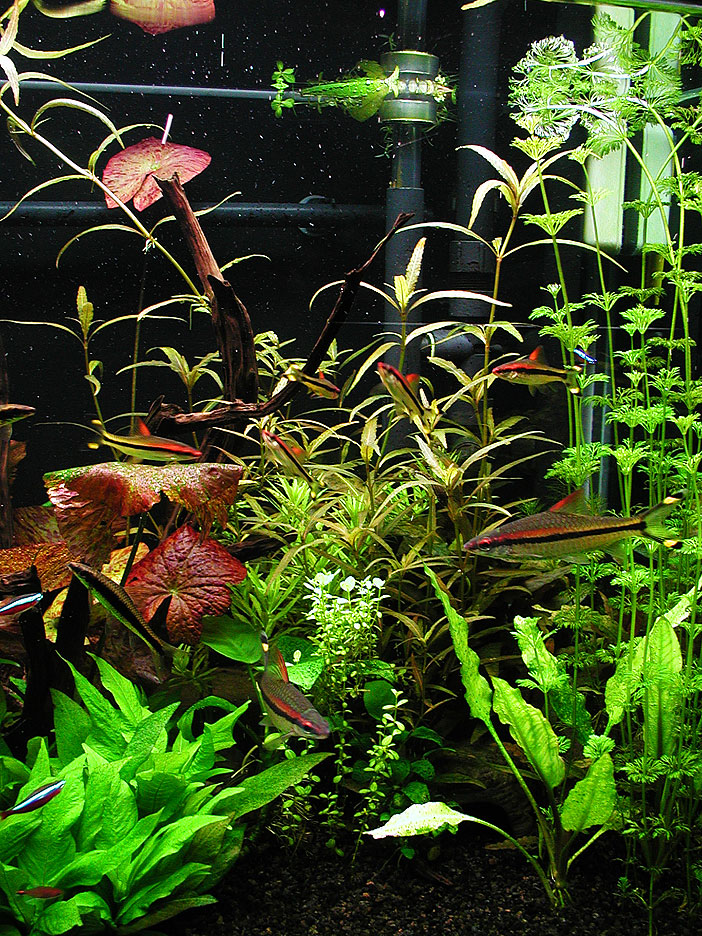 One of the things I love most about this tank is how the plants pearl. There is just something mesmerizing about the pearling that captures me. Here is one of my Bacopas about to release a large pearl of oxygen.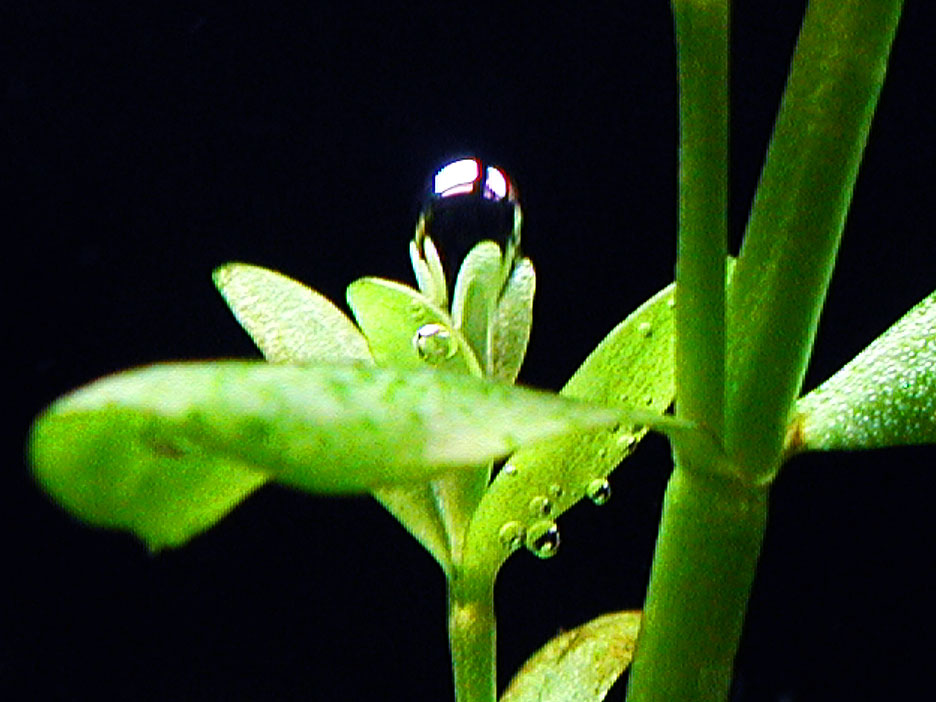 And that's my 90g tank! It's a huge mess right now, but my original goal of getting the plants to grow has been met. Once I get my 75g to grow plants like this, I can then scape both tanks.