Well, here I am dithering over whether or not to buy a complete CO2Art Pro-SE system for my newly-cycled tank, and trying not to think about how much $$ I've already spent on the tank and supplies. So I was trying to see how much a CO2 cylinder would cost on top of the CO2 kit. Then I remembered that my brother-in-law used to make beer, but no longer does, and that maybe he might have a used CO2 tank he's looking to rehome. I asked him, and yes he does. He has 2 cylinders and also 2 regulators, and I could have one of each if I want them. Photos below — sorry they are displaying sideways. (He says he bought all of them new).
I think I should definitely get a cylinder (which one?), but not sure about whether I should take him up on his generous offer for the regulator. I know I'd need to get a bubble counter and solenoid (?) and maybe other parts too (?), but do either of the regulators look good for my CO2 dreams? If so, is there any way to tell from these photos how hard it would be to convert a regulator into something reliable for a CO2 system? Or should I just go ahead and buy the CO2Art kit (of course I'd like to save that cash, but not if these regulators are likely to be difficult for me to use/operate …). And is it possible to tell from photos whether these are dual stage or single stage?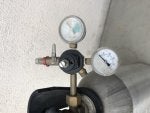 Thanks for any light you can shed!