Discussion Starter
·
#1
·
i bought a dual stage concoa set up off a member here and am experience heavy co2 run off into the bubble counter even when the solenoid is not powered. i understand that co2 will continue through the NV and BC for a while but this is definitely not normal.
heres a description of setup:
-2 stage Concoa regulator
-#10 aluminum tank, I bought it brand new
-3x Fabco NV55
-6x total check valves made by Clippard. Actually, all the fittings are Clippard branded
-Clippard Solenoid which I have hooked up to a mechanical timer
-3x JBJ Bubble counters.
since i had the unit i removed one of the fabco NV 55. it was faulty, im in the middle of fixing it (
http://www.plantedtank.net/forums/showthread.php?t=200814
). i plugged the manifold with a 1/8th plug and thread sealant. no leaks.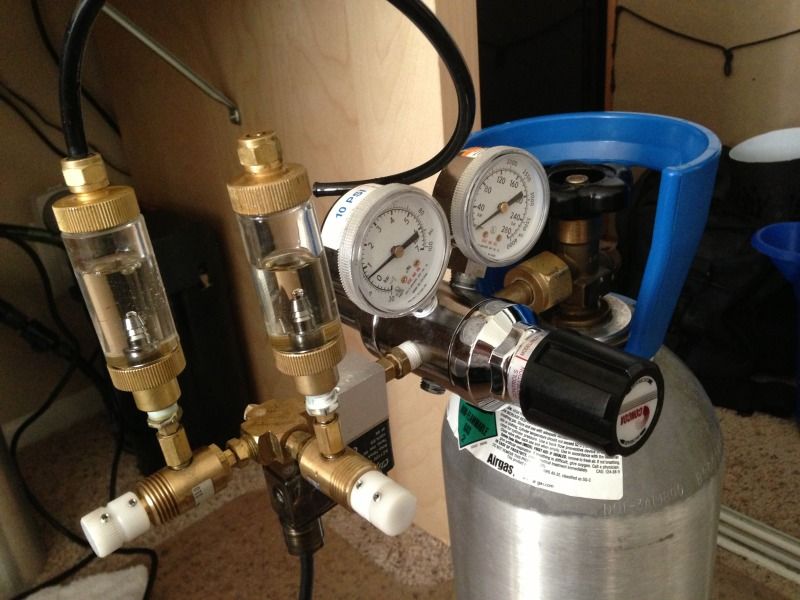 heres a video of whats going on:
http://s114.photobucket.com/albums/n263/vu_nguyen/fish tank/?action=view&current=IMG_1469.mp4
at low pressure nothing seems to run off. cranked past 20 psi, lots of run off with no solenoid plugged in. ive tried the cranking it up and plugging and unplugging the solenoid to help clean it which helped but failed after i cranked pressure up to 30 psi. so... am i suppose to just take this thing apart and try cleanning it or just replacing it? what do i look for if i am taking it apart to clean? is this even a failure of solenoid or i am doing something else wrong?