Discussion Starter
·
#1
·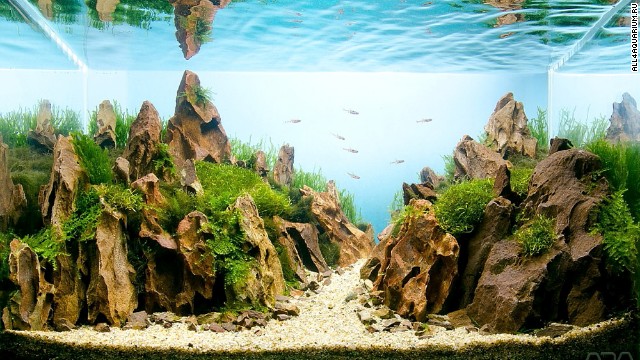 Photo Credit: all4aquarium.ru
Before you place your first plant in your new tank, you have to have something to plant it in. There are lots of options for aquarium keepers, from fine sand to rocks. How can you find the right substrate the first time with so many choices? Don't worry, we have some tips for picking the right substrate for your tank, no matter what kind it is.
You Don't Have to Choose Substrate
If you just want to add a few plants to your tank to help with nitrate levels, you don't necessarily need a substrate at all. Hospital tanks, grow-out tanks and tanks that house fish that need constant care can still benefit from plants, you'll just have to pot them and place them in the tank instead of rooting them in substrate. As the plants get bigger, simply repot into another aquarium-safe container and place it back in the tank or split it up and spread parts of it into other tanks or pots.
Sand's an Option
Sand can make a great substrate for plants, provided you choose a course sand. Sand grades smaller than #3 introduce a high risk for the creation of hydrogen sulfide during the nitrogen cycle. If you have some areas that won't be planted out, use larger sand to protect any fish in your tank. Adding iron supplements to tanks bedded with sand can also help to bind any hydrogen sulfide your plants can't control.
Gravel Depends on the Fish
Gravel can work as a substrate in a tank that doesn't generate a lot of detritus, or as a top layer of a multi-substrate tank. The gravel you choose should reflect the type of fish you're keeping, though. For example, goldfish tend to eat small pebbles off the floor of the tank, so with that in mind, choosing a very small (#1) or very large (#5) grade of gravel would be the best plan. Catfish, too, can be easily injured by sharp gravel, so make sure to protect your rooting catfish like cory cats by using only smooth gravel.
Complete Substrates
If you choose to use a complete substrate, like ADA Aqua Soil or Eco Complete Planted Aquarium Substrate, you absolutely cannot add fish into the tank while it's cycling. These types of substrates tend to have an ammonia spike within the first three weeks of use in order to encourage the growth of filter bacteria. You'll need to completely cycle your new tank before adding any fish for success with this type of substrate. Check your pH before adding any livestock, as this type of substrate can sometimes drop levels too low for many fish species.
Combining Different Substrates
In a real life aquatic environment, layers of sand, soil and stone tend to accumulate together. Because of the action of water, the smaller particles eventually filter down, creating layers of substrate. You can mimic this by first applying a layer of sand, then a layer of aquarium soil and then topping it all with gravel. Your plants will have a great environment to grow in and the gravel will help keep the smaller particles from clouding the water.
DIY Substrates Not Recommended
Yes, you absolutely can add things like garden soil or peat from the garden center into your aquarium, but the results you get may not be what you expect. Any garden soil mixes contain fertilizers and other chemicals, and peat can seriously mess with pH levels. Unless you have a full analysis of what is in your DIY soil, and know exactly what it'll do when it's mixed with your local water source, this can be a seriously dangerous and frustrating game for you, your plants and your fish.
Plain Gravel or Sand
If you've been reading planted aquarium forums for a while, you may already have heard that it's not ok to use plain gravel or sand when you're setting up a planted tank. These substrates aren't ideal for heavily planted tanks, but if you only have a few hardy plants in mind for a tank that's primarily about fish, gravel or sand are fine. Gravel can be easier to clean in many cases. If you use a basic substrate, remember to keep the needs of your fish in mind as you choose the size and shape of gravel or sand.
Selecting the right substrate for your planted tank is an important first step for any setup. You're literally laying the groundwork for the future success of your aquarium when you're installing gravel, sand, soil or other base. Make this decision thoughtfully to ensure you have the right substrate for whatever you plan to grow in your tank and you'll be rewarded with a healthy environment in the long run.
~ plantedtank.net