Discussion Starter
·
#1
·
Since this tank is going through changes a lot I thought I would make a journal on it. I am getting dry fertilizers, hopefully tomorrow, from member nilocg, so hopefully correctly dosing the tank will help out more.
Plants
- Purple Cabomba
- Chain Swords (E. Bolivianus)
- Rubin Sword
- Indian Red Sword
- Banana plants
- Java Moss wall
- Riccia (dwarf and regular) attached in various forms
- Rotala indica and rotundifolia
- Limnophilia Aromatica
- Alternanthera reinekii "cardinalis"
- Brazilian pennywort (floating)
Setup
- 20 gallon high tank
- Aquaclear 20 and 50
- Pool Filter sand (regretting it now for plants)
- Milwaukee MA957 Regulator on a 5 lb. CO2 tank
- AquaticLife dual 48W T5HO
The tank went through a complete rescape today since it was really disorganized looking. Plus plants were being choked out by others. I think it looks better now, but I am open to any opinions on it.
Before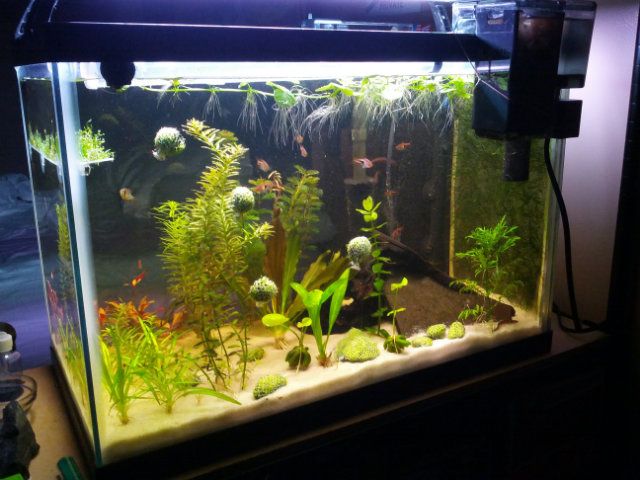 After