Discussion Starter
·
#1
·
Ok, so as some of you know, I have had quite a few threads on here. My latest was trying to keep track of my 2 20gallon tanks. Then it turned into 2 20gallon tanks and a 10 gallon tank for a breeding pair of L144 plecos and fry. And shrimp..... Anyway, after taking a hiatus from the internet for the most part, I am back. I still have the 20 high, but the 20 long got completely redone, and the 10 gallon breeding tank was replaced by a 20 long....... Oh yeah, and I just got a mini-rack too. Any way, no pics of the 20 high today, it needs a water change, and I want to redo the substrate, and just revamp the tank a bit. So I will update that later. Here is the mini-rack though. A $50 5 tier wire shelf from Target with a load capacity of 350 lbs. per shelf. 6' tall x 36" wide and 18" deep. Not bad. Holds two 20 gallon longs perfectly.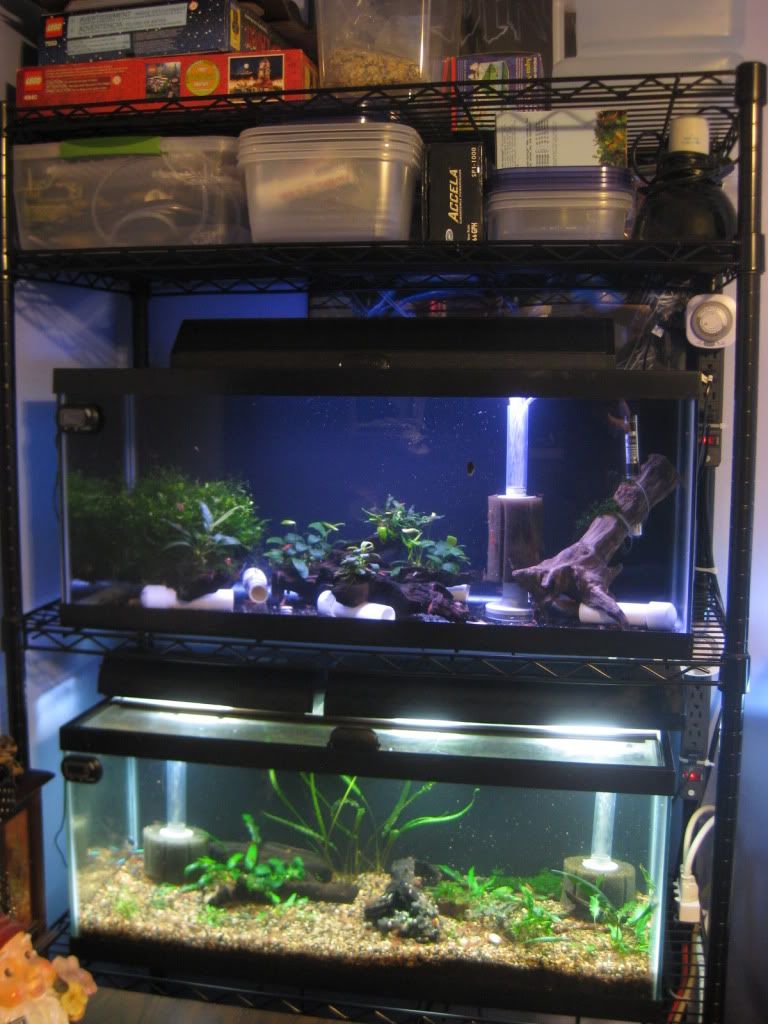 The top tank is for the L144 plecos and some cherry shrimp. Bare bottom with lots of driftwood, java ferns, and anubius plants. Subdued lighting (for now) and an air powered sponge filter. Gonna get a shoplight and another sponge filter for it. The bottom tank is MGOPM capped with flourite. Lots of driftwood, crypts, cherry shrimp, and my 4 remaining cardinal tetras. Gonna get them some buddies at some point. 2 air powered sponge filters and the same lighting as before.
Top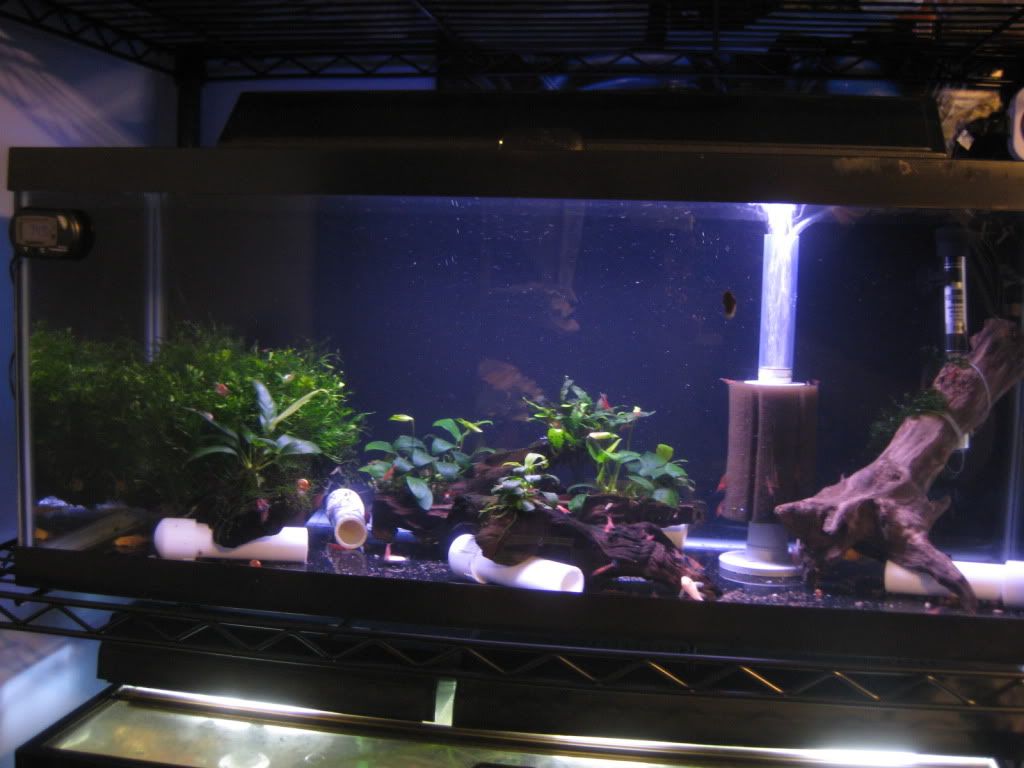 Bottom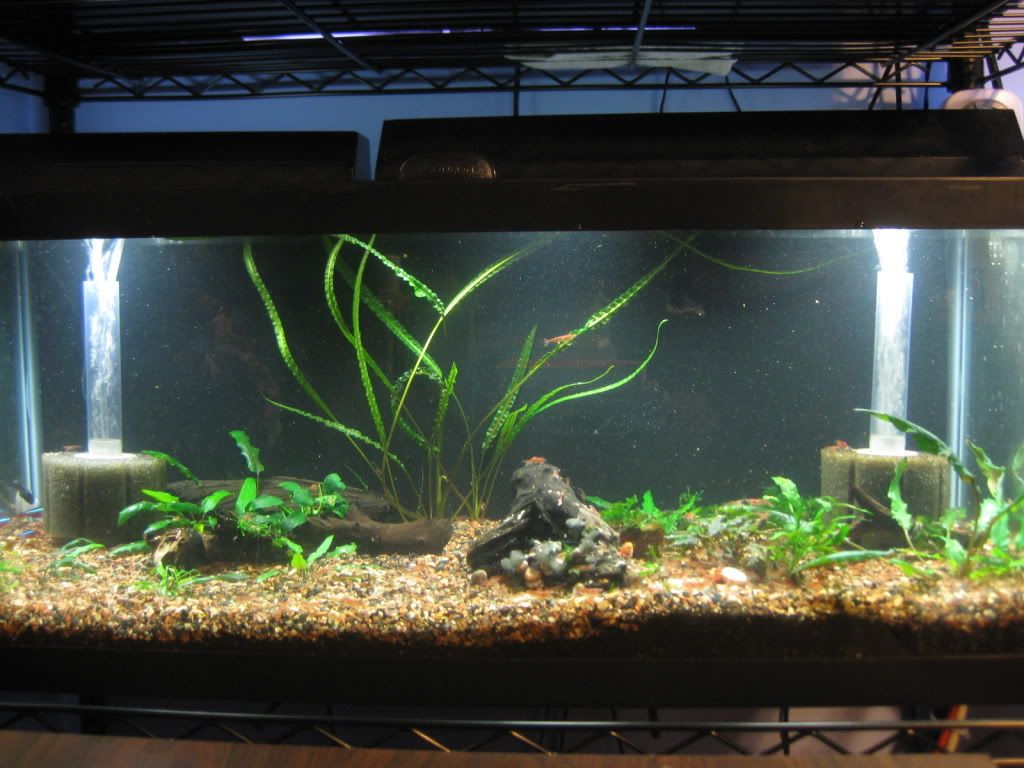 This shelf worked out great. I have room for another tank on the bottom if it was not sandwiched between the wall and my wife's desk. Some storage on top too. On top of that, I got ambitious, and gave each shelf it's own power strip. Worked out well.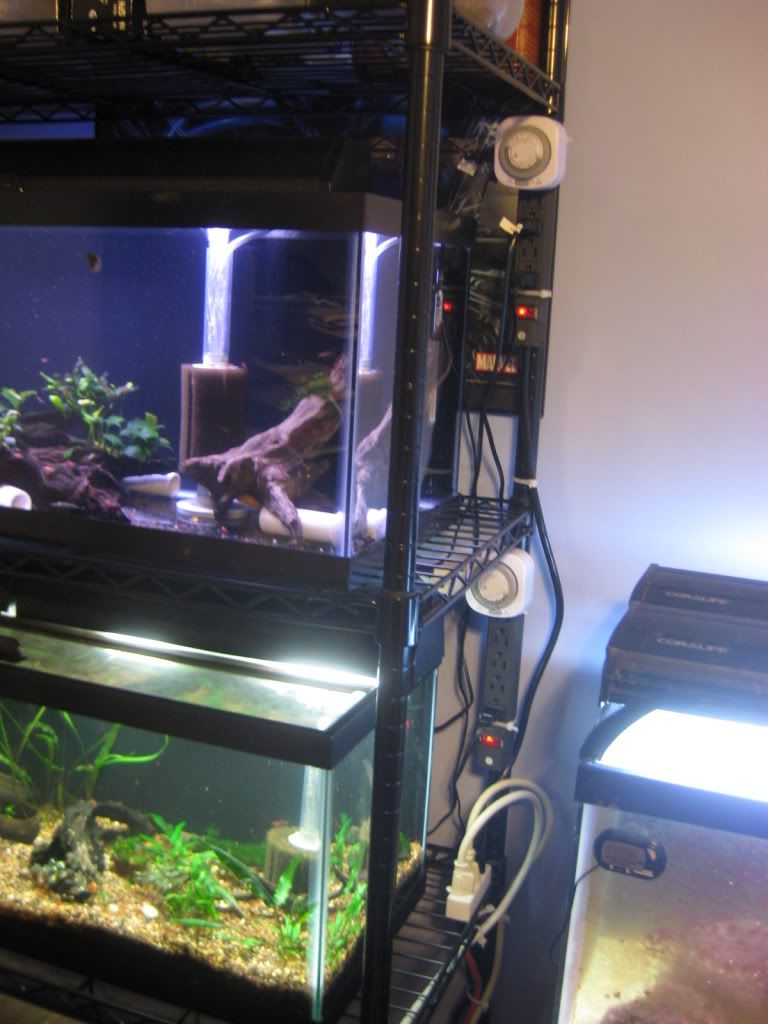 That is all so far. I will do my best to update this thread and not let it die like all my other ones. Lol.