Discussion Starter
•
#1
•
Ok, so here's the start of my first tank journal. I'm going to try to post a little something every day. I'm sure there well be days when I can't get to a computer (at least I hope there will be), but that's my goal.
The first few pics unfortunately will be from my cell phone, but I'll bring a better camera to work and snap some higher quality ones soon. I just got the last of the equipment shipped to the office today (boy is the mail guy annoyed with me :hihi
and just unpacked it all. So here it goes!
The JBJ Picotope all boxed up:
Unboxed and my first iwagumi attempt: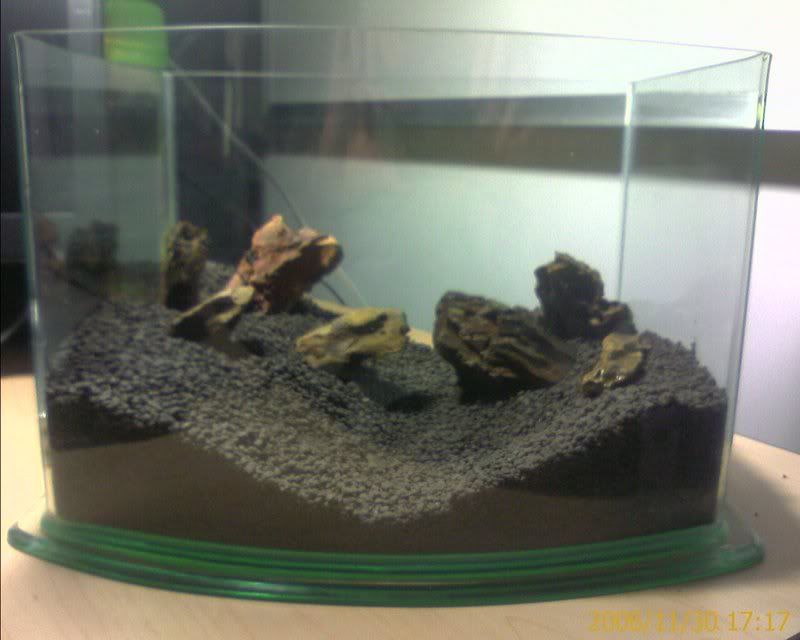 The two rocks in the middle (Okho stone) are keepers. I may change them out with some other rocks but that basic layout is what forms the "broken bridge". The others I plan to play with over the next couple of days.
A quick rundown of the equipment:
Filter
Azoo Palm filter. I like this more than the filter that came with the picotope
Heater
None
Light
23w spiral screw-in in an architect's lamp. I had originally bought
this light
but have found the spiral bulb to be brighter and much whiter. I may consider switching after getting a true 6700k bulb for the other.
Substrate
AquaSoil Amazonia
Planned flora:
HC
Spikey or Java Moss
Maybe some small leafed stem plants in the back corners (rotala???)
Planned fauna:
5 RCS
2 Sparkling Gouramis
1 Black Tetra (he's adopted - his siblings died before I took him and he needs a better tank to live out his days)
So what do you guys think of the first rock layout? Any suggestions?