Figured I'd finally post up this tank now that I've (hopefully) gotten the kinks out. I decided to rescape this back in May:
But also not liking the scratches on the tank's glass, decided to buy a new tank to replace the old one. Scape was as such back in May: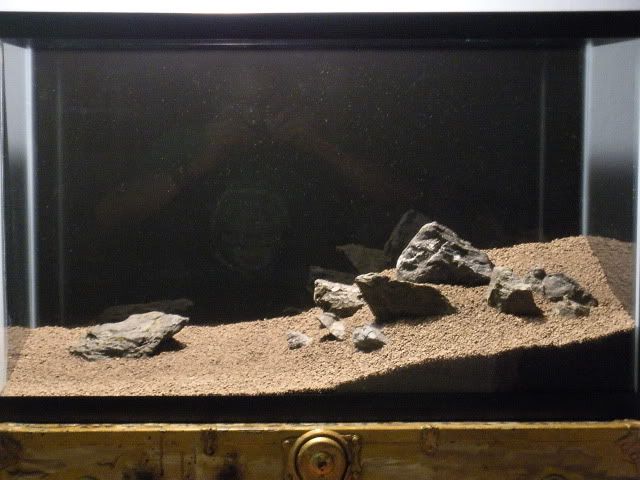 I planted the HC around 5/15 and dry started it for about 3 weeks. At that time I decided against the rocks I'd collected on a hiking trip, and went w/ some bonsai rocks I'd found in the meantime. Kept the same basic idea w/ a little extra slope and replanted where I needed to. Dry started for another 5 weeks, then filled it 7/11. Unfortunately never did take a pic at that time. The tank has seen ups and downs since. Faulty needle valve issues forced me to lower the lights for a couple weeks. Mid to Late August new inline diffuser kept breaking/malfunctioning on me, so intermittent CO2/lower lights again for another week. Put my Rex reactor back on and it chugged along until last week when my bulbs were fried by a power surge. New bulbs didn't arrive til yesterday, so it was dark for about 5 days. Here it is today. Stems need a trim and I need a better photographer.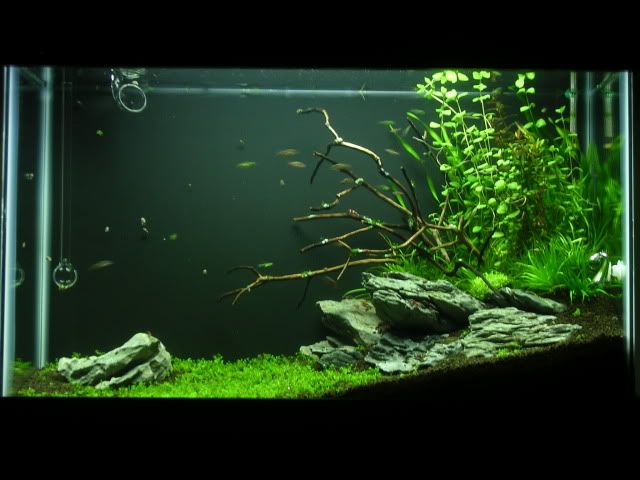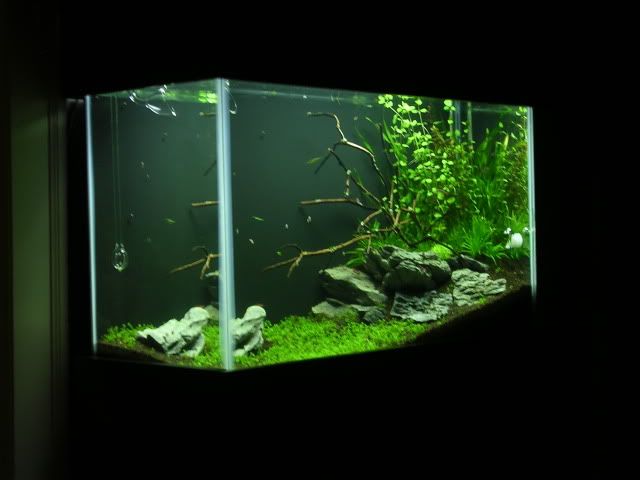 Specs as follows:
Lighting: 55 watt pc and 54 watts ODNO T8s
Filtration: Eheim 2215 w/ a 2217 impeller
CO2: Pressurized at 7-8 bps w/ inline diffuser
Substrate: 18L ADA Amazonia I
Hardscape: Bonsai stone and locally collected Madrona
Flora: HC, Blyxa, Bacopa Monnieri, Rotala Magenta, Contortion Vals, Hairgrass, Riccia and Mini Pellia
Fauna: 13 CPDs, 11 Boraras Micros, 11 Microdevario Kubotai, 2 Otos, RCS, CRS, various pond snails
I'm thinking of moving the Rotala a bit to the left, as well and the Bacopa. Thoughts/suggestions appreciated.