Discussion Starter
·
#1
·
Hey there folks. With renewed interested in my planted tank i decided to go ahead and get a journal going. Not necessarily to track growth, but just as a home base for all posts regarding my tank.
Been in the planted tank hobby for about 5-6 years. Jumped into planted tanks within a few months of getting my first fish, which was a betta in a plastic bowl on an impulse buy. I've been hooked ever since and had probably close to a dozen tanks of one kind or another, ranging from plastic betta bowl, to jam packed high tech SPS dominant reef tank, and everything in between.
2009. I've had this 75 gallon tank for almost the entire time and it has had many faces. Started as a home for a very large and aggressive tiger oscar. I was quite bored with a tank with only one "pet" type fish which prevented me from having any plants or any other fish, so after rehoming him, I stocked a basic community tank with sand, rocks and plastic plants.
After growing bored with that, I removed most of the rock wall, and tried some super easy freebie plants from some locals. My little 2 bulb T5NO fixture was barely sufficient for visible light, and my inert play sand provided nothing, so naturally the plants died. I was on a very tight budget and super bummed out that I couldnt afford the high lights, plant substrate, and gadgets necessary to have a beautiful planted tank.
2011. At one point I had a low tech 10 gallon (
http://www.plantedtank.net/forums/showthread.php?t=143464&highlight
=) which looked actually ok considering what I was using. I did my first batch of mineralized topsoil and plain black plastic gravel from walmart. It did ok for a little while but ended becoming more of a chore than it was worth and had a bad blue green slime algae outbreak that killed most of the plants. I shut it down a few years ago and consolidated down to just my 75 gallon and my 55 gallon reef at the time.
2012. I eventually acquired a coralife 2x54W T5HO fixture and tossed a bunch of moss and java fern in the 75. It did ok for a while but just never really flourished and I constantly battled green spot algae. Decided to do another batch of mineralized topsoil, only I was incredibly particular with doing it totally by the book the way the orignal recipe intended. It was labor intensive and a total PITA, but I made a massive batch, more than I could use, and bought a bag of turface pro league from the irrigation shop down the road and replanted it with a more appropriate substrate. Added a bunch of swords and stems and that is how it was until last night.
Unfortunately I don't have alot of pictures from back in the olden days, as I wasn't really big into picture taking and it was just before smart phones had decent cameras
75 gallon a couple days after swapping substrate for turface.
The smartest thing I've done in this hobby came in May 2014. After being fed up with years of slow growth, unhealthy plants, and becoming so discouraged I just stopped caring about my tank and wanted to take it down entirely, and just focus on my saltwater side, I bit the bullet and purchased a cheap pressurized co2 system and some EI fertilizers. I figured, I was working a much better job, making decent money, and I had already dumped thousands and thousands on my saltwater tank, I may as well invest a little in the FW tank and see if I can bring it up to snuff. The 2-3 months that followed were the most explosive growth I could have possibly imagined. Dramatic is an understatement. It grew so fast I literally didnt have time to keep up and it turned out looking almost as bad as before, only on the opposite end.
After seeing the results of even simple and cheap CO2 injection, I don't think I'll ever run a tank without it now.
Fast forward to today!
I have never really fell in love with the color of the turface, so some months ago I decided I was going to go with a black substrate. I hate black substrates on salt tanks, but on FW tanks, black or very dark brown is the only look I seem to really like. I purchased 7 bags of caribsea floramax black to do the job. I've been putting this off for weeks because I knew what A pain it is to drain the tank, catch the fish, clean out the substrate and replant it. Last night I decided to just go for it. Rather than going gravel only, or mineralized topsoil, I opted for Miracle Gro Organic Choice Potting Mix. Ive had friends that have used it with tremendous success, and I figure it'll allow me to lighten my EI dosing, and use a little less ferts for the first 6 months to a year.
I'm also getting away from the heavy root feeders. I'll keep my Crypt Wendtii as a background plant but otherwise I want to go with carpeting plants and delicate stems. Really wanting to lean more toward the dutch aquascape style with reds in there, instead of the flooded swamp mess look I had going before.
Here's the last picture taken with the turface after a decent trim and cleaning. Couple days ago
aaaaaaand. empty
This amazon sword with root bundle was about as big as the 5 gallon bucket. The roots spanned the entire footprint of the tank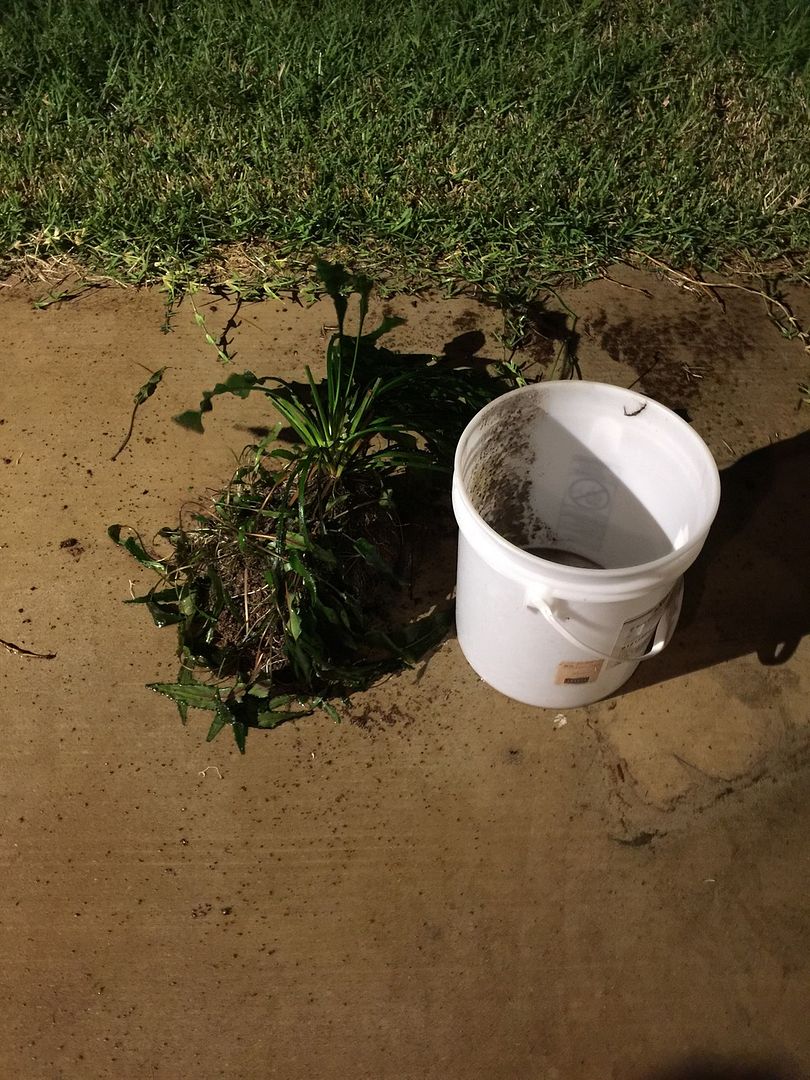 Temporary fish home. I didn't bother with filter/heater/flow as they were only in there for a couple hours.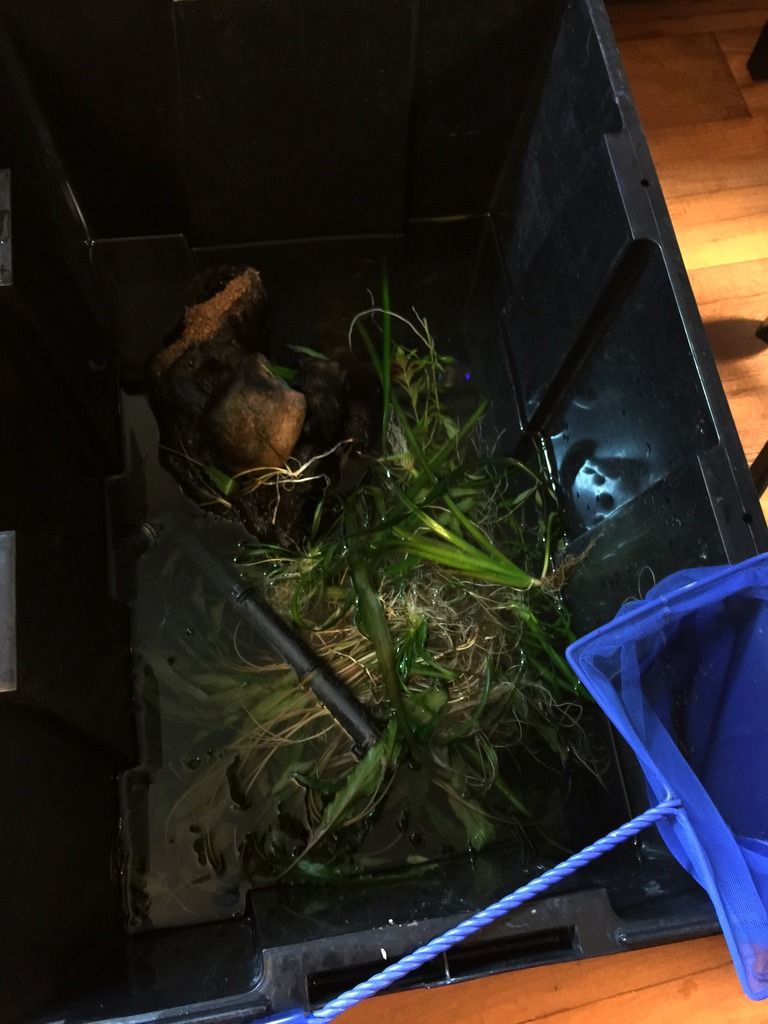 A light dusting of aragonite and muriate of potash. I went with some left over caribsea special grade aragonite. I know dolomite is preferred for its magnesium content. but as I cannot source it locally, and didn't want to order a large amount online for just a couple handfulls of actual use, I went with aragonite. The low ph enviornment should dissolve it just as well over time and provide similar buffering ability. I've done this in the past every time without issue.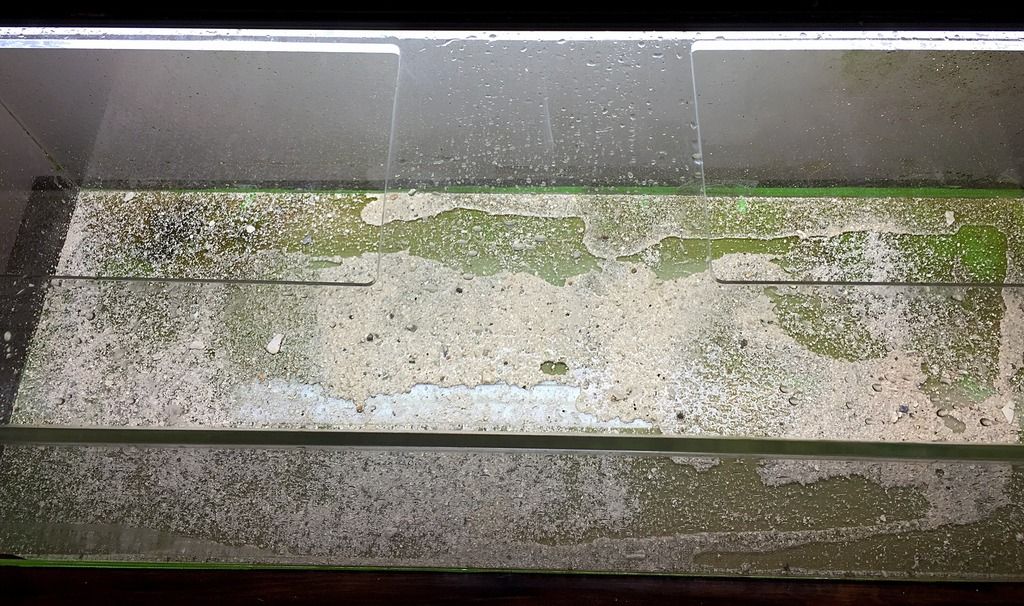 Then down went the MGOCPM. I bough a large bag of it. I rinsed/soaked it for a day while I was at work to try to water log as much of it as I could. Nearly all of it wanted to float, but I ended up straining out about a 5 gallon bucket worth of good stuff. It made for about 1.5-2" or so of soil. Then down went the Floramax. I love this stuff. It's very heavy and fairly uniform in grain size. My biggest complaint about the turface was how light it was. Nothing would stay planted for long without strong roots. This will enable me to finally get more of a traditional carpet going. I have it sloping up to about 5" in the back. It looks thick, but my experience is that over time substrates will compact and I usually lose about 1-2" in height over the first few months. 7 bags was just about perfect
Time to start filling. I used the clarifier packs that came with it, but it wasnt entirely necessary. The water was fairly clear upon filling with minimal cloudiness and no excaped soil floaters.
Couple fish shots. Had to include one of the clown pleco. He's super elusive and I rarely ever see him. Got a nice clear shot of him right up front. Next is the big featherfin catfish. Ive had this one for 5-6 years or so I'd say.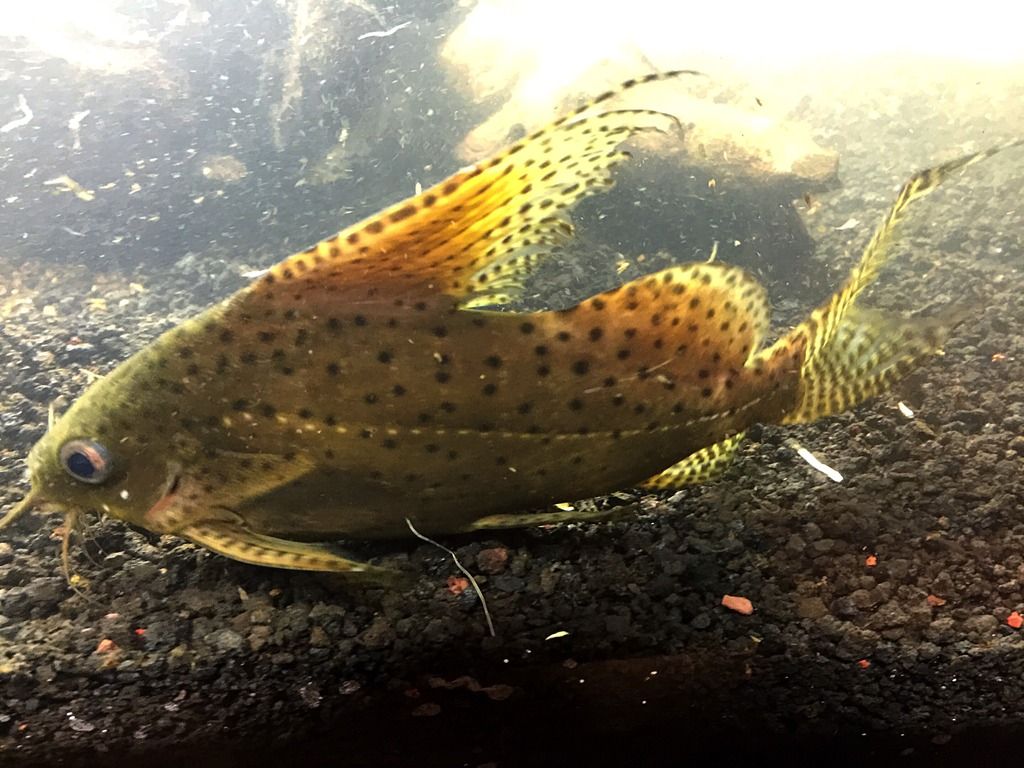 So there it is for now. I'm working all afternoon, but I'll likely run up to petsmart on my lunch break and buy them out of all their stem plants and get everything planted today. Likely wont be permanant plant choices but It'll be something to start filling in and looking like a real tank again. All said and done from tear down to build back up it took 4 hours working alone. In opposite order of typical fashion. I'll put my tank stats at the bottom here
75 gallon Clear For Life acrylic tank standard 48"x18"x21" dimensions
Custom built stand, birch, dark stain. 36" tall so tank can sit closer to eye level
Eheim 2217
10# CO2 tank with Milwaukee MA957 regulator. Junk. Id love a custom SS regulator but can't justify spending the 300-400 bucks until this one breaks
GLA inline atomizer
MGOCPM soil with Floramax black cap
Eheim Jager 300 watt heater
Fish: uncountable number of hybrid guppy/black bar endlers
featherfin catfish
clown pleco
tiger barb (straggler, waiting on him to die)
neon tetra (straggler, waiting on him to die)
3 otos
Stocking plans for the future are to get a handful of koi angels most likely and a couple dozen tetras of which I have not decided on. I don't like overly diverse fish populations despite what my list would indicate. I also don't like unnecessary culling of livestock so I'll patiently wait or possibly rehome them if we set up a little tank for my daughters room. I'd like to get more otos as well
Plants: sunset hygro
crypt wendtii
dwarf sag.
Those are the only 3 species I kept from the previous tank. I'll be looking to see how much Dwarf hairgras and downoi petsmart has today and probably begin planting my carpets this evening! Thanks for looking!