Sup guys,
So instead of just day dreaming about a tank set-up I finally decided to go to the glass shop and order some pieces: (3) 12"x12" and (2) 11-3/4"x12". So with a little planning, half a roll of blue painters tape, and 2 tubes of silicone I was able to finish sealing the tank. Went faster then I thought, was able to tape it up and seal it in under an hour. This is my 1st time doing anything "big" with silicone so I decided to put borders up with the tape to prevent silicone all over the glass (see below). Hopefully it works.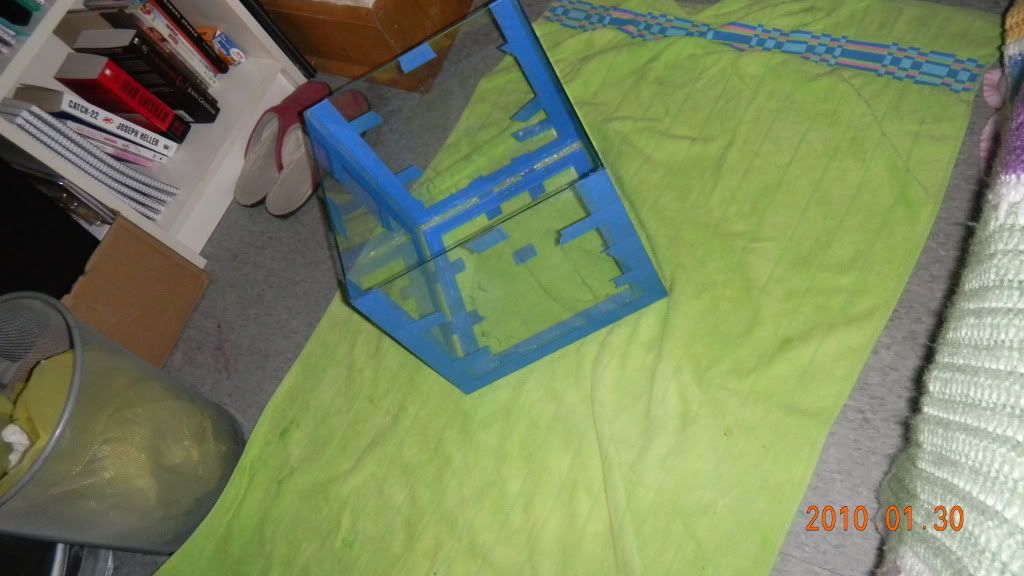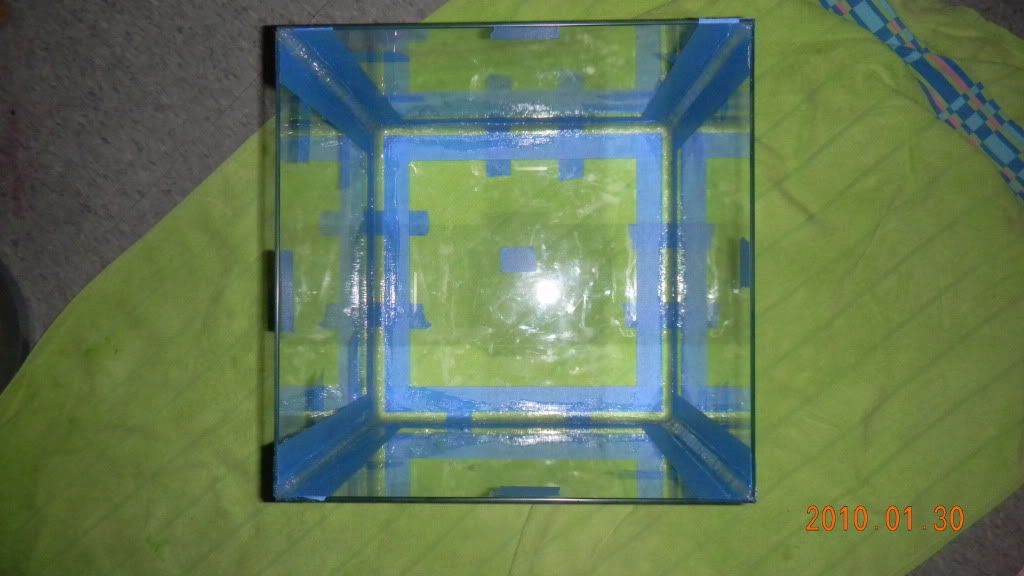 As you can see there is a 1/4'' of a border around the seams. I have a 1/4'' piece of wood that I'm going to use as a straight edge along with a razor blade or two to get straight lines.
As far as lighting goes I have a clip on desk lamp from Home Depot, Hampton Bay 60W max with a 23 watt CFL 5,000*K. I'll post pics soon after the test fill.
I also have a Tom's Mini Rapids canister filter which is rated at 80 GPH. I found a thread about modding it by taking out the flow control so I may give that a try.
Not sure what kind of heater I'm going to go with... Open to any suggestions.
CO2: DIY 2 liter bottles in the beginning, might upgrade to a hi tech system once the money flows a little more in my direction... I had to spend $500 on books this semester
For ferts I may go and get a package off of pfertz.com with some root tabs. Anyone know of good root tabs? Are they worth it even?
I'm debating in between Eco Complete and Florite as a substrate. Any suggestions?
Fish: At the moment the main inhabitant will be a Betta, might get a small schooling group, Rummies, Neons... Some shrimp maybe, 2 or 3...
As far as plants go I wanna try and get a nice HC carpet... Not sure I should try and tackle this on my first real go around with a planted tank... (I planted my 45g tank a few years ago and had somewhat successful endeavor
) Also some Balyx (sp?) Was also thinking about a moss tree with some Christmas moss or Java moss.
Any other plant suggestions are welcomed by all means. Actually any suggestions or whatever is welcomed more so wanted.
Thanks for looking,
-Brian