Discussion Starter
·
#1
·
So i have been neglecting my aquarium for the last few month and end-up with a algae out brake with bga.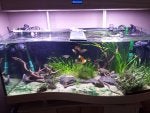 I know the outbreak is due to lack of maintenance and this is why. We have been busy with this mini human.
And his big brother been asking a lot of attention too witch was to expect
.
Now that thing are back to "normal" at home i was wondering if just by doing more water change and cutting on ferts. and light for a while will it slowly go away? I want to avoid using chemical or the use h2o2 if possible. one other thing that dint help is i ran out of co2 and when i got to fill the bottle it was due for inspection and it took 2 week to get my bottle back. Now while i was out of co2 my crypt where doing great if not better then with co2 and now that its back they are melting any idea why???