Discussion Starter
·
#1
·
So I have the entirety of this week as my spring break and besides work, there's not much else going on.
I've kept bettas for close to 8 months now and I have meticulously researched breeding. It helps that I'm good friends with my LFS and the owners, and will therefore have homes for any and all bettas that might result from any breeding.
Over the last 2 months, I've bought about 14 female HMPKs from Aluka from these forums as well as 2 HMPK male from Snowflake311 (the white/brown HMPK male) and Aluka (the dalmatian/pinkish male) respectively . My first spawn was unsuccessful, so I would like your guys help with picking the new pair. I have two other HMPK males as well. The males will be listed first and the females after.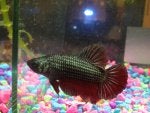 I want to breed the Dalmatian HMPK male with one of his blue or multi sisters, but I want to know what the color combinations of the F2 might be, since the parents were marbles.
Without further ado, here are the females