Discussion Starter
·
#1
·
Hello all. I hope this is the proper place to ask this.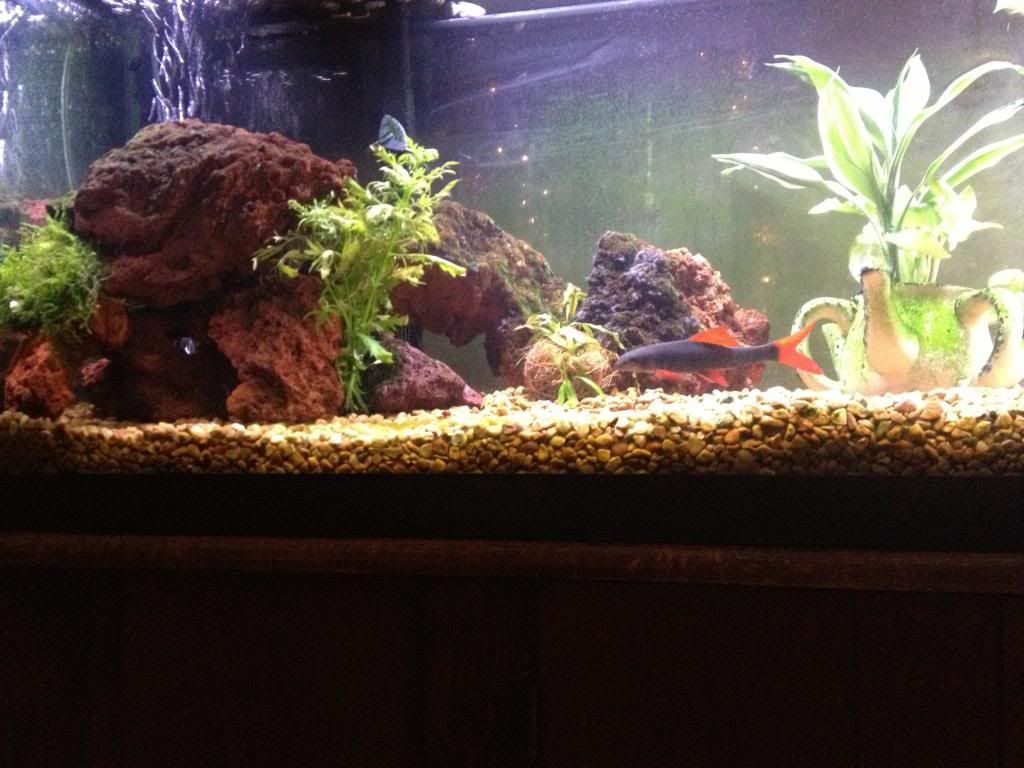 These are the plants we recently picked up from a few of our local pet stores (Petco and VI Pets). I know the one on the left of the Rainbow Shark is a Wysteria (I THINK), though I can't remember the name of the moss or the potted plant in the teacup. We also have added a few more of the moss, as the few ghost shrimp we have, really seem to love it. I know the water is pretty cloudy, but our Filter decided it was retiring last night after a big tank clean and water change (before we put the plants in), though we picked up a new one about 7/8 hours ago, so it's cleared up quite a bit.
Both myself and my BF are quite new to live plants in freshwater aquariums, so please excuse my Noob-ness.
Current Setup:
40 Gallon Long
Marineland Penguin Biowheel 200 (carbon filter)
Air stone (under the rocks)
There is also an air pump on the far right side, that is currently fairly wide open, though we can fine tune it pretty well, to reduce the amount of oxygen if necessary.
Aqueon Floramax (I believe that is the name, can look at box that went out with the filter) T8 Florescent-1 48" bulb
Fish:
Pool Comet-once it gets warm enough, will be transferred out. Was a cheap impulse buy to add to the pond, and was in great shape, so he's temporary.
Rainbow Shark
Parrot Cichlid
3 GLOfish-Danios Type
3 GLOfish-Tetra Type
Chinese Algae Eater
2 Ghost Shrimp
Nitrite and Chinese Trap Door Snails
(Trap doors are raised mostly in tank, then transferred to Koi Pond)
We have two potted Bamboo like plants (I told you I was a NOOB), one of the Wysteria, and three bunches of the moss.
Picked up these today:
Seachem's Activate-phosphorus
Seachem's Propel-Iron
Seachem's Synthesis-nitrate, organic nitrogen, ammonia-cal)
I dosed the tank with the proper amount using a millimeter syringe.
I've been reading about all of the plant stuff and it's just completely overwhelming me.
My questions-so far:
Does the Wysteria need to be planted? Currently it's sitting inbetween two large rocks to hold it down, though it's not being crushed. If so, how do I go about doing so? We have fairly large gravel, but it's loose for the most part.
What's the proper method for planting Wysteria? Fertilizers and substrates? Is the gravel okay? Can I put the substrate down where the plant will be placed, and loosely place gravel around the plant on top of the substrate?
CO2. Is it necessary for what I have planted? Does the oxygen flow need to be cut down? I'm willing to do a cheap CO2 setup-until I know I can keep plants without killing them, but would like to avoid it if possible as the tank dump scares me.
Our light is on a timer, going on around 8am and shutting off at 10pm. Does this need adjusting?
The mosses-will they grow on the lava type stones, or do they need driftwood? We do have quite a bit of driftwood from the Lake shore. Is this useable if boiled?
Last one-will the plants help to cut down on the amount of algae? I'm assuming it's been liking our lighting schedule, but it's been fighting us quite a lot. We mostly had the light on for most of the day, as the Rainbow Shark got Anchor worms, and after we pulled them out of him a year ago, I was fairly worried, and haven't gotten around to fixing the timers.
Well those are my questions thus far. If anybody could answer them, or even just one, I would REALLY appreciate. We are trying to get it right, and if it goes as planned, and once we get more experienced, we hope to green up the tank a bit more!
-Thank you in advance, the biggest plant noob there is.
I do know the part of the tank I photographed (this is where the plants are mostly planted, though another piece of moss and plant similar to the one in the teacup, are planted n the other side of the tank), looks fairly dark, though that is from me dropping the glass lid last night, and breaking the back pane. I pretty much duck taped it together as a temporary rig to keep the tank covered. Had to get a new glass lid, and it has since been replaced.