Very frequently on these boards do I see people with algae issues, who could solve their problems without starting new threads if they simply knew where to look. Questions are often asked, and successfully answered and solved, but this often takes much time. I want to accumulate a sort of "database" per-say, where each algae can be identified with a picture, following a listing of it's primary causes (root problems), and methods in which to get it under control. If anyone would like to add to any part of this guide, just shoot me a pm
.
BBA (black beard algae, black brush algae)
This algae forms small "tufts" of grey/black algae, often resembling spiky hair. This is a quite common algae in our hobby, and for those who do not know how to control it, a terminal one. Because of it's root causes, it is a very common algae amongst the high-tech crowd, who are still learning how to keep things balanced. Many believe it spreads through spores released into the water, and thus can pop up anywhere once in the tank. If ignored, this algae can destroy a tank, gaining completely control over access to nutrients and light, effectively killing plants.
Root Causes -
(1)
-CO₂-
The main cause of BBA is usually an instance where lots of light and nutrients are provided into a tank, say 2.5wpg+, where CO₂ levels are not ideal, or balanced. Be it pressurized CO₂, or DIY, if your levels aren't stable enough for your plants to become accustomed to (consitent 20-30ppm), BBA will find a nice home amongst your plants. As Tom Barr states, lights are your gas pedal, thus you have to be able to control them with things such as consistent CO₂ and proper nutrient levels. If you see BBA in your tank, there's a great chance something wrong with your CO₂ levels, be it an inconsistency or a lack thereof. Fluctuating CO₂ levels are thought to be the main culprit in the development of BBA.
(2) DEBATABLE
-Flow-
Some hobbyists have come to the conclusion that the levels of flow in our tanks may be a large contributer in the formation of BBA. Many have said that abnormally high currents present in tanks may lead to the production of BBA. This has not been proven, but can be used to identify a cause of your BBA. If there is a large amount of BBA only present in an area of high current, the chances are your cause is exactly that, high current.
NOTE - It should always be noted in the identifying of algae root causes that, it is not always just one, but often many things contributing to your algae. These root causes can work in tandem, and often more than one will have to be remedied.
Treatments. Treatments should only be assessed and used if one is planning to solve the root cause of the algae. Treatments may kill your algae, but if the root cause is not identified, it will almost always bounce back. For BBA, one can solve the root cause by stabilizing CO₂ levels in proportion to the amount of light and nutrients present, and by assessing the level of flow in the tank.
Treatment #1 -
Spot dosing or ODing of Seachem Excel.
I, among many other hobbyists, have found this to be the most effective method in the killing of BBA. To sum it up simply, it is the process of using Seachem excel to "burn" the algae, via spot dosing or a general OD of the tank. Read the link provided for exact details on how to go about using the process, and the precautions that should be made before hand.
Treatment #2 -
Spot dosing H₂O₂, Hydrogen Peroxide
Spot dosing of H₂O₂ is relatively similar to the spot dosing of Excel. Most find it to be less successful than spot dosing of Excel, and a sort of "last resort".
This thread
has in-depth detail on how to use this method correctly.
As one can see, if the root causes are fixed, and proper spot dosing of excel is used, BBA stands no chance.
BGA (Blue green algae)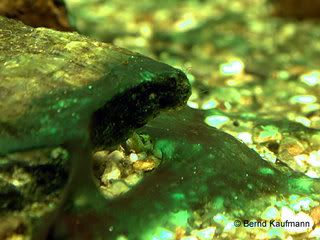 BGA is in actuality, not an algae at all. It is an extremely primitive bacteria, dating all the way back to the formation of life on this Earth. Many scientists believe that if it was not for the formation of BGA, or
Cyanobacteria
it's scientific name, we as humans may not exist. How ironic. Well anyway, this "algae" is easily identified by it's blue green color. It spreads outwards as it multiplies, often creating thin "sheets" of blue green slime. If one removes it from the tank, it will be quickly noticed that the bacteria has quite a foul smell, and can be easily identified in that manner. This algae will often trap pockets of gas under it as well. Since BGA is actually a bacteria, it is very easy to get rid of in a multitude of ways.
Root Causes-
(1) –
Low NO₃
- Blue green algae tends to flourish more often in environments containing low amounts of nitrates (NO₃). When attempting to identify the root cause of one's blue green algae issues, nitrates should be tested first. If the results are anything less than 5ppms, it very well could be the cause of the algae. Ideal NO₃ levels are anywhere from 8-15 or so ppms. Many would argue that even 20ppms is acceptable. For those with shrimp in their tanks I would advice not to go any higher than 10 or 15 ppms as shrimp are susceptible to nitrate poisoning.
(2) –
Insufficient Flow
– Blue green algae tends to be far more rampant in tanks with poor water circulation, a very common thing in this hobby. Blue green algae will most often grows in the dead spots of our aquarium, or even ones that just don't get enough movement. If your tank is heavily planted, and insufficiently circulated, your BGA issues are most likely the result.
Treatments. Treatments should only be assessed and used if one is planning to solve the root cause of the algae. Treatments may kill your algae, but if the root cause is not identified, it will almost always bounce back, ESPECIALLY with BGA. This stuff doesn't give up easily.
(1) –
Erythromycin
– Erythromycin is an antibiotic, more commonly known as Maracyn in the industry. Since BGA is a bacterium, Erythromycin kills it rather effectively. Some try not to use this option, as full doses are not good for the plants present in the tank, and it WILL fry your beneficial bacteria, be it in the ttank or bio-media in filters. Most of the time Erythromycin is not necessary to remove BGA from a tank, and if it is absolutely necessary after all else fails, I would only recommend a half strength dose.
(2) –
Increase NO3
– One simple way to ward off BGA is to increase the level of Nitrates present in the tank to acceptable levels. This can often prove extremely effective if the root cause was in fact low nitrates.
(3) –
Increase Flow/Circulation
- Another simple method of ridding your tank of BGA is to increase the water flow and circulation present in your tank. A tank can quickly go from having enough flow to having far too little, as filters slow down over time, and plant mass often hinders circulation greatly. No one is safe from this, keep on top of it.
(4) –
Manual Removal
– Simple as it gets. It comes out in sheets, so just grab a hold, and pull it out. **Note, this will do NOTHING but temporarily remove some of the BGA if root causes are not identified and solved. It will come back even quicker. I also recommend being very careful when doing this, as carelessly removing this stuff can actually cause it to spread into new parts of the tank as little pieces break off and float to different areas. I recommend using a turkey baster, it's very effective in the removal of this bacteria.
Summary: I personally have found that BGA can be eradicated without the use of antibiotics, as long as one is knowledgeable enough to know how to cut of BGA's life bloods': Low nitrates, low circulation. With BGA, it is not always clear cut, often times a tank will have low nitrates AND low circulation, so both have to be addressed and treated in tandem. A combination of treatments 2, 3, and 4 is a sure shot at ridding you of your BGA.