Discussion Starter
·
#1
·
I'm still tweaking my Aquascape in my tank right now, and need some advice. I am loosely basing it off of a picture I found: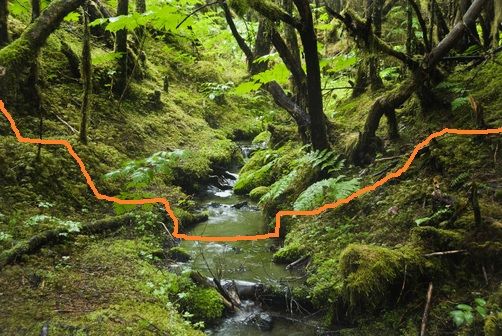 Current Tank: (edited with simple photo editor to remove the blurryness from my hands shaking)
Current Tank Plan:
It's a ten gallon tank, with 2 13Watt Sylvania Micro Mini 6500k CFL bulbs, Eco Complete substrate, and I'm dosing with Seachem's Aquavitro line. Oh and temporary DIY CO2.
Current plants are only an Anubias Nana Petite and lots of Willow Moss. I'm really struggling on how to better create the contours in the picture. And I think the only solution at the moment will probably be to use substrate dividers to try and build them up. I have plastic notebook covers, but in lime green (eeeek). What kind of paints are safe for aquarium use?
I was going to use egg crate, but decided to not go with that plan. The other place I'm struggling is the creek. I tried sand but that was a no go due to the size of the tank. Filling it up, even with paper bowl I float on the top to diverge water if the bowl even moved slightly, and the water hit the sand, it was like a bomb went off. And it's REALLY noticeable on a black substrate. So I'm thinking of going with river rocks. I threw in what I had, but I still don't like it right now.
I'm liking how my trees are growing in but I need some advice on how to better mimic the picture. I do think I need to find a lot more thinner pieces of driftwood to make different sized trees, and try and create more depth. I was thinking of using the plastic dividers to try and create the curves of the creek, and possibly hot glue rocks to the top of it, with moss attached, to try and recreate the look in the picture. I have access to TONS of driftwood since Lake Michigan is only an hour drive and the dunes are packed with pieces of hard wood driftwood, completely dried out too.
I do have plans to add Fissidens, Hydrocotyle Tripartita, another Anubias nana perhaps (I love that plant), christmas moss, and more willow moss. But if I could spice it up with a few other plants to mimic the picture better, please tell me! Just a side note: this will be a shrimp tank, so the CO2 will be getting removed about 2-3 weeks prior to shrimp going in, but the shrimp aren't going to be ordered until I'm happy with the scape, and the plants have gotten some growth to them.
Anyway any ideas or suggestions to help me recreate the look in the picture please tell me. Be as critical as you can be. I want to get this right, and I'm a perfectionist too. There are no critters except snails that hitchhiked, but the CO2 got the majority of them. So essentially I'm free to drain most of the water out and mess around, and fill back up. The tank isn't close to cycled yet, though I'm thinking it will probably be another 3-4 months until it's ready for inhabitants!