Discussion Starter
·
#1
·
I started this thread on another non-fish related forum and wanted to share it here as well, let me know what you guys think.
February 5th 2014
HOORAY! My new 180 gallon aquarium is now empty and should be in my apartment by this weekend, I'm super excited, have been wanting to get something like this for a long time. This will be a new home for my Red Devil Cichlid, so it won't have any live plants in the tank itself, but it does have a sump style filter, and I believe I will be planting some easy to grow, stem style plants down there to help keep the water in a good chemical balance. Here is a picture of it at the previous owners house, its a little dirty, but after a good scrub down it will look good as new! It will be a production getting it to my apartment, I am going to have about five or six helpers, but it is going to be very rewarding after I get it fully set up. The previous owner had used it as a saltwater aquarium, so I will have to flush it with fresh water to get the salt out of the equipment and safe for my cichlid.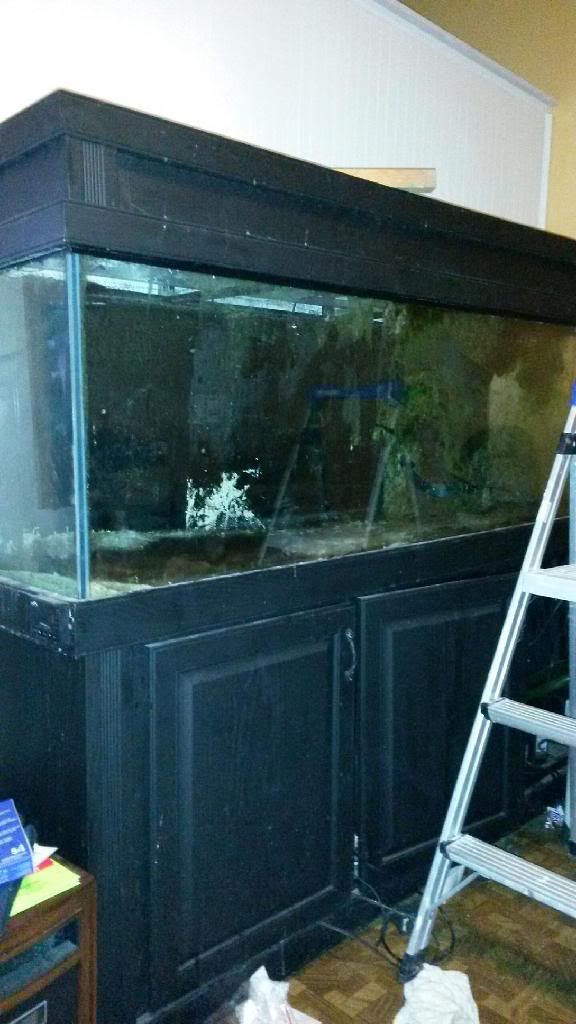 February 6th 2014
I was going through some old photos on my old phone and found a picture of my cichlid when he was just a baby! He is still much larger than most pet fish that people own. For reference, the white container is a standard size protein powder container, the aquarium is also a standard 30 gallon aquarium. I am not sure when this picture was taken, but I think it was almost 2.5 years ago or more, and then one of him in his current 55 gallon tank a little more than year ago.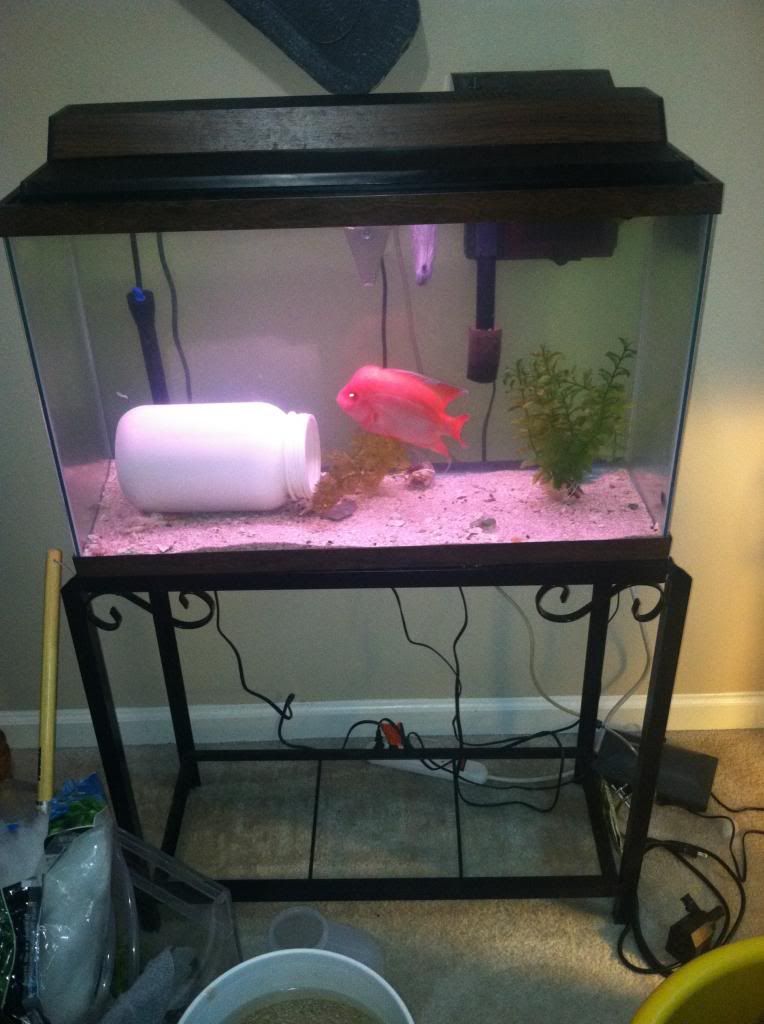 February 9th 2014
IT IS HERE! Got the 180 today, got it full of water already and cleaning it up. Right now it is bare bottom, will be adding some substrate to it soon, then will probably add some goldfish to help cycle it. It was a lot of work getting it here and a lot of work getting it cleaned up for freshwater, but it is super nice, my cichlid is going to love his new home!! I had the cichlid out of the tank today to move him, and he is about 9-10 inches and weighs in at about 2.5 pounds or so right now. Heres a picture of the aquarium filled with water in my living room.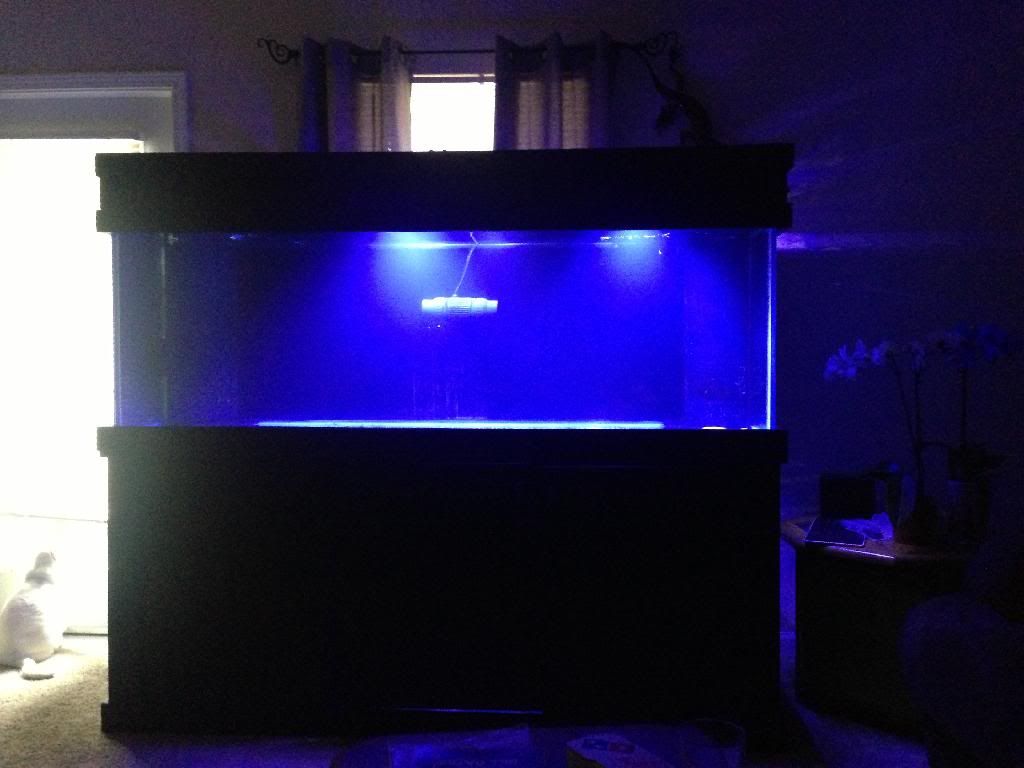 February 14th 2014
The snow and ice melted enough so I was able to get the truck out and go to the hardware store, I got a lot of stuff I need to work on the stand and canopy. I got some good advice from Water on some very affordable rubber coating from Lowes, the stuff I was looking at online was $60-$80 a gallon, and I was able to get 5 gallons for $45 from Lowes today, which will be enough to do all my aquarium stands and not just one! I also got a bunch of new wire so I can replace all the old wire that was used to wire all the LED lights, I also got what seems like a good quality soldering gun today, I say gun because it looks like a gun, not a glorified wood burner like I had before, I think I also got the correct solder, flux cored solder.
I also called the people this morning that sold my RODI system to find what kind of fitting I need to be able to hook it up to my sink in the bathroom, they were pretty informative and helped me find the exact fitting I needed, I would've bought it from them but the part was only $10, and they told me on the phone the shipping would be $14.50, so I didn't order it. So while I was at Lowes I went into the plumbing section and talked with the associate there and explained what I was trying to do and he helped me piece something together, its pretty much the exact same thing from the people online, except there is no ball valve and its all brass instead of all plastic. I decided I can put an inline shutoff valve easily down the road when I need it, the only time I think I would need it is when you have to do a filter change and I don't believe you have to do that very often, so I could easily just turn the water off entirely to that sink while I did that.
I worked on the doors of the stand today, sanded the bad door down and then coated all of them with some of the rubber coating, it went on really well I just used a really cheap $2 paint brush to paint it on, it worked just fine for me, and best part if you can just throw it away when you are done and don't have to worry about trying to clean the rubber off of it. I put two coats on the doors today just as a test run. I am not done with the stand by no means just wanted to test out the rubber coating while I had time. Tonight I am going to take the canopy off and work on redoing it, I'll get some pictures of that as well and post them.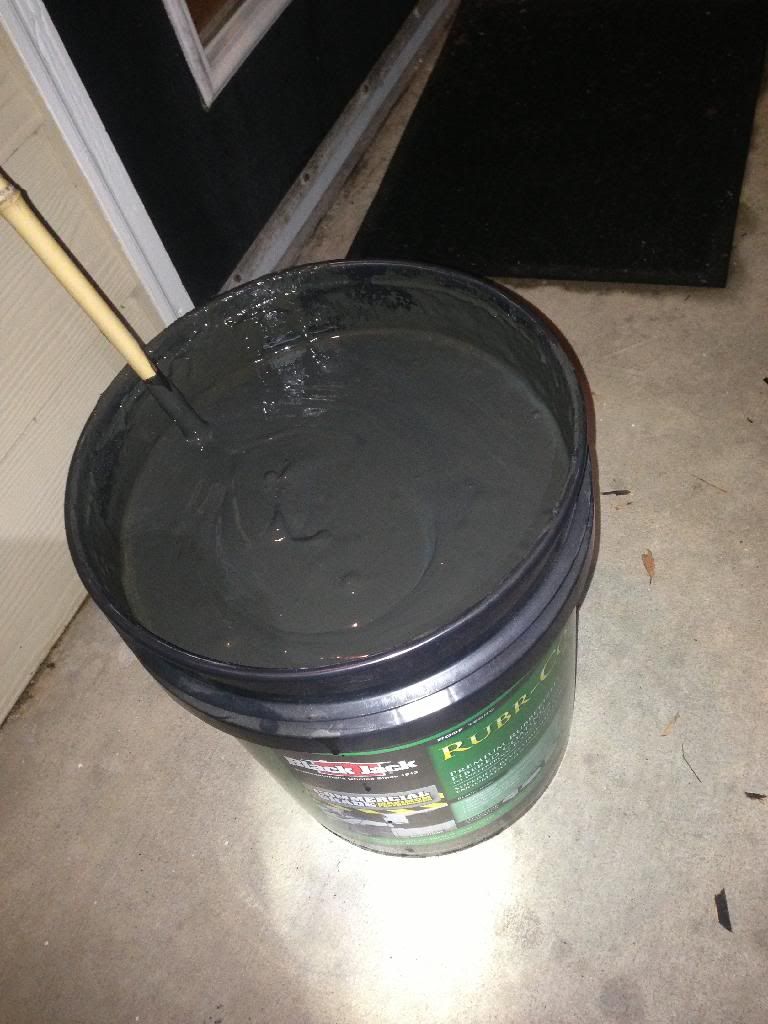 February 16th 2014
I completed the rubber coating on the canopy the other day and since then have been working on getting the LEDs up and running. Six out of eight are working on a test ballast, and that will be way more light that I truly need since I won't be growing any plants or coral in this aquarium theres just no need for a high PAR rating, just enough to please the eye. Here are a few before and after rubber coating on the canopy, I will try and get some shots of the LEDs soon once it is all worked out and wired correctly. Forgot to get a photo before I started putting the coating on so there some already on in the second photo of the canopy.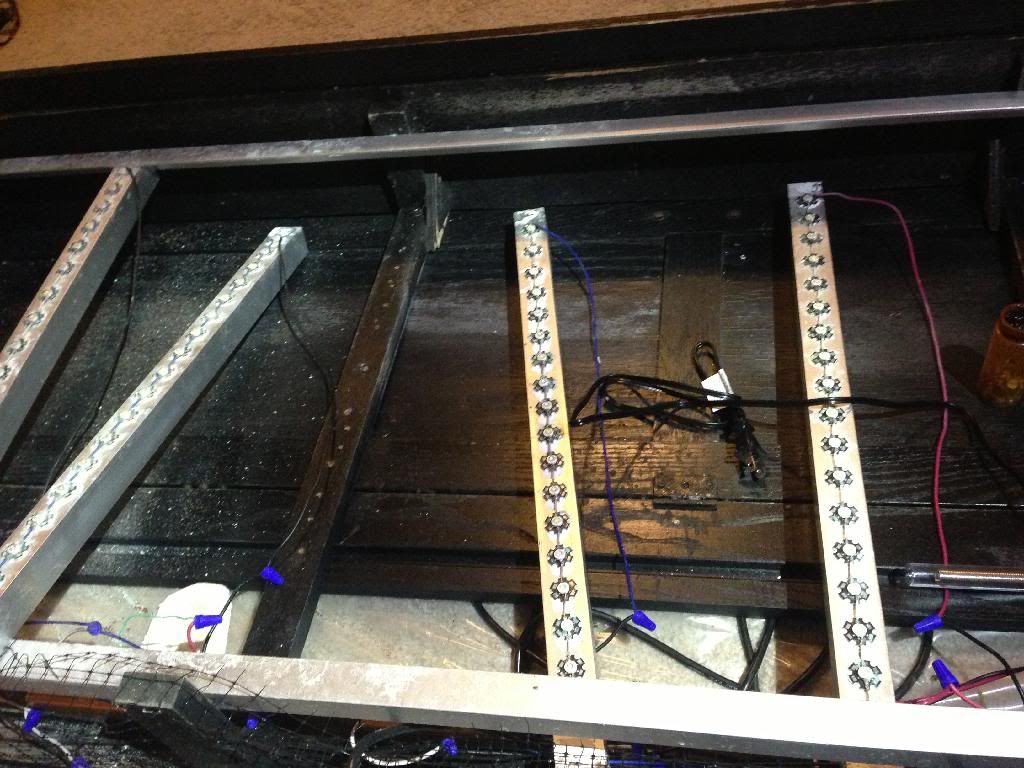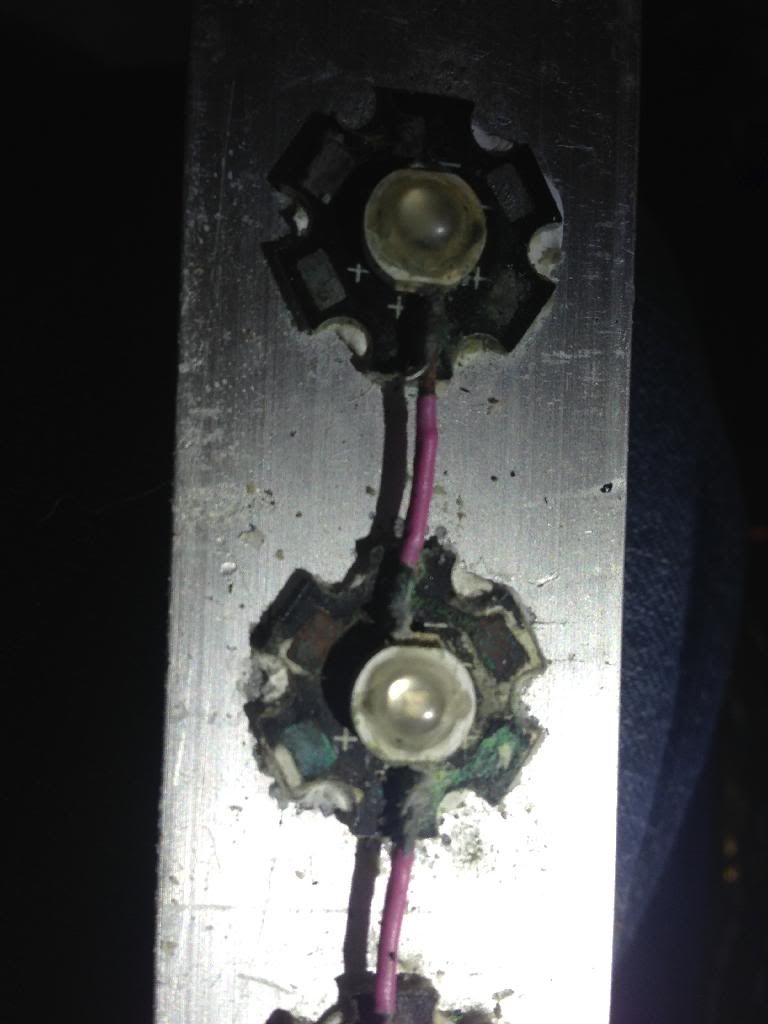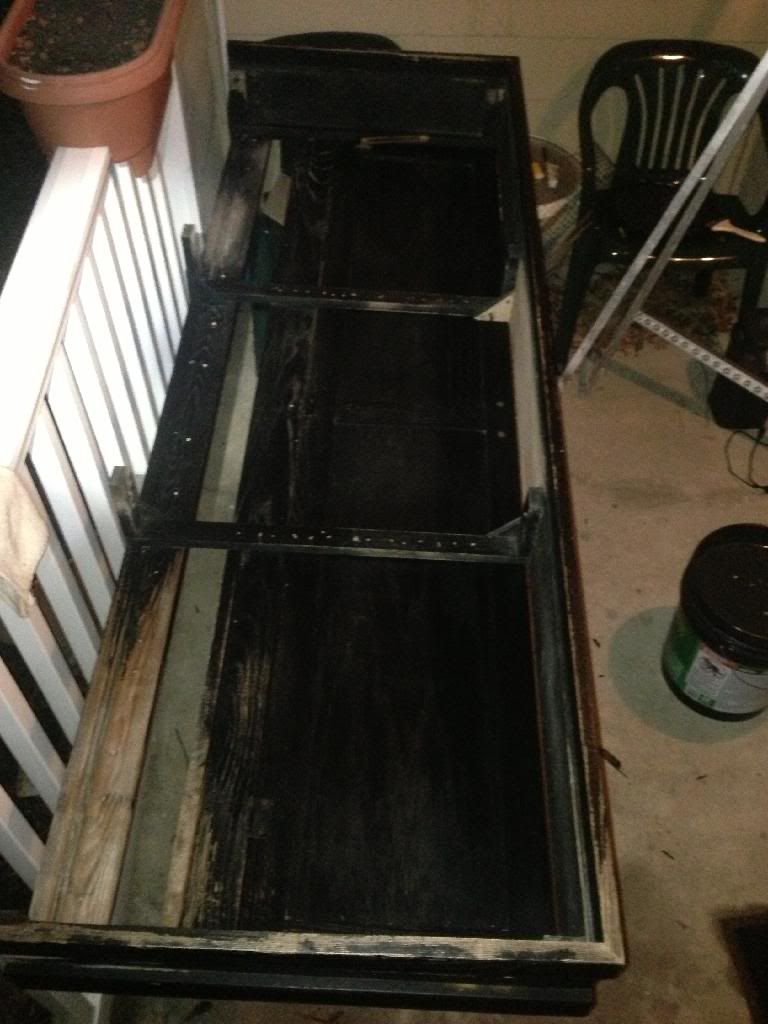 February 17th 2014
I've had this aquarium set up for 8 days now, the current filter sock it has is pretty dirty and causing the water to overflow over the top of the sock instead of going through it. I have already rinsed it out a few times but seems to be clogging quicker, so I was looking into replacing it, but the LFS near me didn't have any in stock, and when I checked online they ranged from $7-$15 each, so being crafty, I decided to make my own today! I watched a few videos on youtube and it seems very easy to do. A friend is coming over to help and make sure I don't sew my hand to something. I figure for the price of a couple pre-made filter socks I could easily make enough to last me a year or more, and even have one sock for each over flow tube. Here a picture of what they are supposed to look like, and when I am done with mine I will post a picture of what mine look like.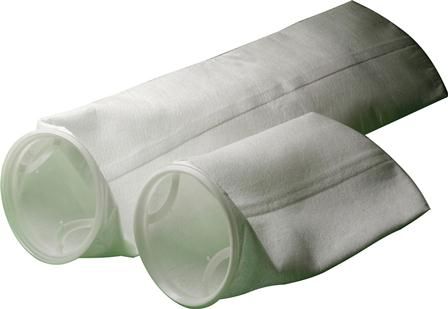 After a bit of hard work I am finished with all my filter socks. I invested $30 into fabric and managed to make 53 filter socks, which should last me 2-4 years depending on how often they need changing, also I figure if I bought them all in a store at $10 each it would have cost me roughly $530 plus taxes, so I saved a little over $500 doing it myself. I custom made my socks to be a little longer than average but slimmer as well, so now each overflow has its own filter. I am going to try and sew in a few pockets into a couple socks and see how it works with carbon and ammonia chips built in. If it works well I will not have to get a phosban reactor, which will save me even more money in electricity and the device itself. Here are a few pictures of the finished products, they don't have a plastic ring in them like a store bought one, but I attached then to my hoses with a hose clamp and I believe this will work even better, it will keep all the detritus sealed inside the sock and force the water through it for a much longer period.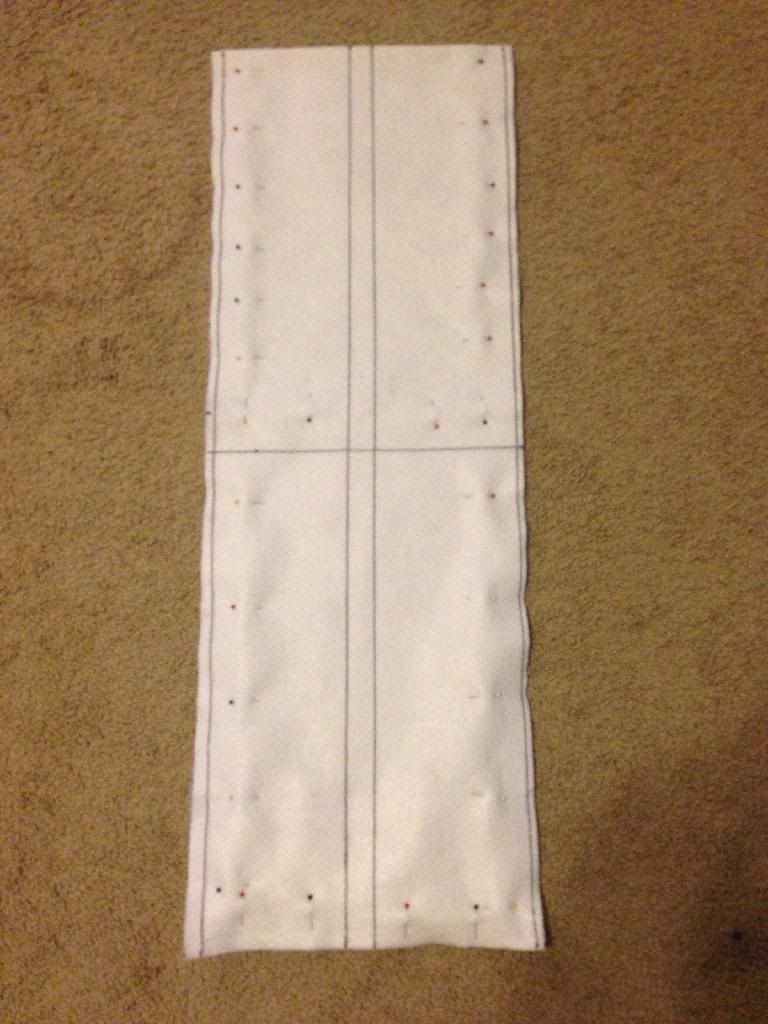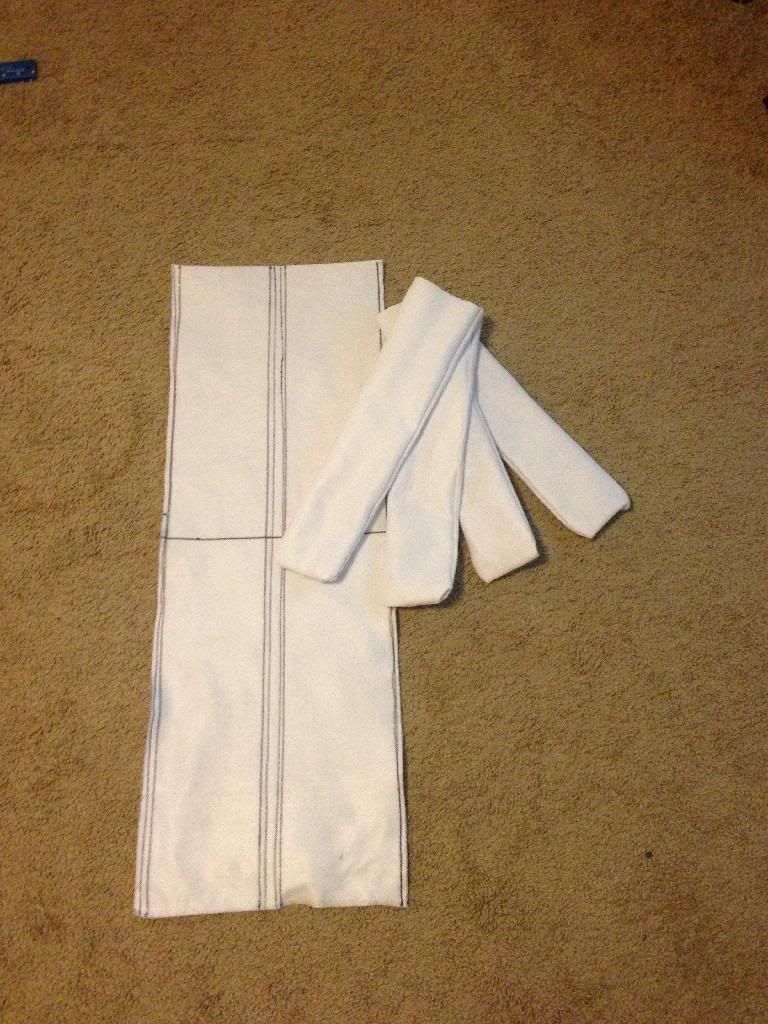 February 21st 2014
I still have yet to get the LED lights working correctly for the aquarium. I was using stranded wire, and now I am going to swap all that out for solid core wire. So hopefully this weekend, I will have some time to swap all the wire out and try again. I really want to get them lights working soon because it is holding me back from completing the rest of the project. IF the lights get fixed this weekend I am going to drain the tank on Wednesday, and start on the repairs for the aquarium stand, will probably take me a few days to finish the stand the way I want.
February 24th 2014
Finally got six out of eight LED light bars working, took a bit of time trying to figure out what had to be done. There is some information online about it but not as much as you would think, given the amount of information there is on other subjects, I guess it is still newish. It turns out LEDs are all about resistance, so when you are wiring them you need to have the same amount of LEDs on each bar, so we re-worked some of the bars and replaced some LEDs to get them working, running 6 bars with 17 LEDs per bar, I am not sure what wattage LEDs I have but when I compared them to other LEDs online, I believe they are 3-4 watts each. It has been fun and also frustrating working on the LEDs having come from not having any back ground in lighting it has been a challenge, I still suck at soldering but you win some, you lose some. I am thinking of making another light for my aeroponics garden, I saw some 10 watt LEDs online, and they would probably work really well.
I was going to hold out and buy some pure white sand to use as the substrate but it was just too expensive, so I went and bought some play sand and washed all the clay out of it and saved a lot of money. Each bag of play sand was around $3.50, so I was able to do the entire aquarium for about $7, as to where the pure white aquarium sand would have cost be in the neighborhood of $300-$400, so I practically saved enough for a replica, or a new movement for my Omega. Play sand has a lot of clay in it so you have to rinse it really, really well, it takes about 1 hour of rinsing to get the majority of the clay out of the sand, you won't be able to get it all probably but you can get enough of it out so it does not cloud the water, and eventually with time it will all come out, most clay has a good amount of menials in it and won't hurt most fish in small amounts. Below are some pictures of the sand I used and what it looks like when your rinse it and it's still dirty, you pretty much have to rinse it till the water is almost clear, a test i usually do, is with a 5 gallon bucket filled half way up with sand if I can fill it up with water and still see my hand on top of the sand pretty clearly then it is rinsed enough.