Discussion Starter
·
#1
·
Ok, a continuation from the other thread about my bolivian rams spawning this will be a thread about my apistos. These guys I did want to breed! This is a trio that has been in my 20 gallon tank at work for just over two weeks. They started trying to spawn one week after I got them with varying success.
First off here is a picture of the tank. This one is understocked and overplanted. I've pretty much let the plants grow wild. It looks much better in person that it does in the photo.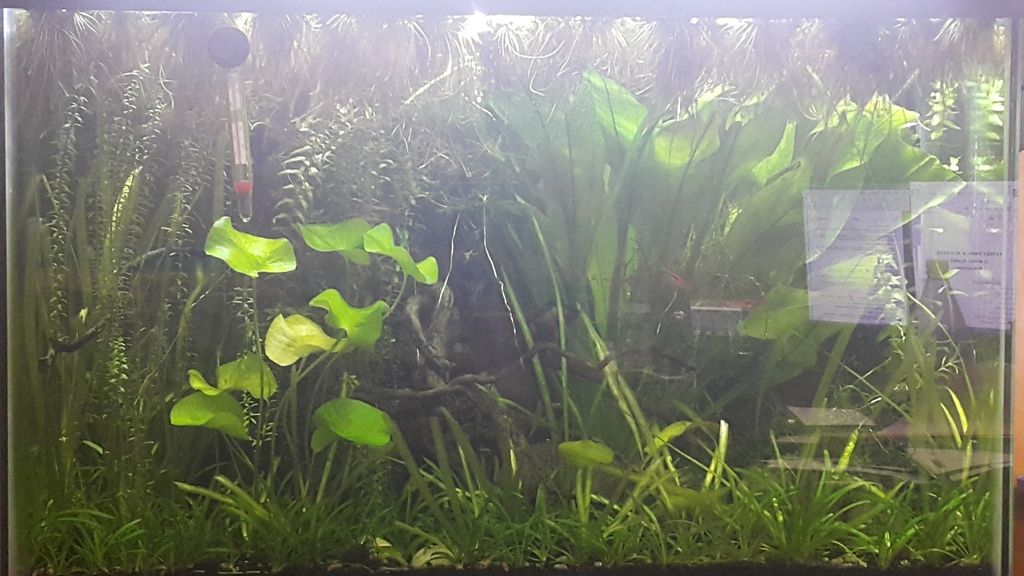 Things started last Thursday night, exactly one week after getting the apistos. First off we've got a little bit of the spawning behavior and spawning coloration
https://youtu.be/wIwx4gtJcck
Another look at the colors:
https://youtu.be/r3riptaqnuw
Yet another look at the colors and a little dancing:
https://youtu.be/pP958Lz6ZdM
A slightly closer look at the females spawning color:
https://youtu.be/dfdniViRo_A
I was looking for the females to be going in and out of the caves as a sign that they bred successfully and on Monday I didn't see that. I was dissapointed, but I guess I can't expect so much too so. The one female was hanging out by the outside of the cave all day long but it took me a little while to put it together, but late in the afternoon I noticed this...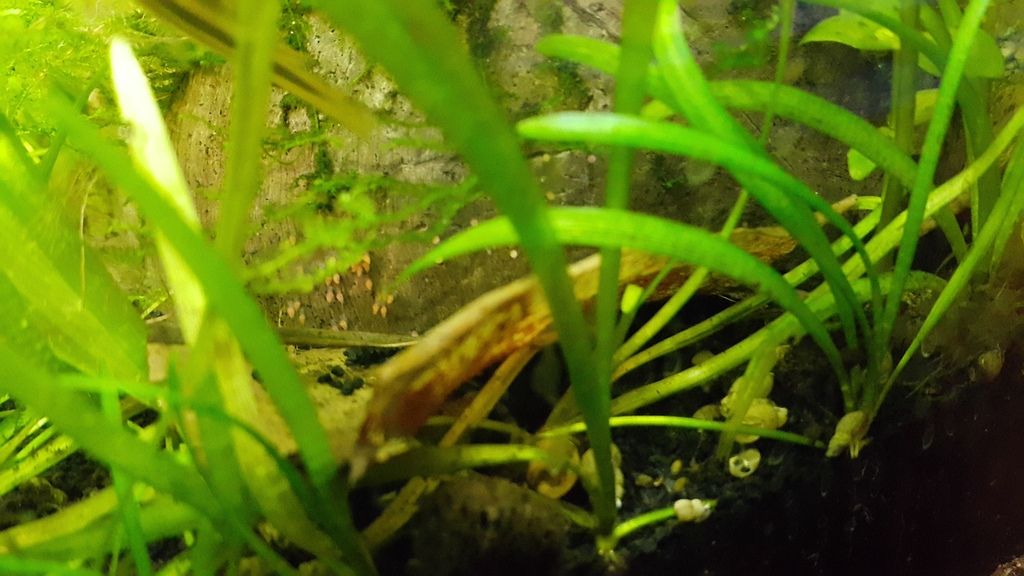 She laid her eggs on the outside of the back of the cave. I guess that still counts as being a cave spawner. Just like with the rams I didn't have to wait long as I saw eggs hatching by lunch the next day. Here is the female corralling the newly hatched wigglers.
I saw the other female corralling fry on the other side of the tank but it was too quick to catch on video and she put them in a spot where it was near impossible to see them. I'm pretty sure they have all been eaten (mostly by the male) Not all first timers can get it right I guess.
https://youtu.be/MjBlKE48T1I
The wigglers after 1 day:
https://youtu.be/ffsr55zNsG8
2 days:
https://youtu.be/tKkv1otCdT0
3 days:
https://youtu.be/hAqvtAozKSY
this morning Finally got a decent focus where you can really see them:
https://youtu.be/Pmb9F4nSrk0
Now in the afternoon the fry are starting to manage to move around and are working their way up the side of the cave. I even saw a tiny bit of swimming.
It's wait and see, but so far it's looking good. I feel much more confident that some of these will make it as opposed to the rams.