Discussion Starter
·
#1
·
I was reading this website last week:
https://aquariumscience.org/index.php/7-2-3-k1-media/
Instinct tells me to take it with a pinch of salt, but I also admit to being one of those who use Seachem Matrix in all my filters because of how good people (Seachem?) say it is. Then I spotted a couple of bags of ANS K1 media on offer and thought I'd pick some up to investigate and perhaps broaden my filter media horizons.
My tanks either use canister filters or they have internal filters (similar to small sump setups hidden at the back). Sumps are not an option due to small size of tanks (13l shrimp tanks, 50 litre "big" fish tank!) and no space under the tanks.
So what about using a bag of K1 media in place of Matrix in a canister or internal filter for the bio-filter? The above website would suggest that it is waaaaay better: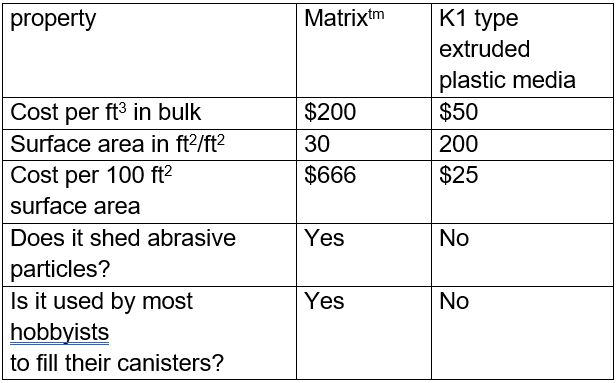 But is it? Does anyone actually use it statically like this? Any experience or real world results to share please?
Many thanks, James