Discussion Starter
·
#1
·
Hey guys, well I know this isn't a scorpion forum but I figured I'd rather make a post here first than register on a scorpion forum
just
to ask for an ID.
Just moved to a new house a couple months ago and it is right on the edge of town against the foothills of the sierras in central california. Actually the house is on top of a hill offering a great view with only a neighbor on one side, but the downside is all the critters.
We've been dealing with millipedes lately with the colder, wet weather but those have been taken care of with some insecticide. I thought it was going to take care of scorpions too. When we moved in, we found a few dead ones around the house and my roommate is actually pretty freaked out by them (something I may have fun with later :biggrin
.
Anyway, today as my roommate was doing some laundry he pulled out some clothes to put in the washer and saw something fall. Low and behold it was a small scorpion that was still alive that he managed to capture.
This thing is pretty small, about 2-2.5 cm from head to the "curl" in its tail. Just wondering what kind it is so that I can be a little more informed. I'm thinking about doing another round with the bug spray just to be sure but am waiting until its not going to rain.
Anyway, here are a couple of pics of it on top of a wet tissue.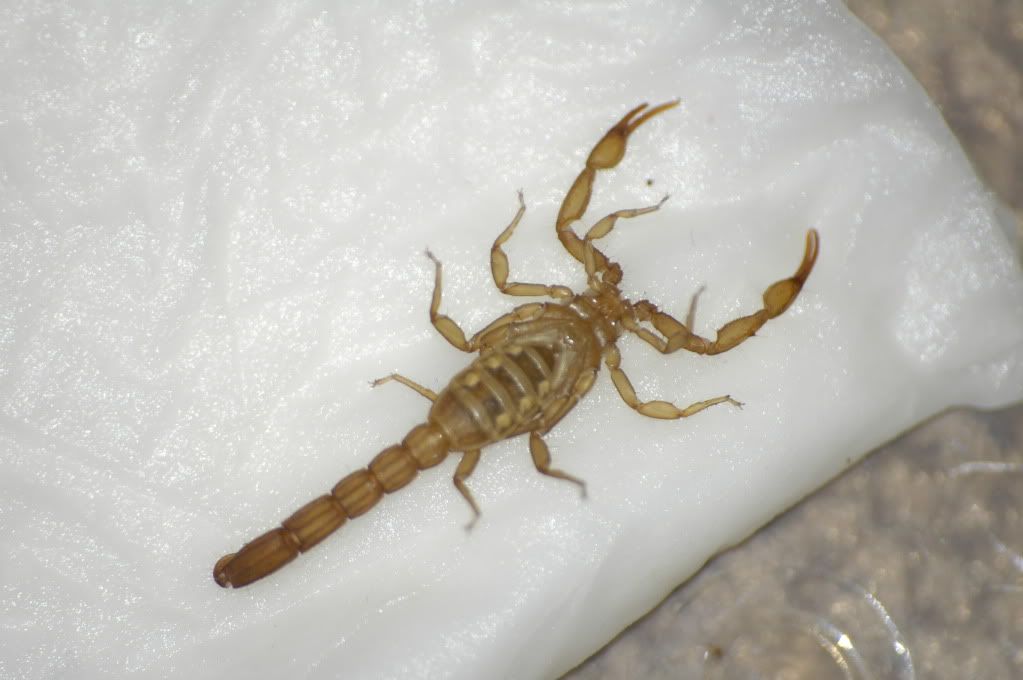 Its alive, but not moving much. From what I've seen it looks kinda like a stripe-tailed scorpion, but I'm just not sure.
I figured it may drink some of the water from the tissue since the idea of keeping it as a pet is somewhat intriguing to me...Who knows, it could spark a new hobby.
Anyway, if someone could ID this thing I would appreciate it. If not I guess I'll just go ahead and try a scorpion forum or something. Maybe its too small still to properly identify.