Discussion Starter
·
#1
·
I picked up 2 juvenile ancistrus sp. "Wabenmuster" from Eric Thomas (aka Bekateen- a moderator on Planet Catfish) at his lab at the University of the Pacific. I had seen these gorgeous ancistrus species at a Sacramento Aquarium Society Auction and finally was able to get a couple juveniles from him about 7 months ago. I only bought 2 because they were pricey for an ancistrus species-- $35.00 each. At the time were much too small to determine sex.
This was what 1 of the fish looked like as was acclimating it to my 30 gallon tank. Really beautiful with a honeycomb pattern.
I kept the pair in this tank until about a month ago when I shut this 30 gallon down. I then added them to my 180 gallon, not thinking in terms of them breeding, just a temporary space until get another tank ready for them to go into. I have about 12 pleco caves in the 180 stacked on top of one another because I had also got about 8 regular bristle-nose juveniles when I got these guys in hopes of breeding them when matured.
I first noticed that my albino bristlenose was sitting on a clutch of eggs and was super happy that I finally had some breeding activity Then, I noticed one of the Wabermuster nervously darting in and out of a cave because I was getting too close. I shined a light in but couldn't see anything because the male stayed in cave when it determined I was going to pick up the cave. I lifted the cave and could finally see a mess of fry at the very back of the cave. It was very exciting!
I will try to get a video tomorrow of parent and fry to share. Not sure this batch will survive in this tank with geophagus, discus, and altum angels; but, at least I now know I have a male and female who are interested in breeding.
Here is a bit about this ancistrus species from Planet Catfish. I also am including a link of Bekateen's spawn of this catfish. This is the same group I got this pair from.
Images are copyright and may not be reproduced without permission of the copyright holder.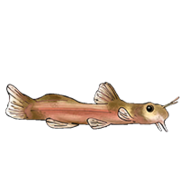 www.planetcatfish.com