Discussion Starter
·
#1
·
This practically appears overnight! Every time I clean it out, it comes back. I've done research but I've come up with nothing on what it could be, or how to treat it.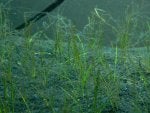 Tank Specifications:
-Size: 10 gallon
-Lighting: LED, 10 hours usually
-Substrate: Sand, with a few root tabs
-Co2/Ferts: Excel and liquid ferts occasionally
-Plant: Dwarf Hairgrass (E. Acicularis)
-Filtration: Whisper 10x (also tried 20x)
-Animals: 1 Gold Tetra, 1 Ghost Catfish, 1 Amano Shrimp
Thank you!