Well, after much hard work, plus a lot of trial and error, I've finally reached a point where I'm ready to show you guys my tank. So with allow me to present my tank, named after a great O.A.R. song,
Black Rock
.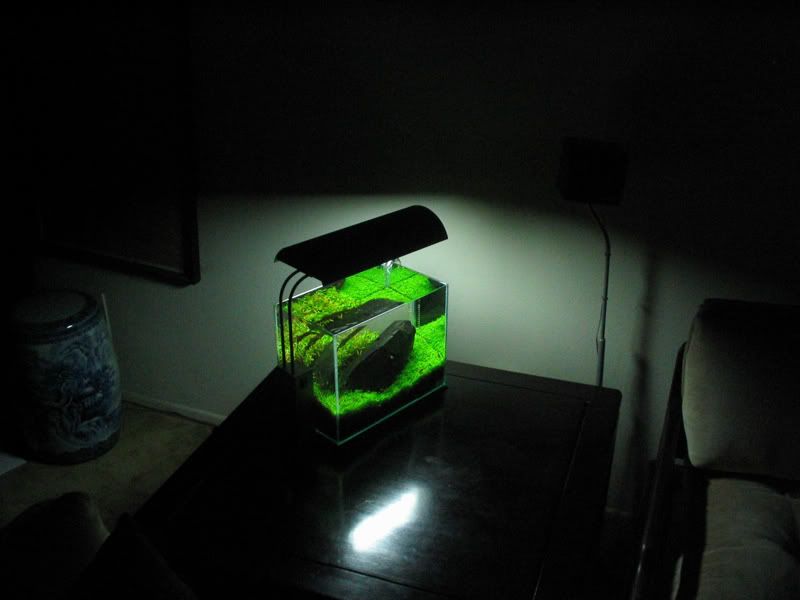 Tank: ADA mini-s
Lighting: ADA mini solar
Filter: Eheim Ecco 2232
Substrate: Aquasoil w/ powersand
Ferts: ADA step 1, Brighty K, Fleet, and stumpremover
Flora: HC, dwarf hairgrass, crypto wendtti, rotala rotundifolia (indica?)
Fauna: 1 lone bee shrimp, couple cherries, pond snails and a juvi SAE on a BBA cleaning mission. :icon_lol:
I'm really proud to say that this is how my tank looks with all the equipment in the tank. Only lilies, that's it. I just got done with the first trim and hope to bring you all along as it grows out. Hopefully what I have envisioned in my mind will surface.
I have the Co2 limewood diffuser and heater located under the table in what I call the G.C.O.O.T.T. (get crap out of the tank). Thanks to Snazzy for getting me started on his DIY inline heater:
http://www.plantedtank.net/forums/diy/36257-diy-external-heater-56k.html?highlight=heater
Co2 misting is delivered by the output lily via a limewood diffuser located slightly in front of and under the output of the pvc T.
I am also very proud of my HC lawn. This started out as a dime size ROAK from JenthePlantGeek, so a big thank you goes to her. In my experience, hc loves excel. So the tank gets .3ml daily and 2.5 for a big boost at water changes.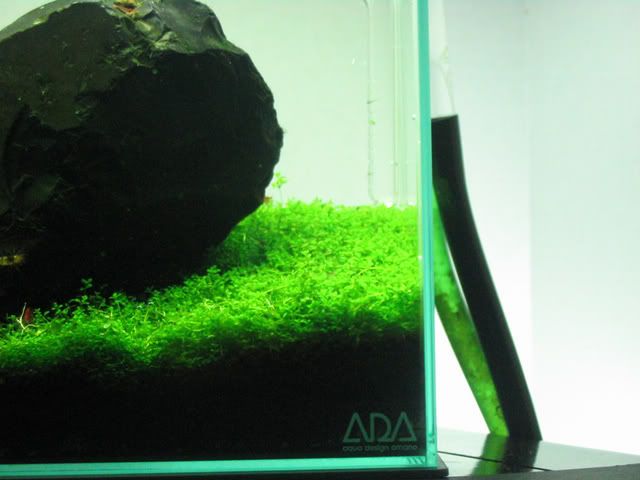 There is some pesky BBA that appeared during my Co2 experimentation. Excel is keeping it a bay until my Co2 solenoid comes in next week. But other than that, no real algae issues exist.
So there you have it, a year after my first nano. When you look back on things, it becomes apparent how far you've come. Just wanted to post a pic of my first nano as a thank you to TPT and APC as a thank you for the advice and source of growth (no pun intended).