Welcome to my Journal of my ADA 60P Setup!
This journal will be chronicling my jungle style ADA 60P. I will try and upload everything I do and show people what i have done and what I learnt from this setup! My aim is to make my journal detailed so that others can get help from it if needed. This is going to be a fun journey!
Here is a link to my old setup of Iwagumi Style aquarium, it was a nice setup and plants are growing very nice! Had a beautiful HC carpet. But i got bored of it so I was thinking of changing it to a different style.
ADA 60P Iwagumi Style
http://www.plantedtank.net/forums/12-tank-journals/1080978-ada-60p-setup-iwagumi-style-aquarium.html
Inspiration
Here are some of my inspiration i got from Youtubers, Form and the Father of AquaScaping Takashi Amano:
(Youtuber)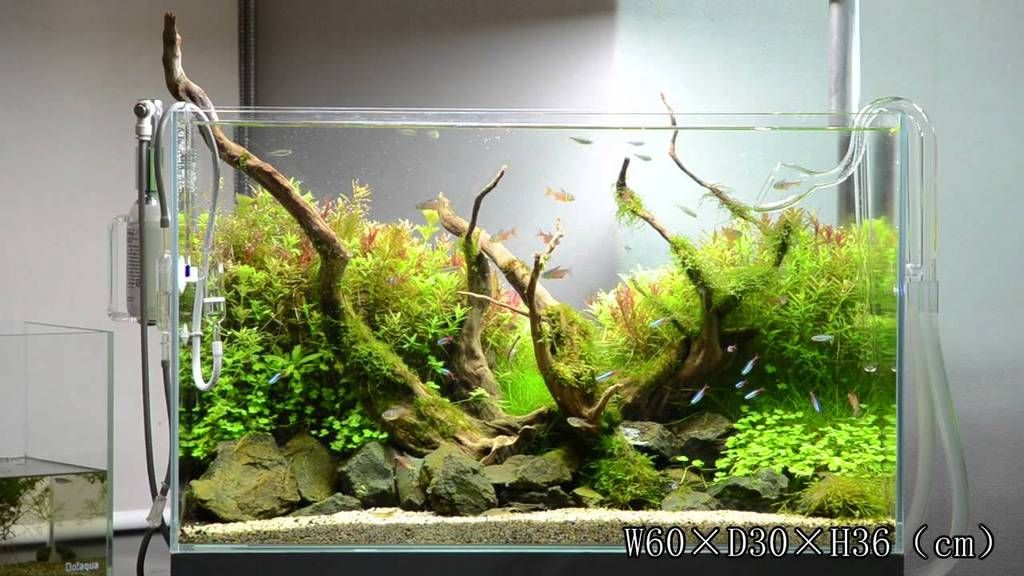 (ADA 60P)

(Takashi Amano)
Driftwood
I love how the driftwood is above the tank, that would open opportunity for my to explore submersed and emerged plants. At the same time it gives it a more natural look to the overall composition. I went to my local fish store and spent hours playing around with the different type of driftwood and was trying to figure out what size and what type of diftwood would be suitable for my 60P. it was quite hard because i dont really have my tank there for me to play around with it in my tank. In the end i picked up 2 pieces of GOLD VINE Medium driftwood. Its very common i guess, its found in Mongolia and have a paper smooth texture to it. It is extremely low in any tanning. The Gold Vine is very light so it will require 7-10 days to become water-logged and sink.
So here i have been playing around with the layout(its actually 2 pieces of driftwood)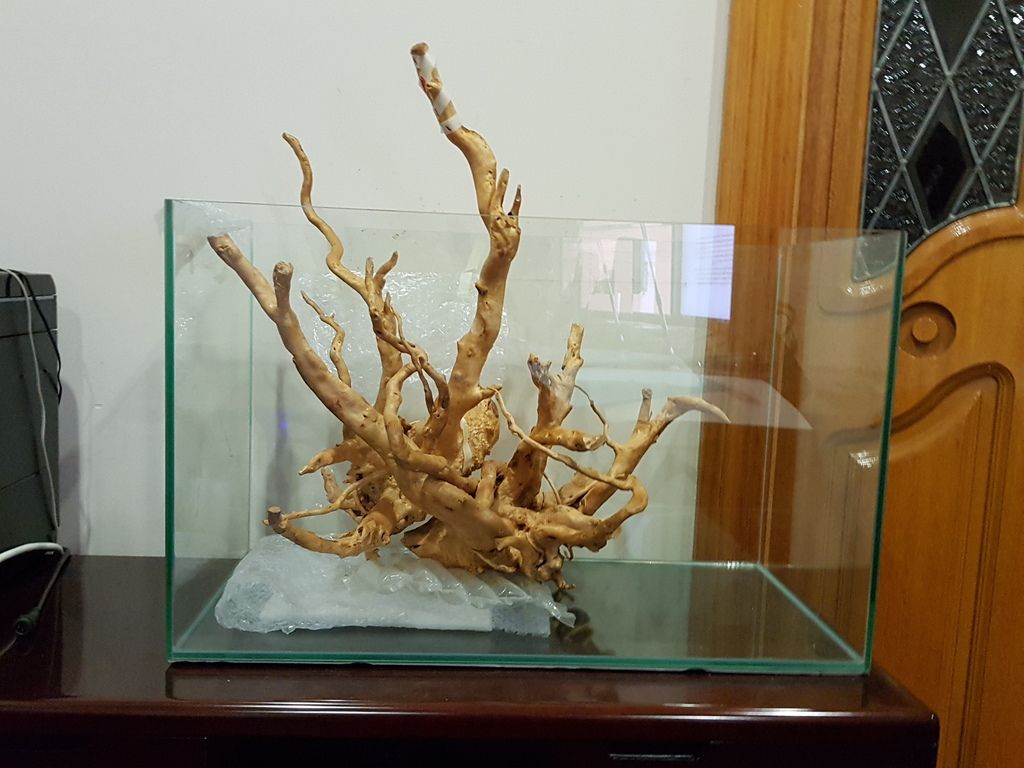 (Layout1)-Side by side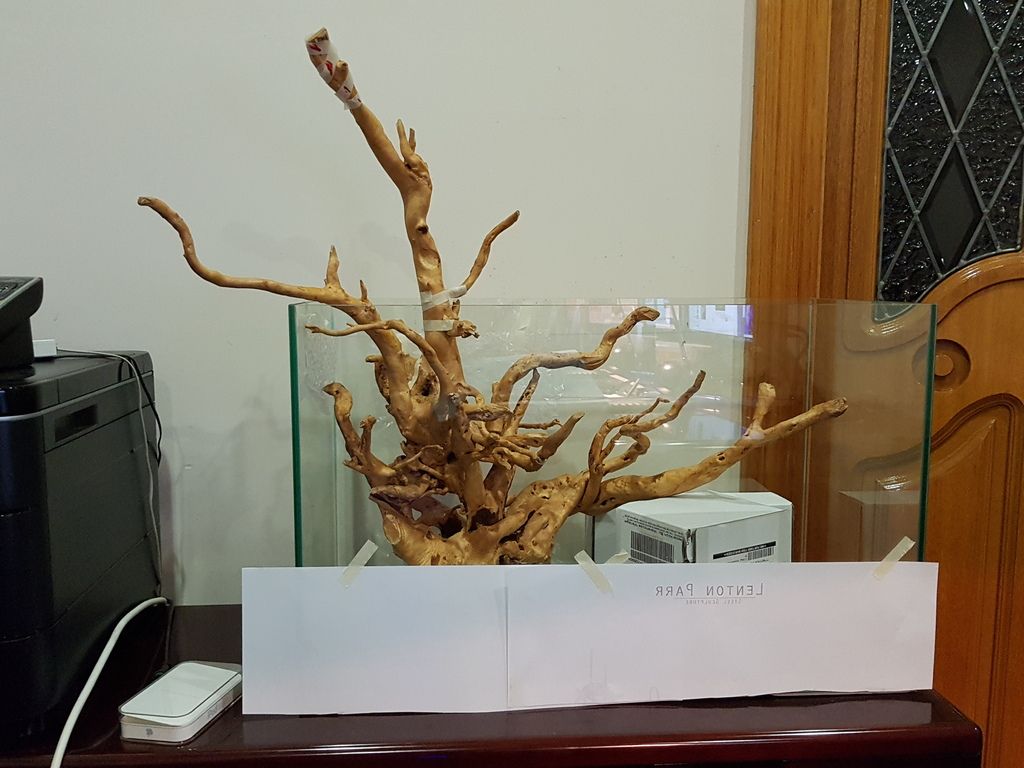 (Layout2)-Stacked
I liked layout 2 more than layout 1 because it creates a better overall composition as it fills up more spaces at the same time providing a good amount of negative spaces and more balanced as a whole. I feel like that layout 1 is alittle too safe which is what i learnt from my first Iwagumi Style. For this layout I really want to explore and be more creative and go crazy. The vertical piece on the left is very dominating so I decided to cut it down shorter.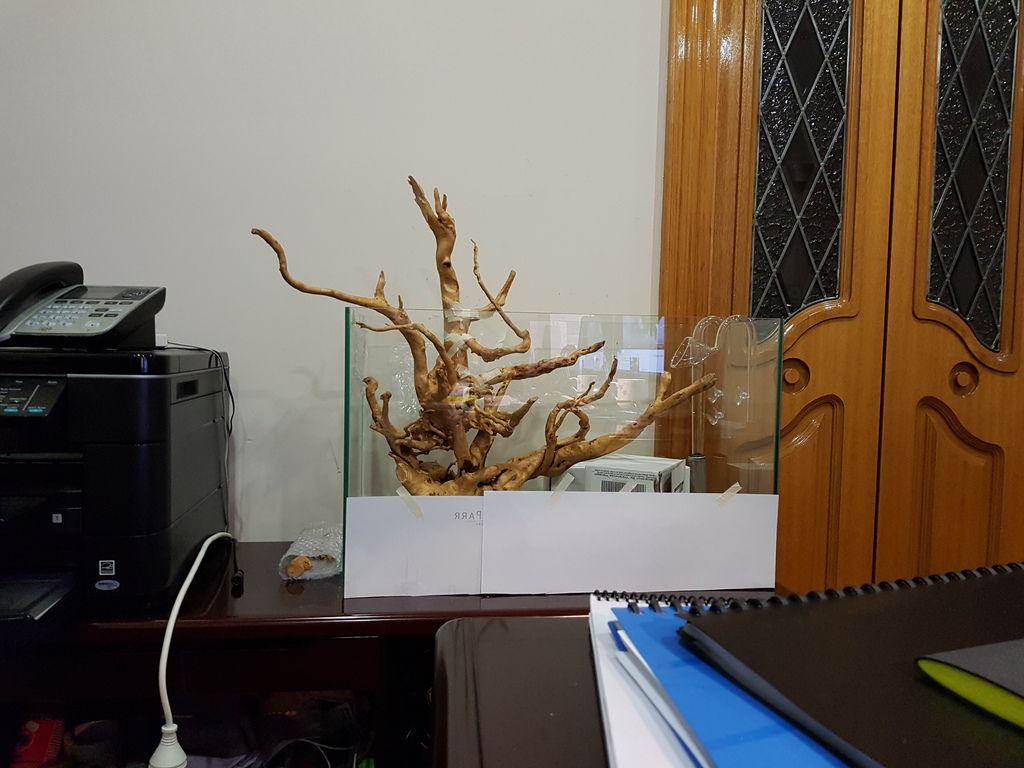 (Layout2 After cutting)
So here is the layout after cutting and I also put in my lily pipes and light to see what it will look like overall. I am quite happy with it, but that verticle driftwood is still not perfect yet, it still require some work. I started to attach pieces of driftwood that i cut out inorder for the driftwood to fit in the tank. I started to fill in that Top-left area which was quite awkward. So after alot of gluing and playing around with it I end up having this.
(Layout2)-Stacked, After attaching pieces.
At this moment I left the driftwood sitting in my tank for about 2 weeks and I was quite happy with it without any changed.
Light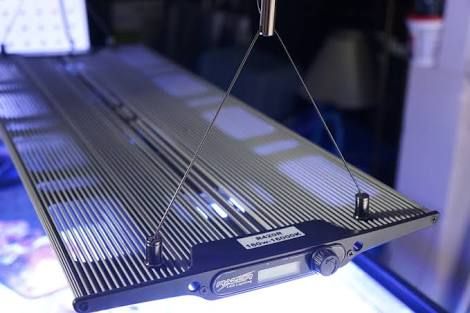 MaxSpect Razer 120W 8000K
So for the light I was still going to use my MaxSpect Razer 120W 8000K. I have been using it for about 1 year now. I must say it is an amazing piece of hardware! You can set it to have sunset and sunrise function, and alter the brightness of the LEDs (Red and Blue) which makes it really handy. The only disadvantage is the price and the stand for my case. The light cost me about $600AUD so that quite expensive!! The stand is quite short so you wont be about to have a nice view of the submersed plants once its planted. So i have to resolve that.
DIY Light Stand
I went online and searched for a Aquarium Light stand. It was $150~ online and thats just too much for a couple pieces of steel. So what i did was DIY light stand. This is a ADA style light stand which was really cool!!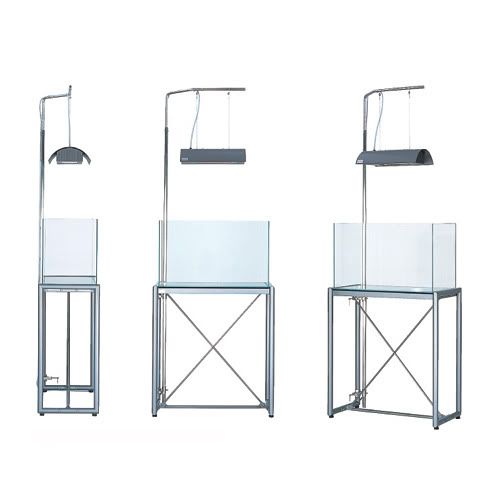 (ADA Light stand)
The problem is that getting is steel piece is hard in Australia. Bunnings sells it but that are too thin to bend at 90 angle like that and I did ask my local metal-smith and they cost about $60~. So what i ending doing is that I walking all around Bunnings insearching for stuff that I can make a cheap stand with. And this is what i found Aluminium Extrusions and bunnings has the whole range of kit for it as well including the 90 angle joints and stuff!!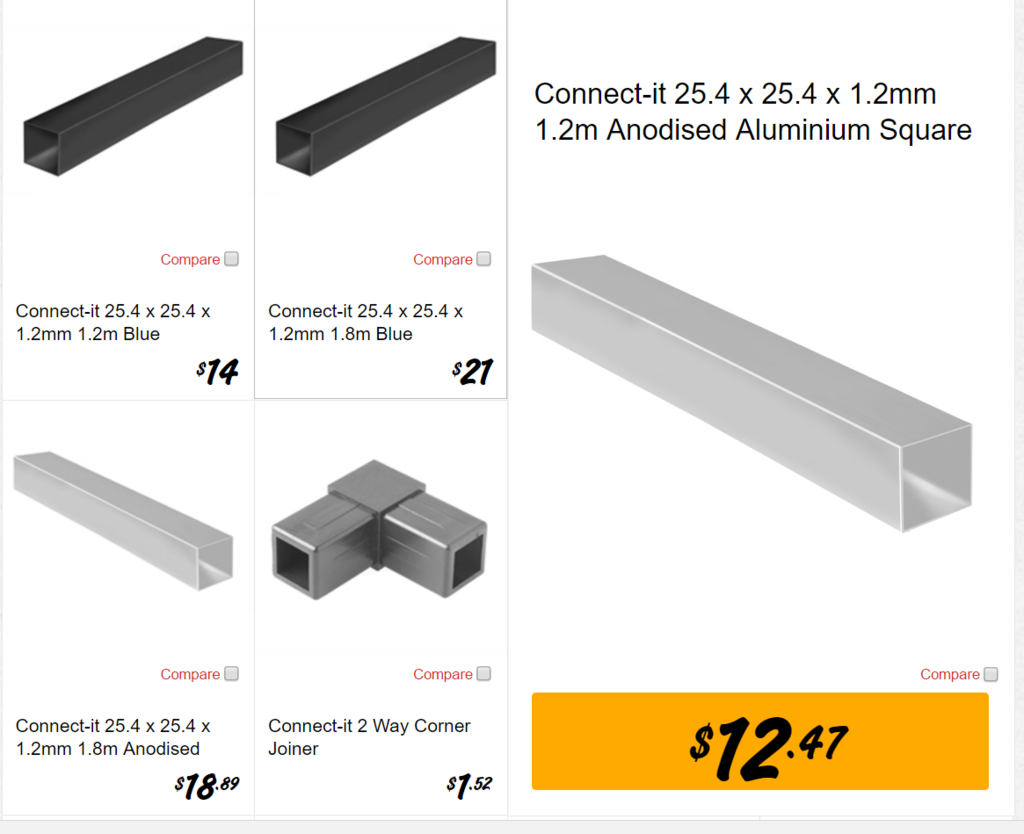 (Aluminium Extrusions)
Cost me a total of $40 including all the screws and nuts and bolts! I found some brackets from my dads workshop and cut 2 pieces of wood which was be attacked to the back of my Aquarium stand.
So here are photos that i took of making the light stand, its quite simple as the photos shows basically everything.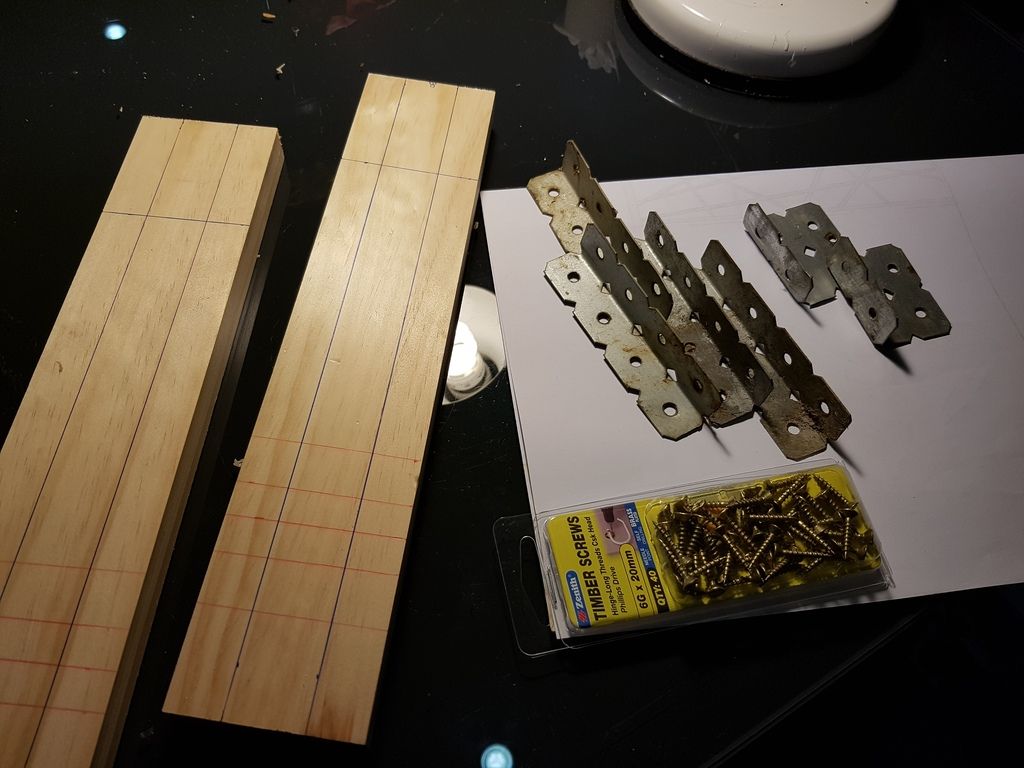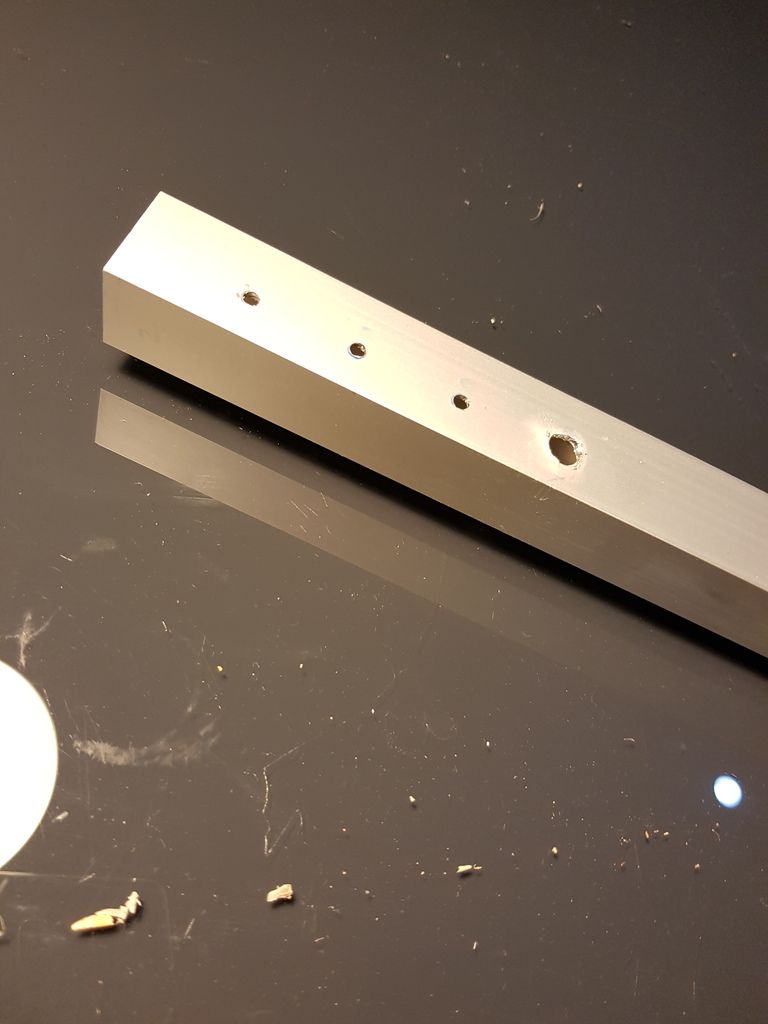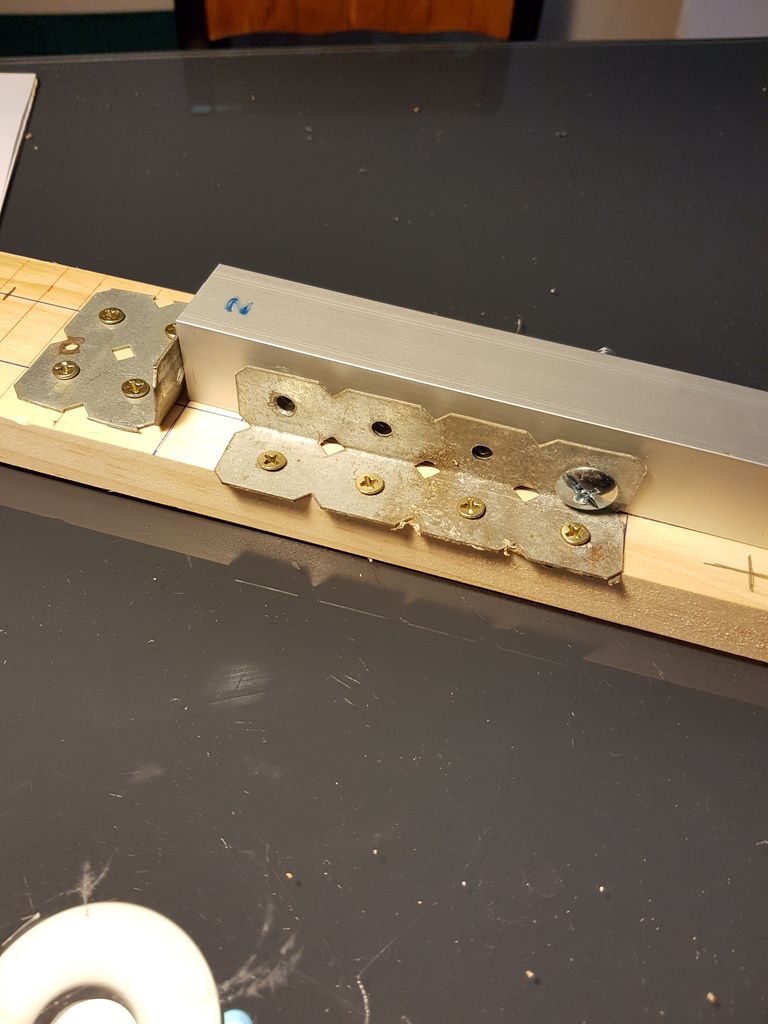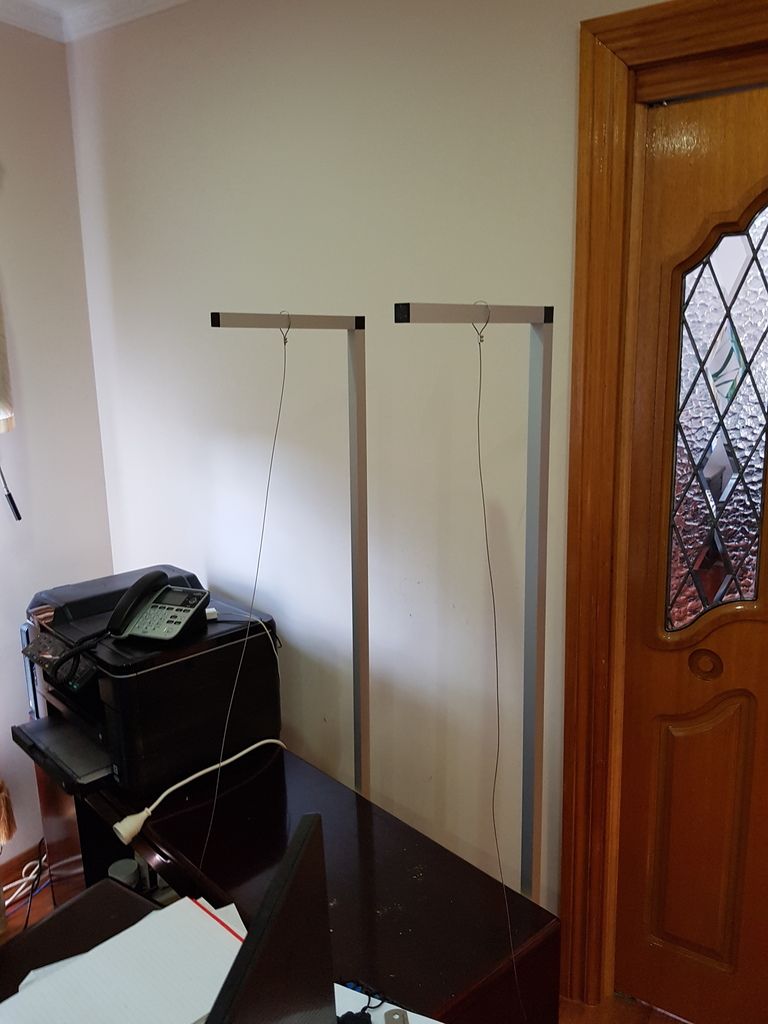 After all the hardwork and everything! This is what it looks like now. I am really happy with the outcome. The total was $40 and its quite cheap for a light stand like this one. If i was to make a new setup with a bigger tank. I can still use the same light stand i made and just move them further apart.
This is what it looks like after when i attached a frosted film of the back of the tank so you cant see the stand behind it. I found it in my dads workshop. It cost about $20 at bunnings. I also glued the driftwood onto a clear plastic lid so it can stand by itself.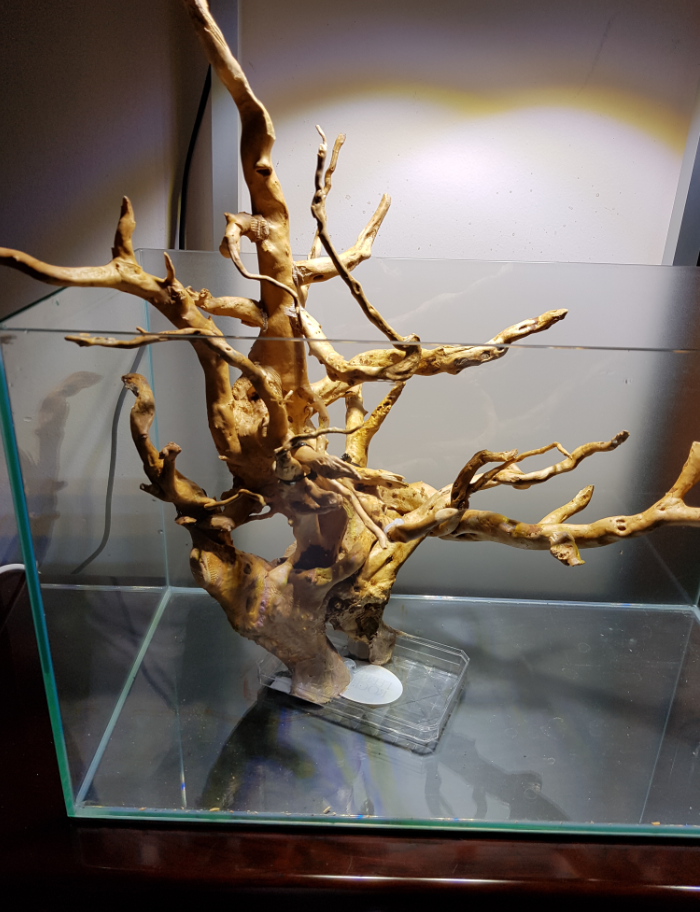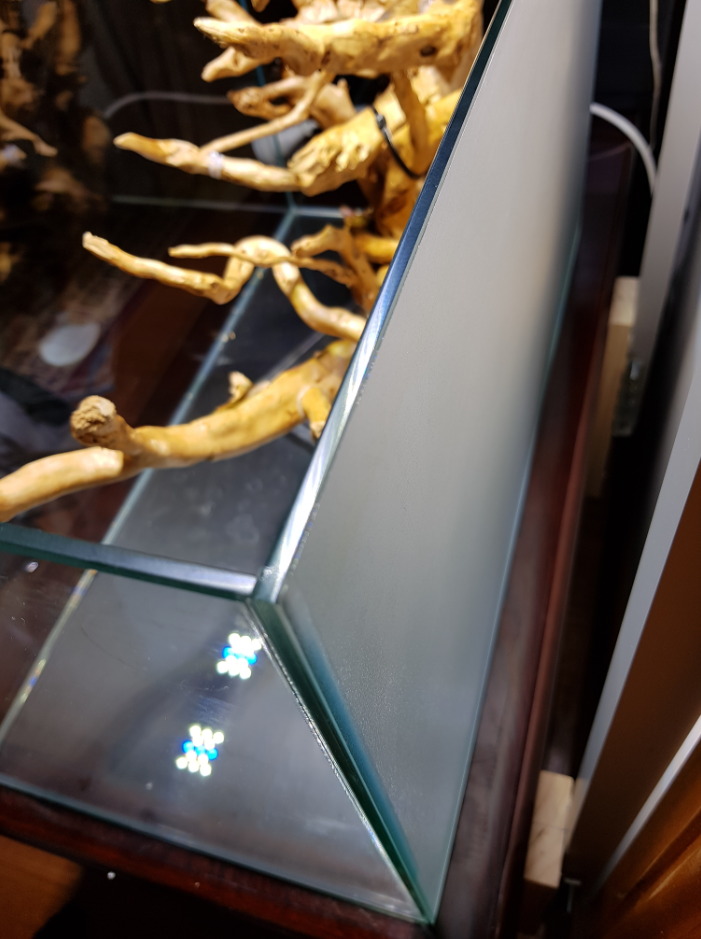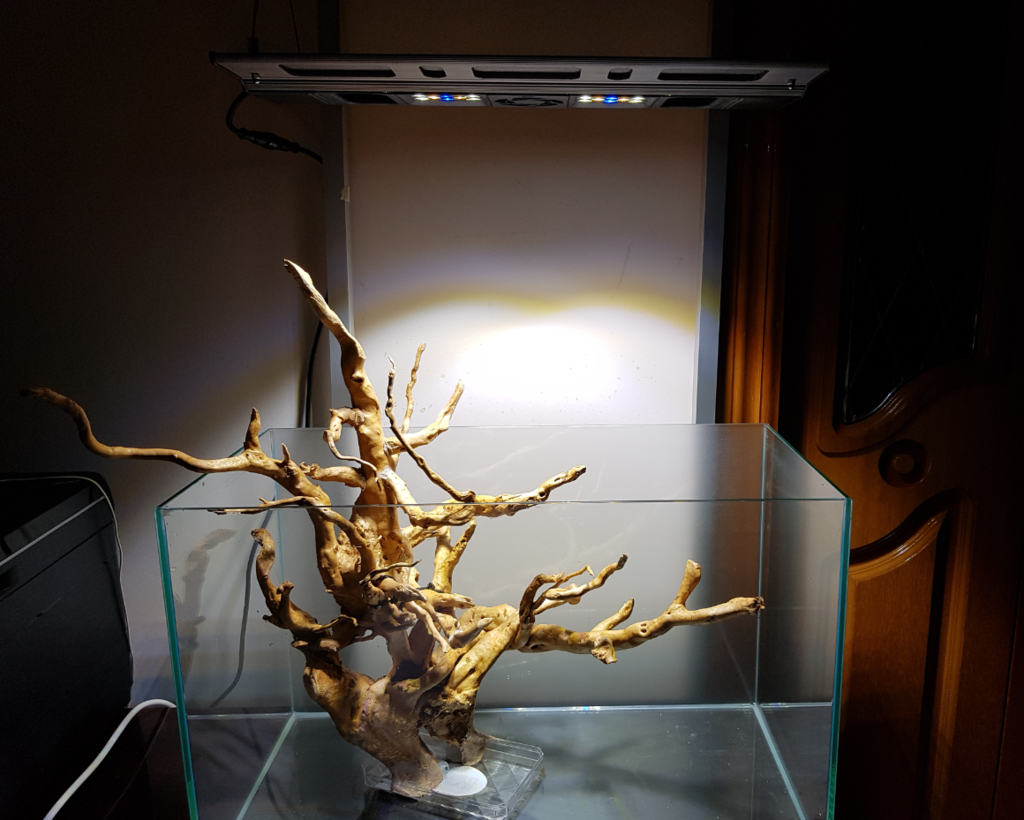 Substrate
Ive used ADA aquasoil in my last setup and I loved it and wish to continue to use it in this design. I got myself:
-ADA AquaSoil Normal
-ADA AquaSoil Power type
-ADA Power Sand Special (S)
ADA AquaSoil power type is good when you want to grow carpet plants that has really small root system like the HC and Mote Carlos which is what i intend to do. ADA Power Sand
Speical
is better then the normal ADA power Sand because it also contain Bacter 100 and Clear Super which the normal ADA power sand dont have. You can by those 2 desperately but it will cost you about $30 each and you will only use 3-6 spoon of it and i think its a waste of money to buy it hence i got the ADA Power Sand
Special
(S)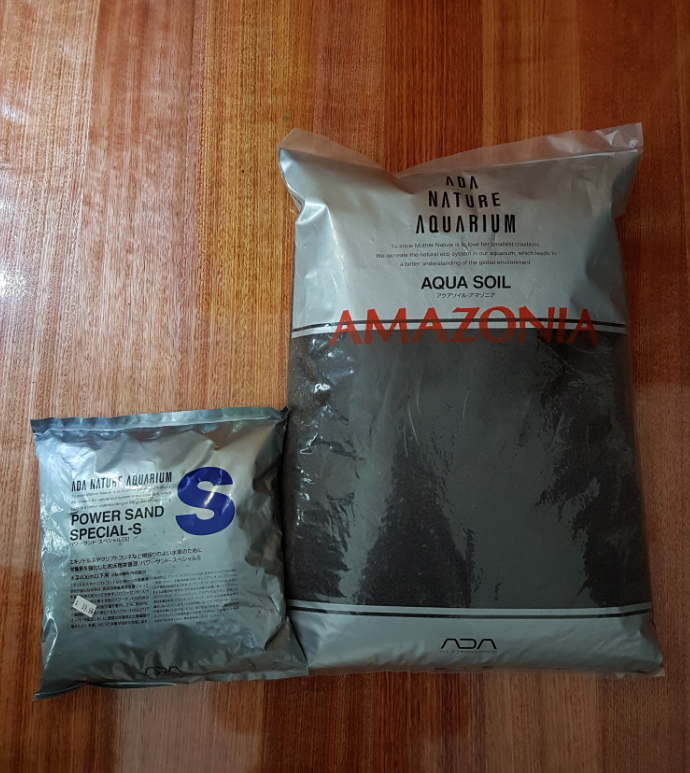 (ADA AquaSoil Range)
Soaking Driftwood
At the moment the driftwood is being dumped in a container filled with water and bricks to weigh it down. I am hoping it will saturate in about 1-2 weeks and hoping most of the tanning will come out of the wood. It will darken over time. I've got Uni exams coming up in about 1 months time, so I wont get time to start planting. But once exams over I will start working on it again. So i will be soaking the driftwood for about 1 months from now.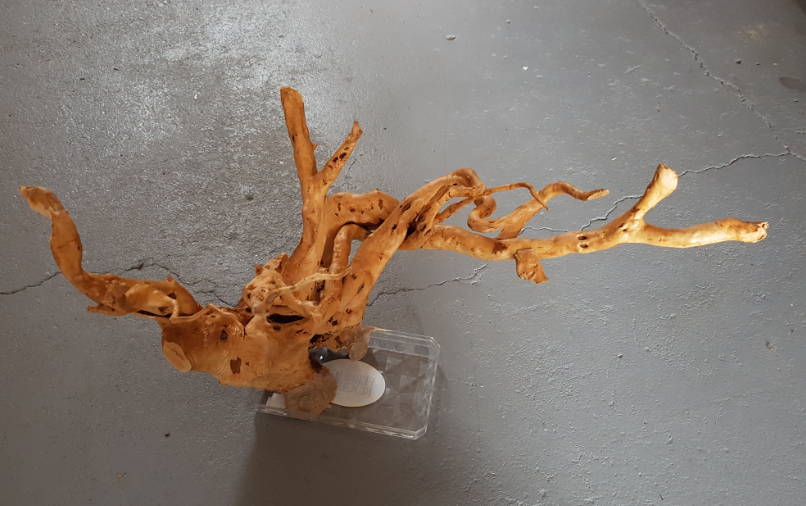 (Driftwood 1)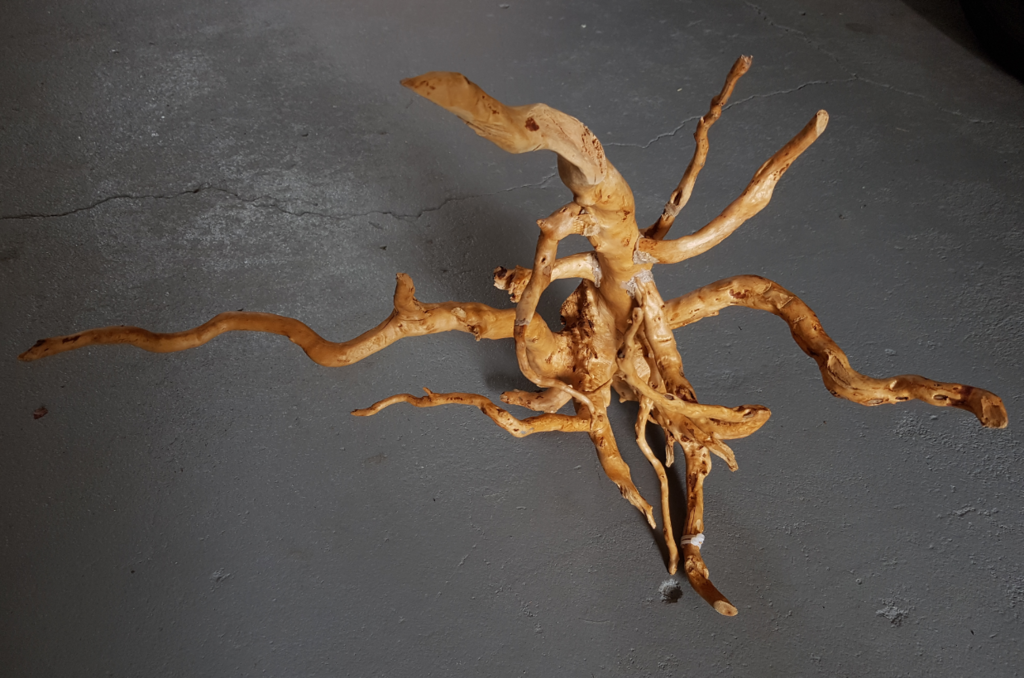 (Driftwood 2)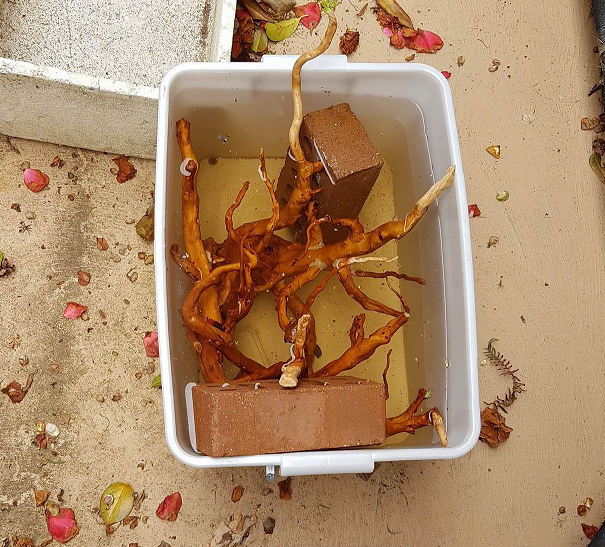 (Soaking)
Hope everything goings fine! >
Any questions or comment feel free to shoot me. Thankyou! :laugh2:
Update Shortly!! :nerd: