Discussion Starter
·
#1
·
Lurker turned advice seeker. Sorry if this is in the wrong forum, forgive me for my jongness.
I recently got a tank I had years ago back from a friend and set 'er back up. It's a 75 gal Acrylic Sea Clear System II w/ the built in wet/dry trickle tray & ball system in the back and also a Magnum 350 canister I added. She's a beautiful tank but now that it's all set up with live plants and driftwood, I noticed some almost-microscopic hairline cracks in the middle of the front. Haven't noticed them spreading but i'm a pessimist and feel like I'm about to have a blowout, which would be very, very bad on the second floor.
I searched on cracks in acrylic and read about the acetone swabbing fix, but seek the sage advice of the posters here before I drain the whole thing and attack my prized tank with acetone.
Should I be panicking? Is there professional help I can turn to if I should be?
Here she is via crappy phone camera and bad flash angle. Not much to see after only a day up, but looking good nonetheless. I have big plans tho. No, you can't see the cracks in the photo- any visible crap is all smudge mess from setup. Other specks are probably duck weed floating around. Hope you like it.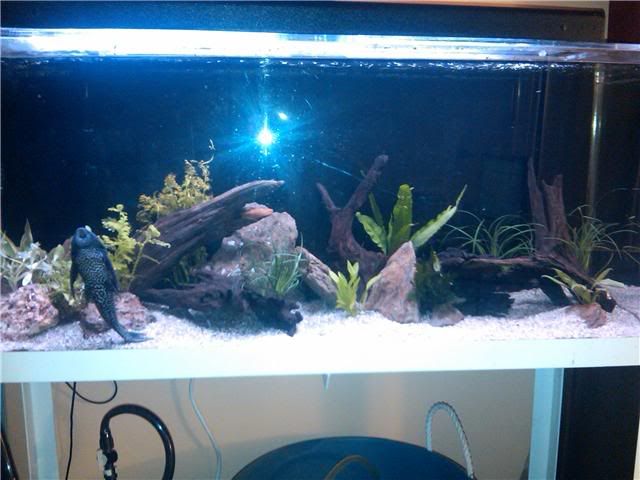 Thanks in advance for any advice. It's greatly appreciated.