Discussion Starter
·
#1
·
Hello, i just got into fresh water aquarium planting and i was wondering if can ask for your assistance on regards of Co2/Flourish Excel.

Well i would like to mention i have an array of Anubis plants (i.e. petites, nana, regular size ones) and two java moss balls. I have 15 watt light in a 10 gallon fresh water tank, a 50watt heater, red sea (click link) flora substrate, and i have a total of 9 fishes (e.g. 4 guppies and 5 rasbora Hetermorpha Danios)

Question: Should i follow closely to the Seachem Excel sheet. Its a type of sheet where you plug in your tank's specs, such as how many gallons and the seachem chart will automatically calculate how to dose your tank(flourish, excel, iron, potassium, trace etc.) in a 7 day course. Ive been getting a hit and miss with these plants, ive been getting yellow, brown, and melting leaves; also, im getting new growth from these dying plants. I recently added flourish tabs (about 5 of em) and was wondering what is causing my plants to degrade. Should i create a CO2 DIY system? or add 1-ml of excel everyday (according to the Seachem Excel sheet).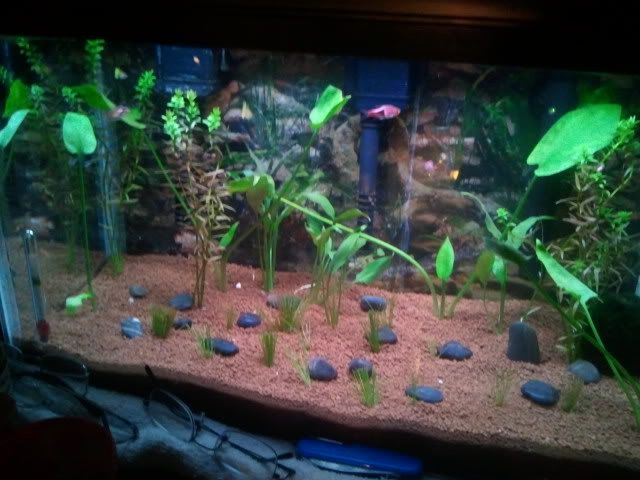 (Note: old picture added three more petites and 1 java ball. The angel hair grass have all turned brown and at the brink of removing them)

Anyways, i'm excited to be a member and looking forward to planting enlightenment.
Cheers
NOTE: i do addd sea salt, flourish (fertilizer kind; 2-3ml per water change), flourish excel (cap full per 30-50% water change) and flourish iron (about 1-2ml per water change). I change the water every week and i also have two
10 gallon of power filters by aqueon
.