Discussion Starter
·
#1
·
Ladies and gents, it has been a long, long time. I'm not sure if the same people who used to frequent this forum are still here, but if you are, hello!
Through an unfortunate series of events, my poor aquarium has fallen into quite the state of disrepair. Filters broke, bulbs died, chillers ceased to function, things happened and my broke college self couldn't keep up. Now, three years later, the tank sits, half full and shameful, with a handful of my remaining fish, some persistent java fern and a large ball of algae. It's been neglected for so long that I can't really call it an aquarium anymore.
Given the present state of things, I have finally decided to start over. I have visions of lovely, lowish maintenance planted tanks with beautiful fish, maybe even discus. However, I've run into a problem. It seems that over the past few years, a number of things have changed. Chiefly, my planted tank knowledge appears to have leaked out my ears. Secondly, there are now a million an one more products on the market! I'm not familiar with any of them and feel a bit lost. I could really use some help and advice.
The beginning:
My old aquarium was a 110 tall. I absolutely loved it, it's a gorgeous show piece but when it comes down to it, it's somewhat impractical as a planted tank. It's too tall to light well, I could never get a decent carpet growing and it's a bit narrow for the type of scape I wanted. It's also a glass tank, and since I live in earthquake land, I would like an acrylic tank to be on the safe side. I think I'm ready to let this beauty go to a new home and am planning on replacing it with a tank of similar size but slightly different dimensions.
I was thinking of a 120, with a footprint of 48x24x24. I like the length, it gives me a bit more depth and it's not as tall. I would be having it custom made so that I could avoid those teensy tiny top openings that make it impossible to get your arms in. I would also be having the stand and canopy custom made since I can barely get my filter through the door on my current stand. It hasn't been cleaned in ages. Shame on me.
I am also hoping to make my life a bit easier with this tank. I used to run through my CO2 like crazy, and dose EI every day by hand. I'd like this tank to be a bit more laid back, or a bit more automated. Ideally I wont have to prune it every other day but I'll still be able to achieve a lush full look. Or at least I can dream.
At this moment, I don't even remember half of the things that are on my aquarium. Apparently people don't use PCs anymore so new lighting is clearly in order. My chiller is fairly new so that's good, my my FX5 is solid, and I think that's about where it ends.
The next step:
Here is where I need to beg some help. The husband is buying the new tank (or agreeing to me buying it for myself) for the holidays. I have somewhat of a one shot at this and I don't want to get it wrong. Due to some medical problems on both our ends, we are going to be spending a great deal of money in the future on medical procedures. Those procedures will hopefully result in distractions that will make a super hands on high maintenance tank impractical, but either way I won't have another opportunity like this for at least 10 years. I need to design a fairly hands off tank with equipment that should be built to last. 3-5 years ago this would have been no problem, but today I don't even recognize half the brands on the market.
Here's what I've got so far:
- Plans for a new 120, acrylic, 48x24x24. I'd like to have a fan built into the stand so that my chiller can sit inside it. Plumbing undecided though I'm leaning towards having it plumbed at this moment because my current hoses keep my aquarium from being flush against the wall. I'd like the canopy front to flip up so I can get my arms in.
- 1/3HP JBJ chiller
- FX5
- 5lb CO2 bottle, I think my regulator is trashed
- Four 65watt PCs and two 48" T5s. I think I'd like to go LED but am not sure which to get
- Left over ferts, excel, etc.
I think I need...
- A new reactor
- A new UV sterilizer
- A new heater
- LEDs
- A Regulator
- New substrate
- Some plumbing advice
- An auto top off system? maybe?
- An automatic doser? maybe?
Please my friends, I beg your help. I'm on a bit of a time crunch since this is a "holiday" gift and don't feel like I have enough time to sufficiently research everything. It wasn't until this afternoon that I even remembered I had a UV sterilizer on my tank, at which point I went oh crap, I am no where near qualified to do this without help.
As far as budget goes, the lower the number, the happier the husband. I'm not sure what is reasonable for a lot of this new equipment, but we'd like to keep things as inexpensive as possible without sacrificing quality.
A favorite shot of my old tank. Also, proof I'm not a complete idiot even though I know I sound like one.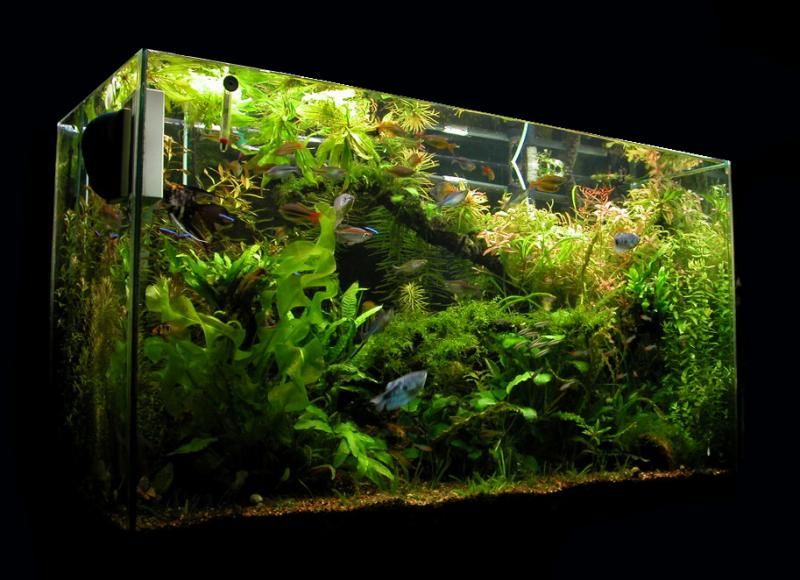 Here's my old tank, back in her glory days:
http://www.plantedtank.net/forums/showthread.php?t=49888