Discussion Starter
•
#1
•
This is my first planted tank. It's a work in progress. I plan on taking the rock out as soon as the driftwood is water logged. The lemon bacopa looks un-natural because I just trimmed the tops and re-planted them in front.
I'm going to add more red on the right side to break up the green, I just haven't decided what plant exactly.
The tiger lotus is by far my favorite. I am also very fond of the over-sized amazon sword lol.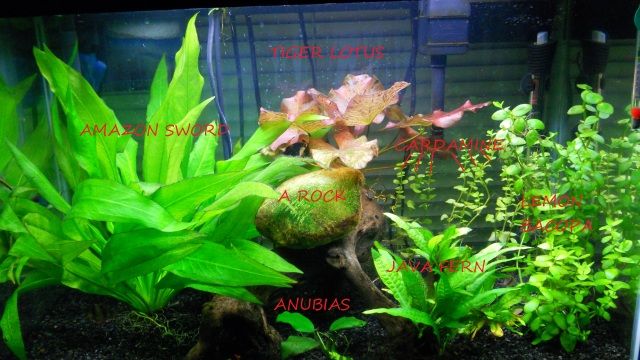 LIST OF PLANTS
AMAZON SWORD
CARDAMINE
TIGER LOTUS
JAVA FERN
ANUBIAS
LEMON BACOPA
The tank is on the border of being low-tech. It has co2 injections but has fairly low light. 2x 15 watt life glo florescent tubes 6700k. Most people would call this a low light but I have been able to grow medium light plants very well.
ANY SUGGESTIONS ON A GOOD RED PLANT TO ADD?