Discussion Starter
·
#1
·
Up until 12 months ago I was firmly in the camp of "Why would you want to keep fish as pets? You can't do anything with them!" believers. Yeah, I grew up with dogs. Then as a partial joke, and as a final statement of "We are not getting a dog" by my wife, I was convinced to buy my very first fish tank at the age of 33. It was a no-frills 25L sale-special from the LFS - didn't even come with a light, basically just a clear plastic tub with a little teenie black box that claimed to be a filter (only evidence of that was that it had a plug and made loads of noise...did very little else). And it was at this point that the flood gates opened and I got hooked. Now a year on I have retired that little gateway drug of a tank and now embark on a journey into the world of planted tanks.
For the last 6 months or so I have been wandering around these forums, learning what I can, and dipping my toes in with questions here and there. Based on everything I've read I've planned as well as I can, but I joyfully look forward to being told "What are you thinking?", "Really?!", "Actually those two species enjoy eating each other", and "NO! DON'T TOUCH THAT WI...[boom]" at appropriate moments by the community. Let's get to the story shall we?
Oh, and my apologies in advance, I have a knack for rambling.
The Tank and The Plan
The tank (60L) is a friend's old tank, which I believe he actually never used. When he pulled it out of his shed it was calcified to the extreme and a bit grubby. I've cleaned it up as best I can and decided to ditch the hood. While I would absolutely
love
to go whole hog and play with CO2 and all the other accoutrement of the hi-tech world, neither my budget monetarily or time-wise allows for it. The main reason for the 6 month gestation of the idea for this tank is I also now have a three month old son. Not very surprisingly most of my extra resources in both those categories now get focused on him. I mean I've had a chat with him about possibly pooing less so Daddy has a bit more time to deal with potential pruning and water changes, but they've all been greeted with little more than grunts. Geez. So, with that in mind I'm going low-budget where I can and keeping things (relatively) simple.
I'm really attracted to the Walstad method in general. I think the ability to create a self-sustaining eco-system that needs little outside intervention is truly magical. But I also like kit! So, I've decided to take trappings and inspiration of that method and allow myself a few choice sleek bells and whistles. Basically keep things as simple as possible, natural as possible, diy where possible while always doing as little harm as possible.
The Kit
Lighting: Satellite Freshwater+ (my bell and whistle)
Filter: Fluval C3 HOB
Heater: Hydor Theo 100W
Substrate: Verve Aquatic Compost (B&Q brand basic) topped off with sand/pebbles (TBD)
Flora: I was rubbish at biology. Killed it in chem and physics, but biology I was absolutely rubbish in. After researching plants and trawling these forums for months I now begin to think its because scientific names are like latin to me...wait they are latin! I just have no ability to retain them in a way that has meaning. Yes, I can name crypts, anubias, etc but even after all this they are still just abstract concepts in my mind. As a theatre director visual conceptualisation is usually a strong point of mine, but try as I might, it's really just not happening for me with my flora planning. Thus, I have decided to let others do it for me to begin with. I've found a lovely little highly recommended online supplier who does starter kits for varying sizes of tanks. The packages come with a varying assortment of carpet, foreground, mid, and background plants. I figure I'll use this structured set as a way to get some hands-on experience, and possibly replant/scape in a more considered manner once plants cease to be just a foreign language. Though the company does list what the set might contain, everything is subject to availability and substitution. I'll post a full list when the arrive (with piccies)
Fauna:
Current plans include...
A school of Schwartz Cories
A school of Harlequin Rasbora
A school of Serpae Tetra - though these may turn into neons as thats what my wife would like and I know my record in previous such matters
A Kribensis
And a healthy crew of snails (nerites) and shrimp (species TBD)
So here's the tank in situ with the gear setupish...
Next I threw my driftwood and soil base to play with the initial hardscape...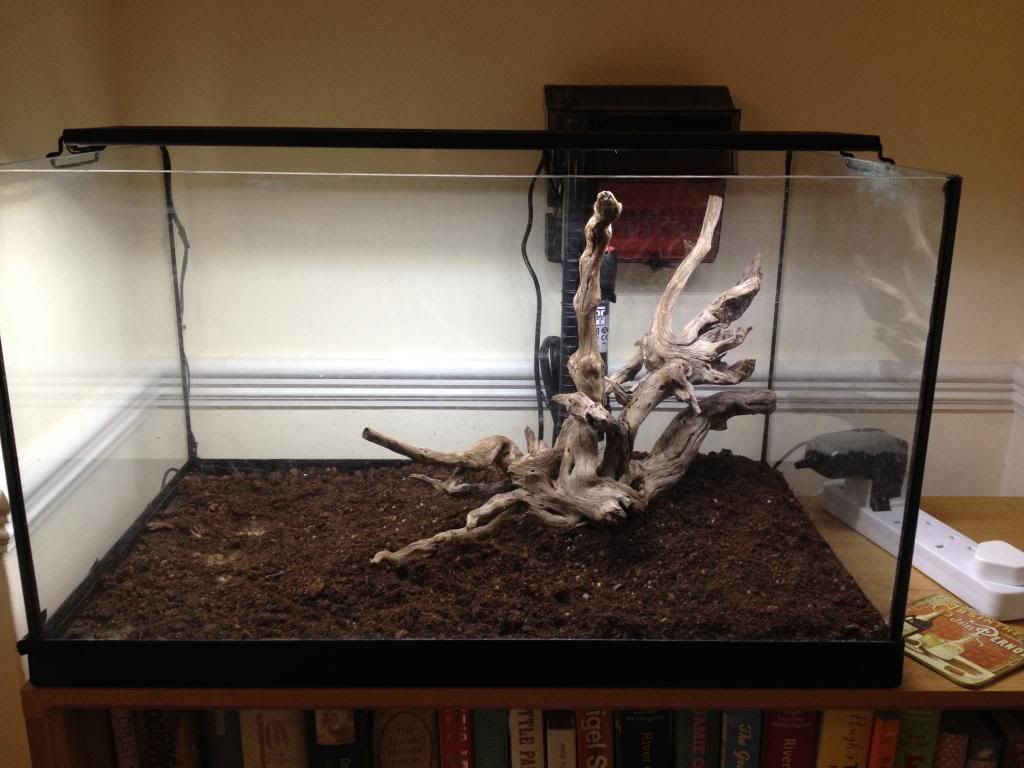 The intention is to eventually have a slight upwards slope to the back right.
And and now I've put a plastic mesh layer over the soil as a retainer to reduce mess and soil plumes in the future during replanting and maintenance. This was a top-tip from a how-to guide on soil tanks I found.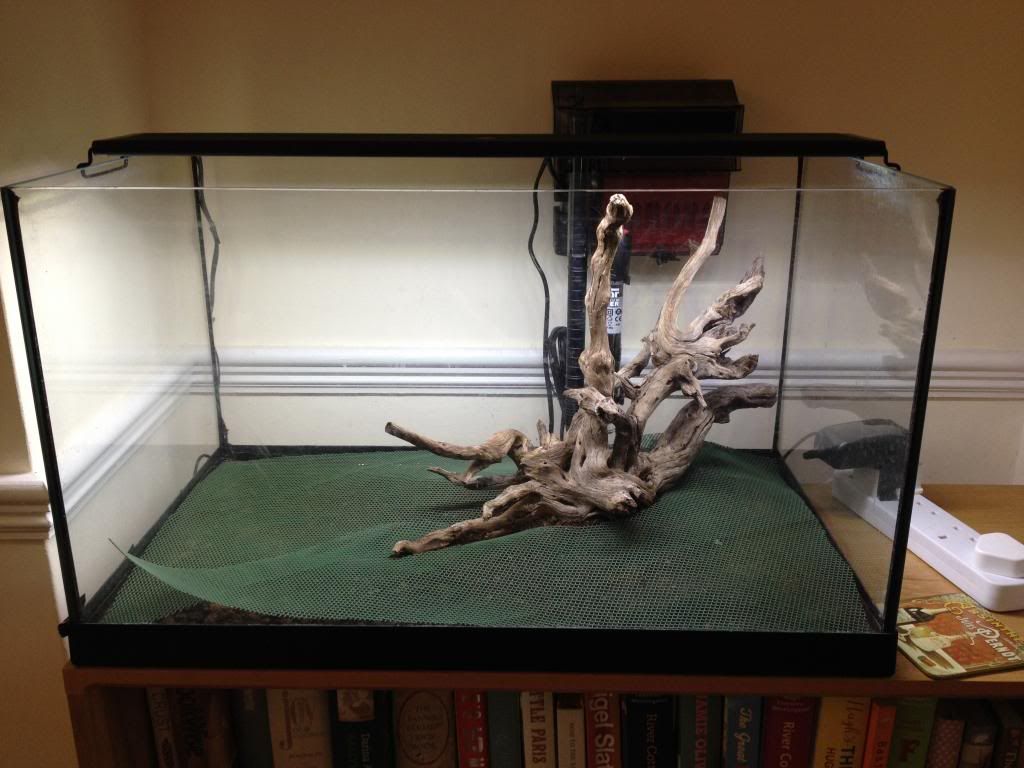 Self-Inflicted Deadlines:
Water and plants no later than the Wednesday after next
Fish by the middle of June hopefully - water parameters allowing
So the questions/things I am pondering over and would love your thoughts on:
First off the sand/pebbles question. This is primarily being dictated by my desire to have cory's in the tank and wanting to make sure that my substrate is cory friendly. Initially I was just going to go play-sand, but I can't really find a shade of sand that I like - picky yes, I know. I found sound great "pewter" sand, but then doing some reading I realise this is not sand and looking more carefully at it I discovered the granules are definitely jagged/rough. Then I thought nice cool looking white beach sand, but I've read this can cause fish not to fully develop their colours and wash out due to not wanting to stick out against the sand. Then of course on further research I've read lots about sand possibly becoming anaerobic and therefore have thought about small darkish pebbles. Will cory's be happy with that? Am I over thinking it and should I just go with simple good old sand - much more in line with my simple and cheap mantra - and simply learn how to keep it from getting anaerobic (is that really so difficult?)? Need to get this sorted out by weeks end, so I can finish off the scape.
I will also be adding some rocks and working out how to create a natural looking cave like structure for the kribensis.
Question 2 - the scape in general, specifically the driftwood. Originally when I bought it in the shop my plan was to lay it so that it sprawled horizontally primarily and maybe nab another piece to attach in order to create a strong diagonal upwards angle (I might rotate it and post a picture just to get your thoughts). Then playing with it in the tank I laid it on its side and found this fun layout. I like it 70% of the way now. It feels a bit flat as it only plays in a single plane. Putting it on the angle kinda fakes a third dimension but it still feels a little flat. Also, I still need to tip it forward a bit as the upward branch is nearly perfect vertical, which does my head in. My thought is that using rocks (creating that previously mentioned cave maybe?), or small bush-like mid ground plants I can fill that area in a bit just down right of it and give a bit more of a sense of depth.
My intention currently is to plant the right side heavily, with a bit of foreground carpet as well, dissipating to a sparser, open-sea, feel on the left.
Ponderance 3 - the placement of filter and heater. Looking at the tank at the moment it feels very heavy on the right. My plan is that once planted the filter and heater will "disappear" behind the plants and driftwood making it much more pleasing overall visually. My concern is that this brilliant plan will backfire as plants might clog/block the intake of the filter thus weakening flow and filtration. Thoughts? I was hoping that its placement right in the middle of the plants might even work as an advantage in some way as it would guarantee good flow over the plants. The placement of the heater right next to the filter was another "brilliant" plan as I was thinking it might increase flow and distribution of the heat if placed there (warmed water going directly into the filter and being spat out and current of filtered water shooting right across on top of it). Anyone else think this might actually work in practice?
And final ponderance for the day - Flow! I definitely think I have enough filtration, but I'm not sure I will have enough flow, or at least even distribution of flow throughout the tank. A power head might be somewhere in my future. Thoughts?
And that's where I will sign off for this first chapter. I look forward to hearing all your thoughts, and starting off on this [possibly obsessive] journey!
PS I apologise for any major grammatical or spelling mistakes. Normally I proof things such as this, but previously mentioned 3 month old dictates otherwise.
Still can't believe I even finally got this posted. He's been a gem this nap.