Hey forum, I am new to this site, but am very active on a local Vancover page called bcaquaria.com
My name is Mike and I live in Vancouver BC, Canada. I have been keeping aquariums since I was very young but I have never really learned very much about plant life. I have on multiple occasions purchased plants only to see them wilt away and eventually become dust on the bottom of my tank. I love the look of a lively, heavily planted tank and I have always been against plastic plants.
About 2 years ago I made the decision to really reasearch the planted tank and learn how to maintain a healthy environment for both my fish and my plants alike.
I'd like to share some pictures and the story of the progression of my 77 gallon Planted community tank.
I started low tech, the only upgrade I made was the light. I purchased a Hagen GLO HO 48" T5 39Wx2 fixture from my LFS.
I was using some Eco-complete for the substrate and dosing with seachem products for the water table fertilization and carbon supply.
I bought the tank with an Eheim 2028 filter as well.
Here is the early picture. Basic plants like crypts and limnophilia.
As I read more and more about planted tanks, I learned about E.I. dosing or "dry" dosing, which I have started doing. Playing slowly with the dosages I am still searching for the best level to promote healthy plants and avoid algae but it is a long process of trial and error and observation before you get that completely dialed in. I have also gone the route of pressurized CO2. I purchased a 5lbs tank with a Milwaukee regulator, complete with solenoid (wired to my lights of course) and a needle valve with bubble counter.
I moved into some more high maintenance plants and here are some more pics.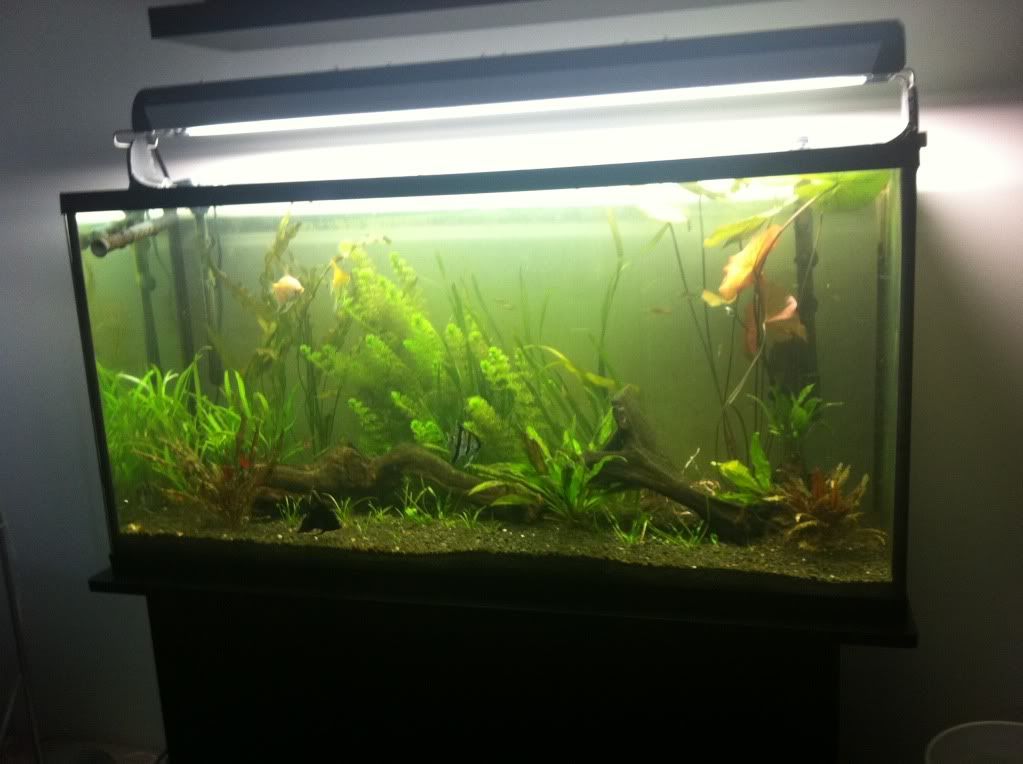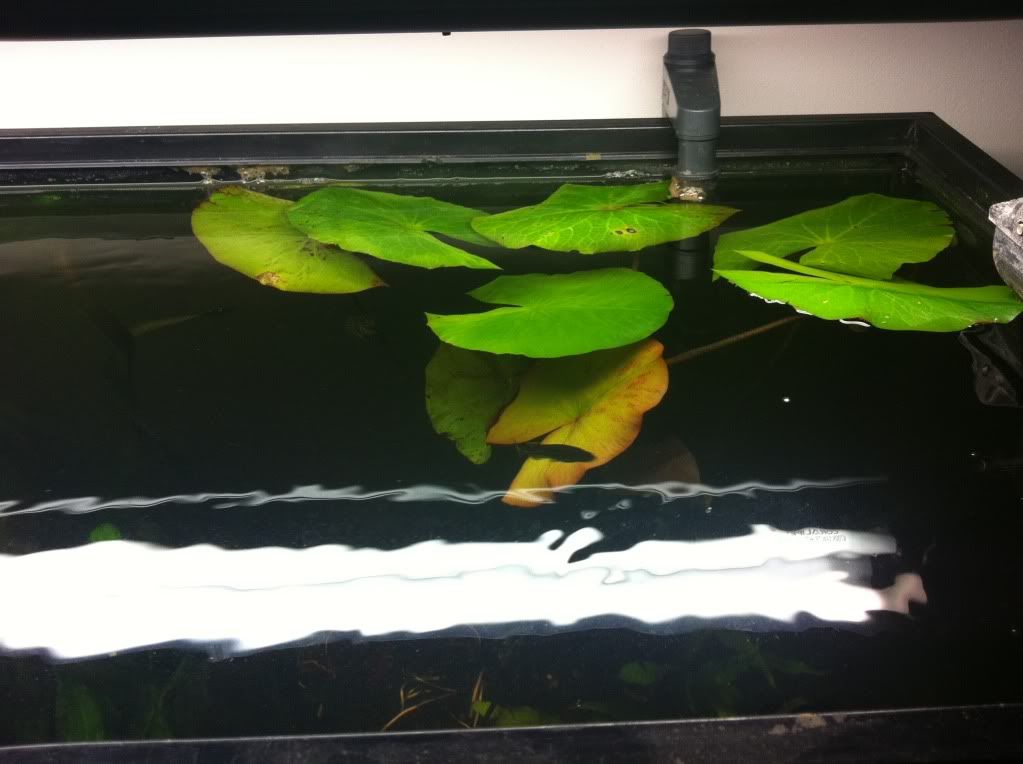 Time keeps passing by, plants start to grow in, and the Red Lotus blows up! Then i decided to try some duckweed to add to the surface plants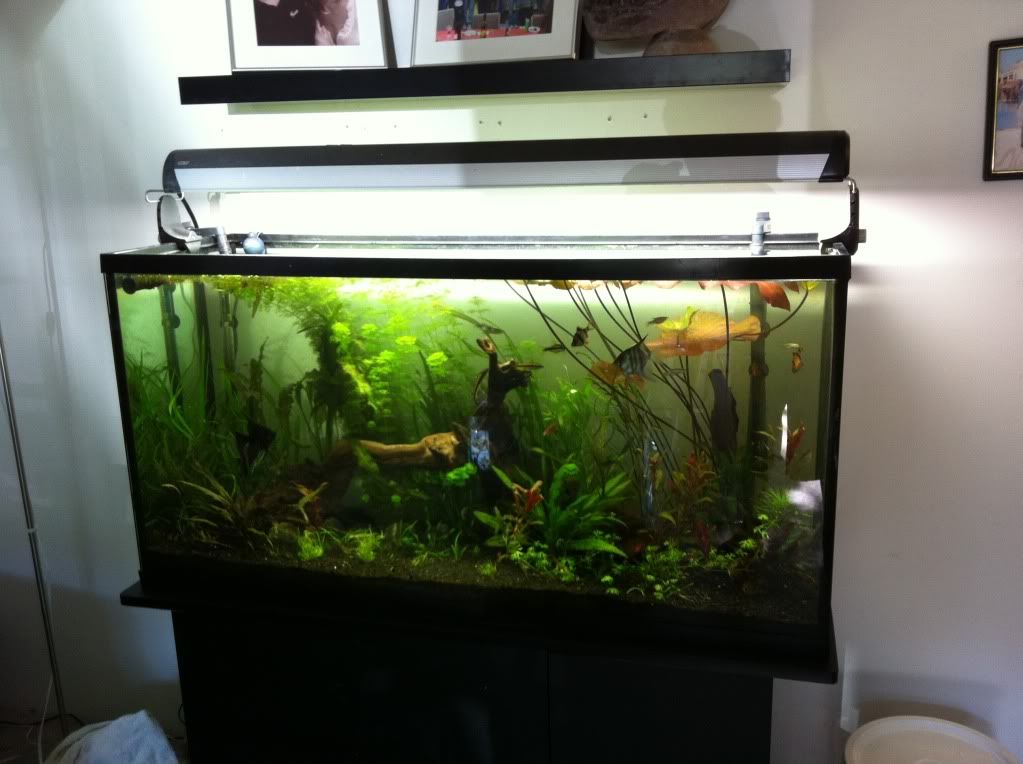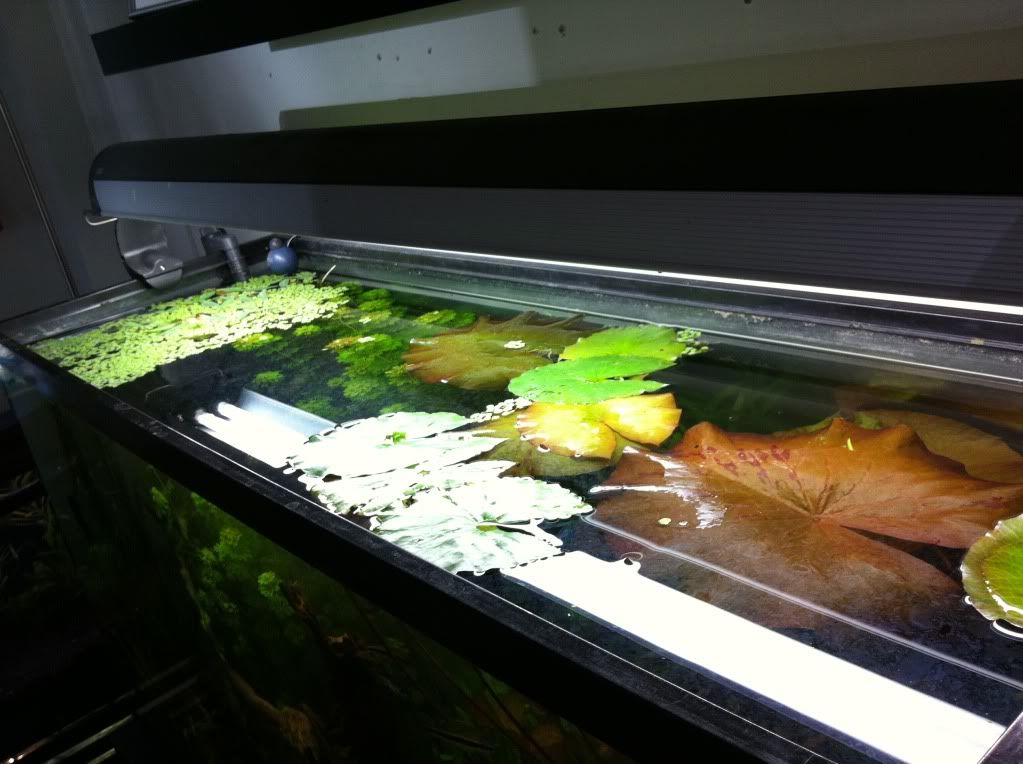 The duckweed quickly got out of control! It looked amazing, but left my other plants starving for light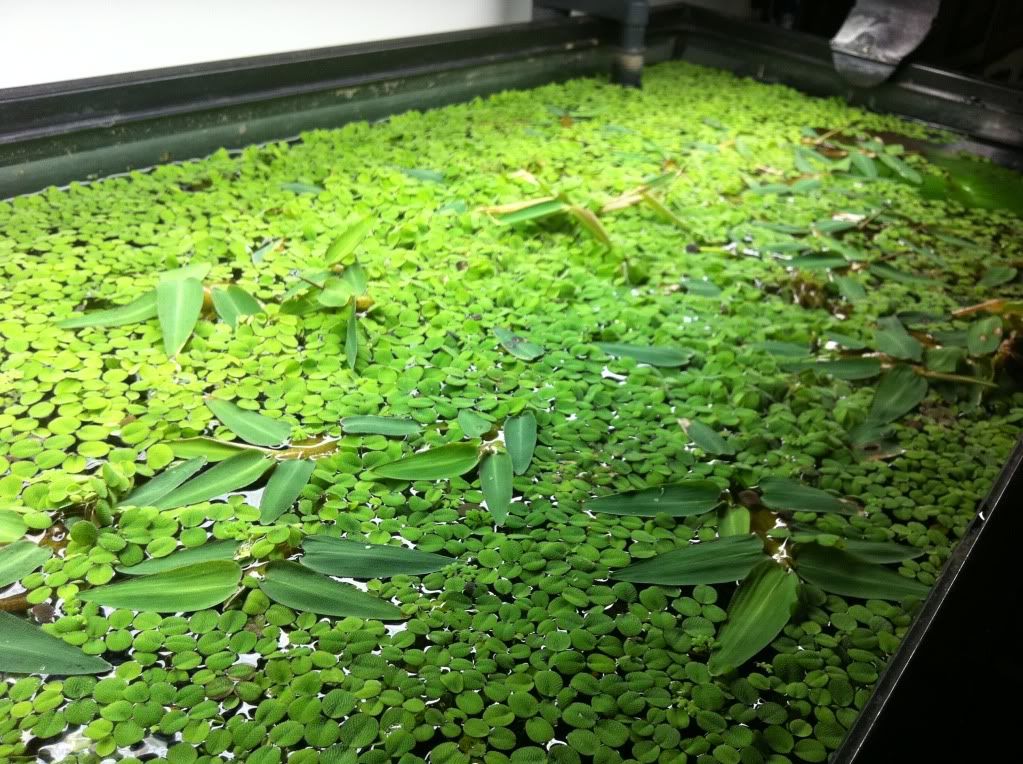 I removed the duckweed and this is when I moved into pressurized CO2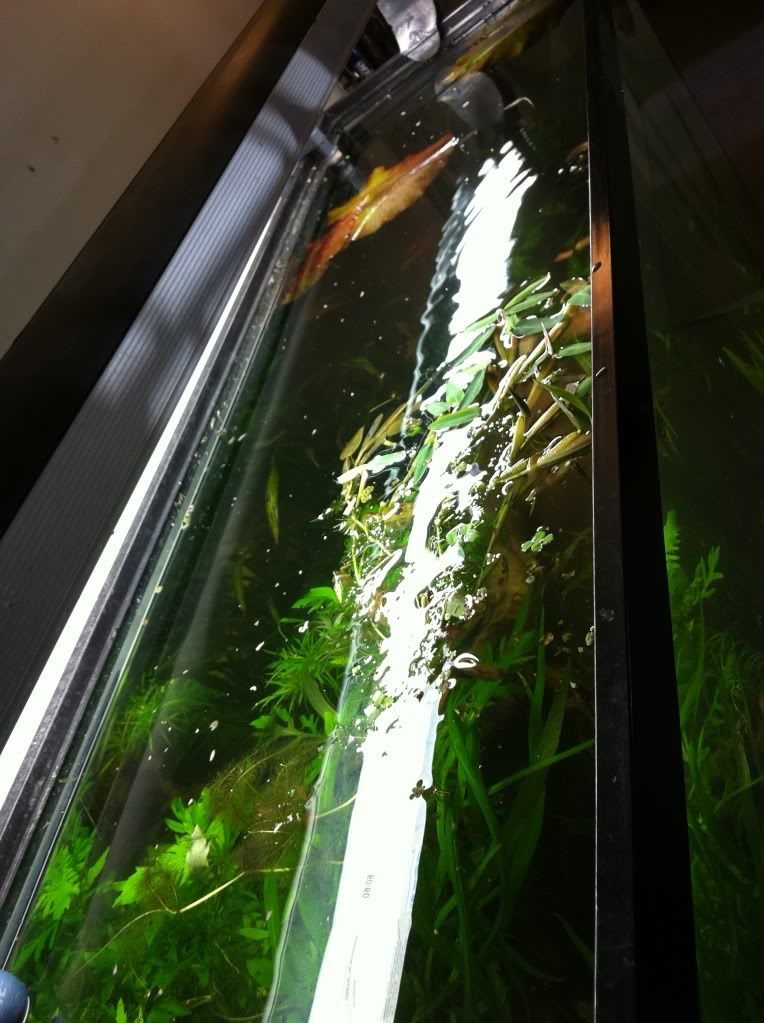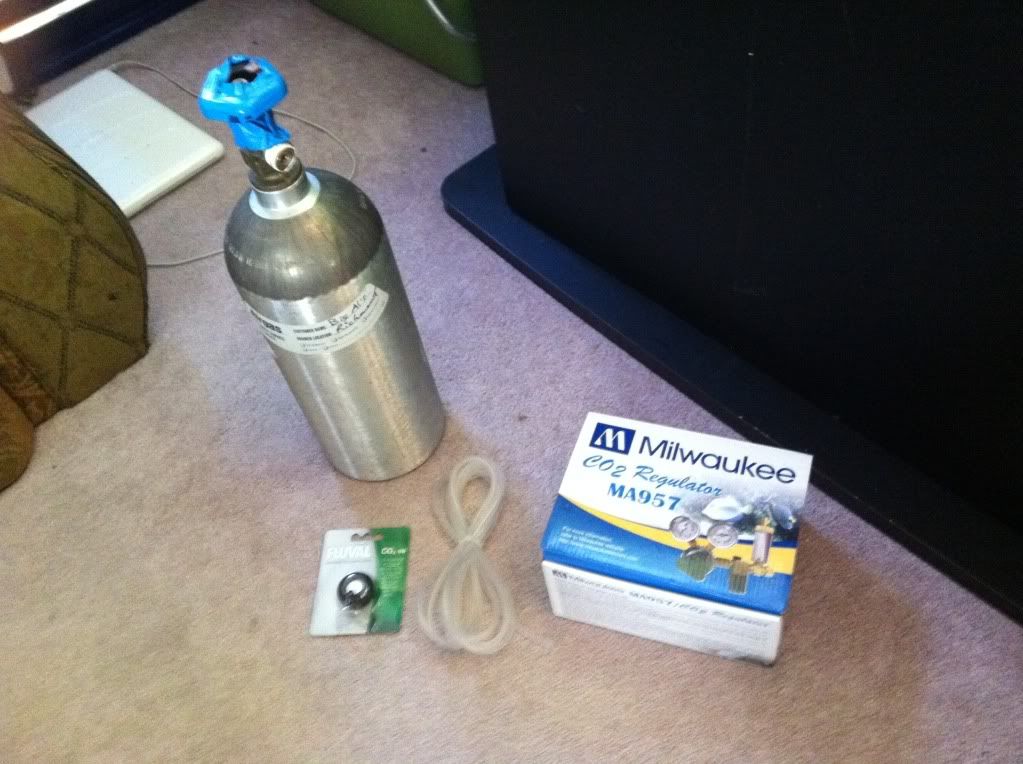 And this is how it looks today. 3 weeks on pressurized CO2. There is amazing growth out of my wisteria and the vals as well.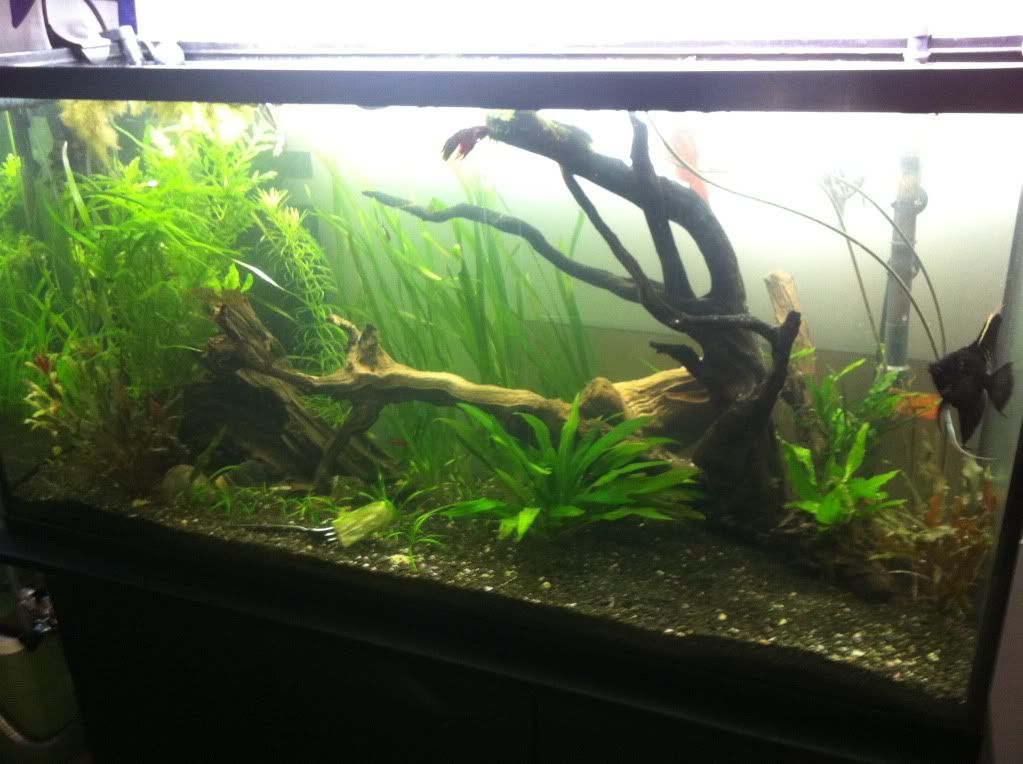 The current plant list is:
Wisteria
Red Tiger Lotus
Crypt Wendtil
Java Fern
Java Moss
Jungle Val
as well as a number of plants that are not yet identified
The fauna list is:
Angel Fish Pair (breeding)
Zebra Danios
Cardinal Tetras
Gold Barbs
Cherry Barbs
Male Crown-Tail Betta
SAE's
Clown Loaches
Giant Khulie Loaches
L226 Tiger Panaque
Clown Plecos
Silvertip Bristlenose Plecos
Thank you very much for looking! Any comments or suggestions would be greatly appreciated.