Hardware:
- Eheim Pro 3 2075 filter
- Eheim Jager 300W heater
- Finnex Planted + LED fixture
- Safe-T-Sorb Substrate
Plant list:
- Crypt wendtii
- Anubius petite
- Anubius barteri
- Asian ambulia
- Tonina Belem
- Lace fern
- Dwarf sag
- Rotala rotundifolia
- Bacopa Caroliniana
- Dwarf hair grass
- Flame, Java and Christmas moss
- Java fern
- Pennywort
- Jungle Val
- Sunset Hygrophilia
- Bacopa Caroliniana
- Bacopa Monnieri
Stock:
- 4 Pearl Gouramis (1m, 3f)
- 1 Golden Ram (m)
- 6 Oto Ccatfish
- 25 Cardinal Tetras
- 1 RCS (the lone ranger)
- MTS, Ramshorn, and Pond snails
Ferts:
- Flourish Comprehensive
- Dry
- KNO3
- KH2P04
- Micronutrients
Dosages:
05/12/2014 - 1/4tsp kno3, 1/16th kh2po4
05/13/2014 - 1 cap flourish comp
Pictures:
05/07/2014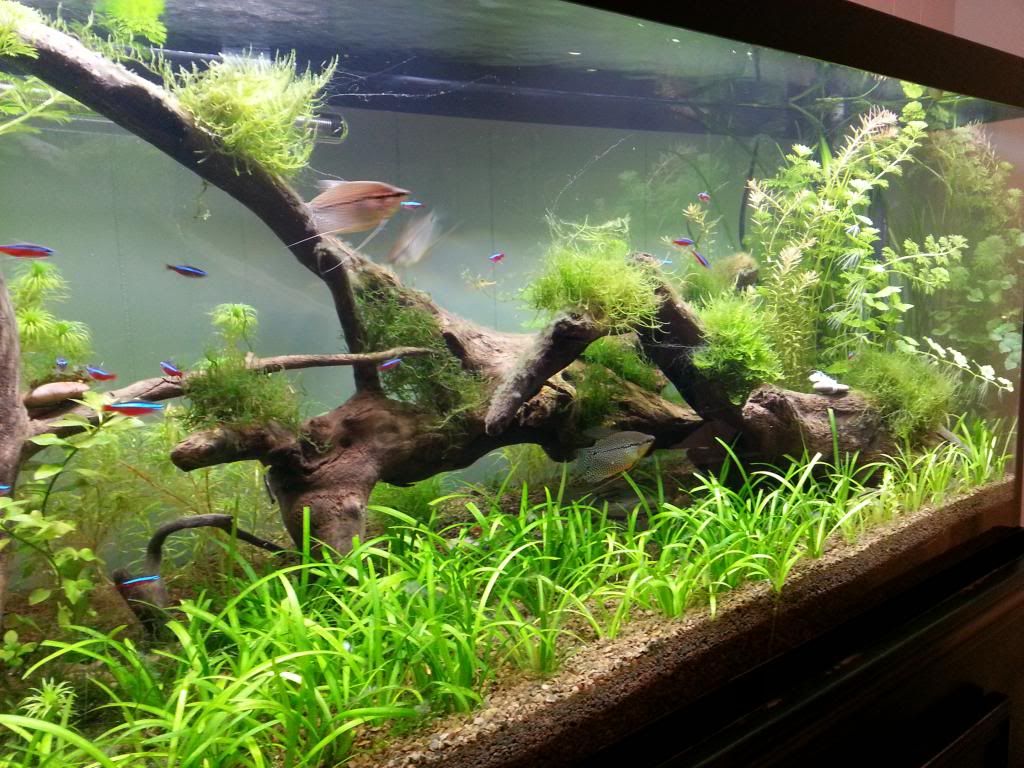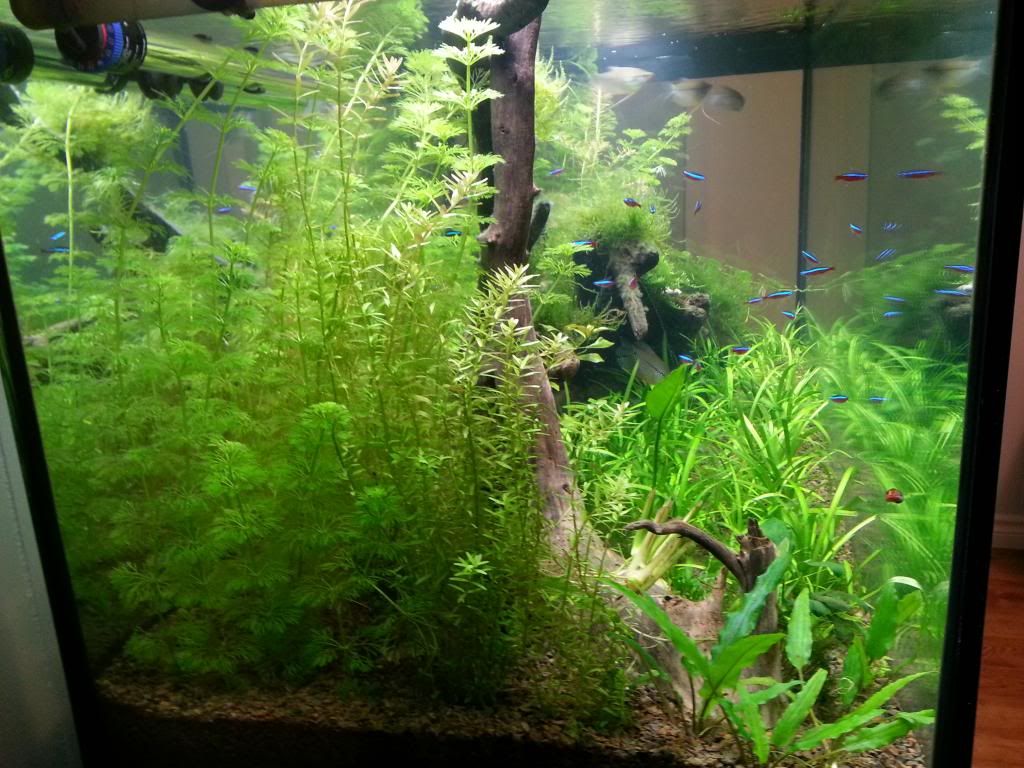 This is my first and only tank which was started on 03/22/2014. I need advice / help, which is one of the many reasons I want to keep a journal. Main goal for my tank is to have something that is low maintenance and has good growth. So far I feel I have been having some great success but there are some small issues I hope to get a hold of and resolve before things get out of hand.
Problem #1
Dwarf Sagittaria and a baby Bacopa stem is having an issue where leaves are becoming see through and dying. This is a very localized area of the tank in the front right corner only. the rest of my plants don't show the same problems outside of a small 4" x 4" area (maybe even smaller area). My best guess here is the water flow in this part of the tank is not that great and plants are not receiving the ferts in this area. Does this make any sense? Thoughts?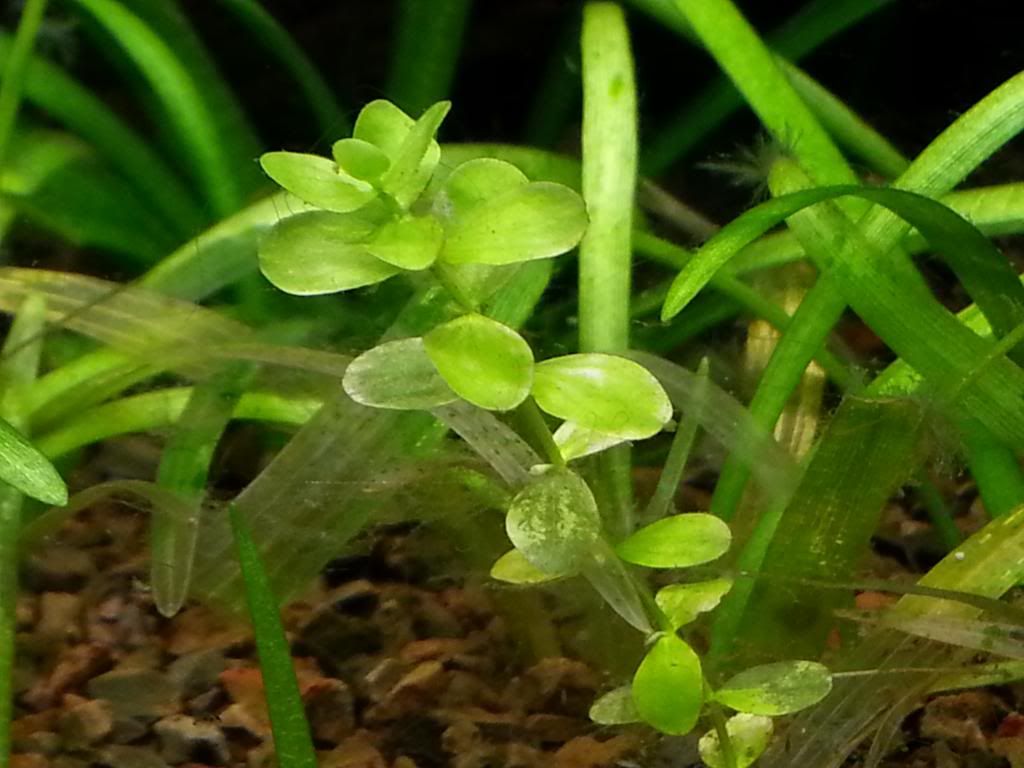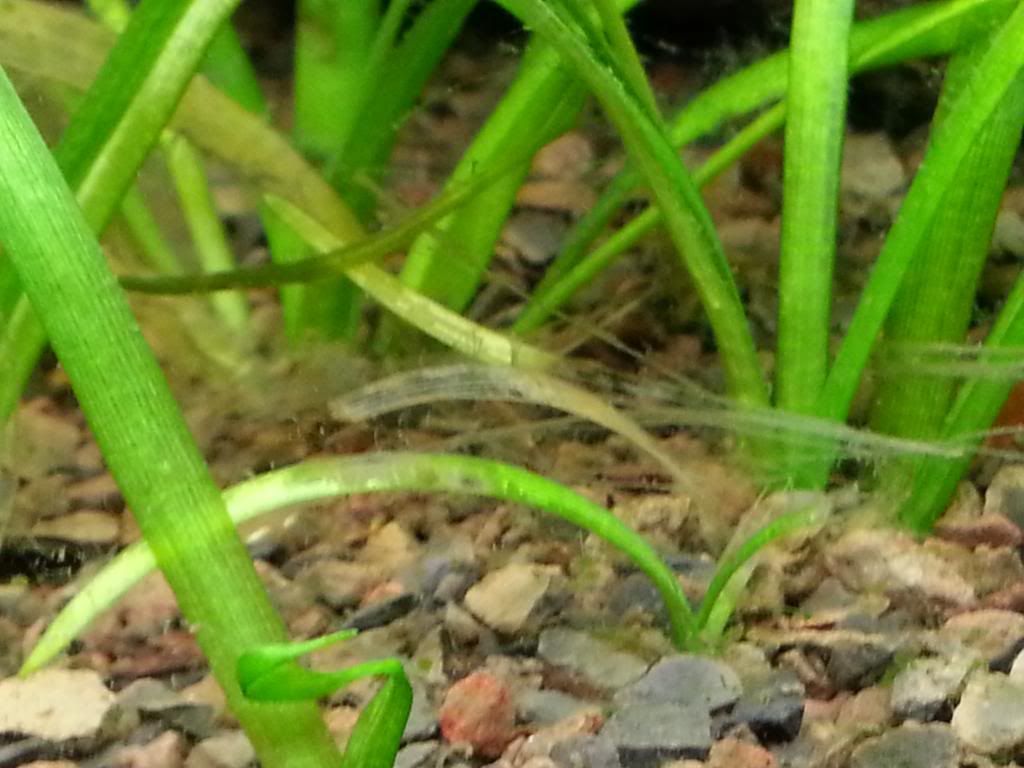 Problem #2
BBA, i am pretty sure I know the reason for this and I thought I would make note of it here as a reference and a time stamp to see if the changes I make will have the desired effect. I believe I have BBA because my nitrates have been 0 for the past week. I have since ordered the dry ferts and should be here today (according to the tracking), I plan to start dosing right away to bring up my nitrates at 5-10ppm and maintain that level consistently. I will also spot treat the areas with hydrogen peroxide to remove it and cut some of the sag leaves which have a lot of BBA on them. Something I wanted to ask, why is the BBA only appearing on the dwarf sag and driftwood? It seems to not show up on anything else. Any ideas? Is my theory about having no nitrates right? Do you think there could be other reasons for BBA? Up until I had no nitrates (major plant growth has sucked everything out) I didn't have BBA. I also read that BBA becomes present with very low nitrates.
Problem #3
Water circulation. I have the intake for the filter on the far right corner in the back of the tank and the spray bar at the top on the far left side of the tank. The spray bar sits horizontally along the side pane of the tank. I have the hole shooting on a 45 degree angle towards the surface of the water to create a bit of surface agitation (makes some ripples but no bubbles). Is this a good way to have it setup?? Is there a more optimal setup that would provide better results? I don't really know that this is a problem or not but I have always wondered if my current setup is ideal. Some of my long plants are bending from what I think is the current along the top of the water.
Thanks in advanced, I wouldn't have come this far without the help of this community.