Hello everyone!
so a little bit of background on how this all started. all my previous tanks have been small (<30g) as i have had to keep them in my bedroom, so a 75g is a huge step up!
This project just sort of came about by accident. It started when i was browsing a local fish forum and came across someone selling a 75g tank, stand, light fixture (marineland 2x48" t5ho), gravel and filter (fluval 304) for 100 dollars. the stand was rusty and the filter was dirty, and the fixture had no bulbs, but i snatched it up right away.
at the time i was building a 10g shrimp tank, but scrapped that idea and left it unfinished (but up and running) in favor of the new 75g.
so anyway, i played around with various ideas on what to do with the tank for a long time. i wanted to keep it simple and not need to run co2, so an iwagumi was not an option. my second thought was a native st Lawrence river biotope with round gobies and zebra mussels, but i also scrapped that idea due to the fact that there were just too many unknowns about how to care for a temperate/cold water tank. my third thought was a brackish mangrove type tank with archers, anableps and bumblebees. i was all set to start building that when reality came crashing down... i couldn't have a full 75g tank on a second story floor.
so i went back to the drawing board and stumbled across paludariums/vivariums and instantly fell in love. combining water and land in one tank to get the best of both worlds sounded awesome.
i did a bunch of planning and finally settled on this current build. i really wanted to have a large water area, but needed to keep the gallons down. so, this tank has room for 4.5 inches of water under the false bottom, which equals about 18 gallons of water (48"X18"X4.5"). i'm thinking the water portion will be a blackwater type setup and be unplanted, although i may decide to add plants later. i won't be using co2 either.
the stand needed a lot of work. i had to strip all the old paint and rust and then repainted in a nice flat black. no pics of the stand as it was when i bought it.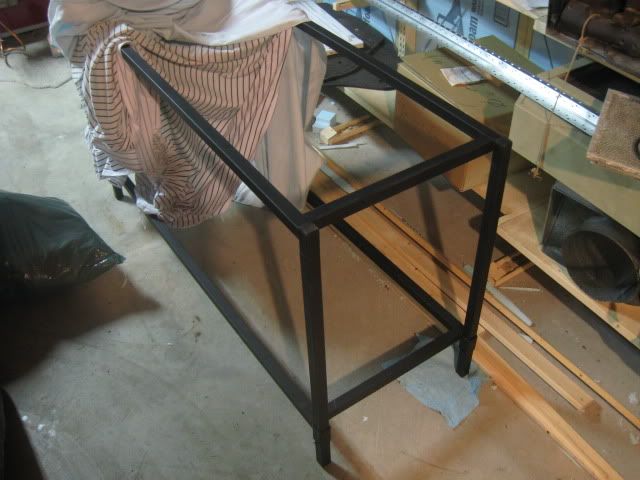 this is the false bottom. i will cover the front panels in foam and silicone and coco coir. we'll see how it holds up underwater. if it fails, i have black acrylic i can replace it with. i'm hoping this will look more natural than a black panel.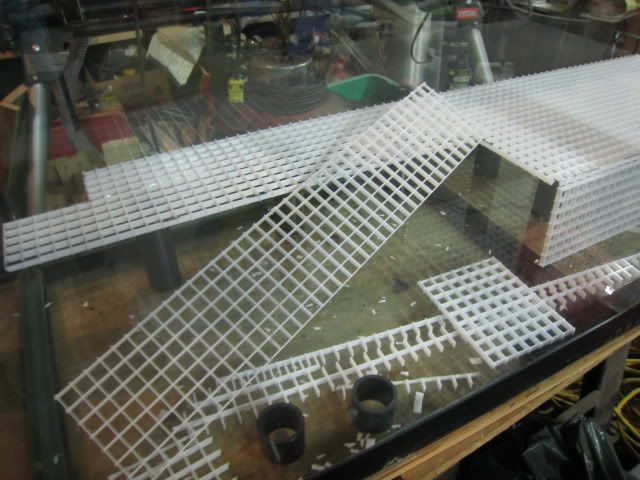 All tie wrapped: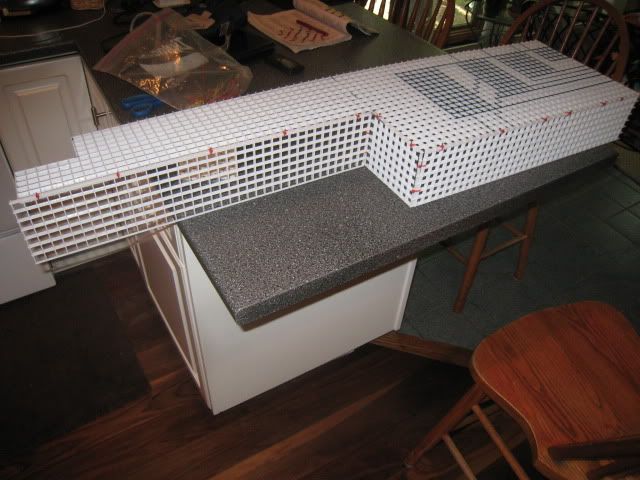 at first i was going to make a dripwall, but decided against it and opted for terraced pools instead. they are curing now. i'll start foaming tomorrow.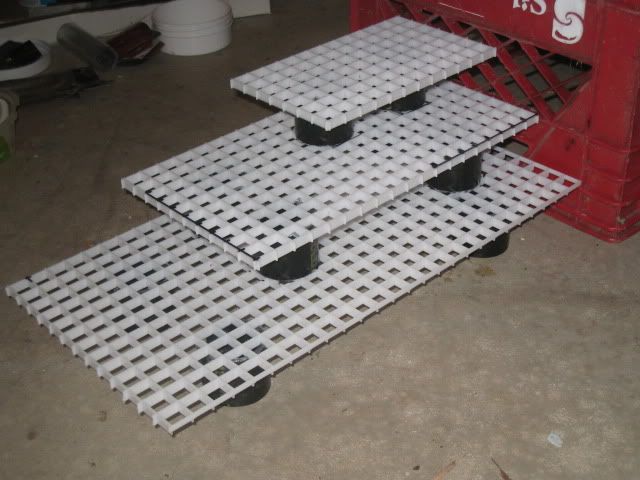 roughly what they will look like in the tank: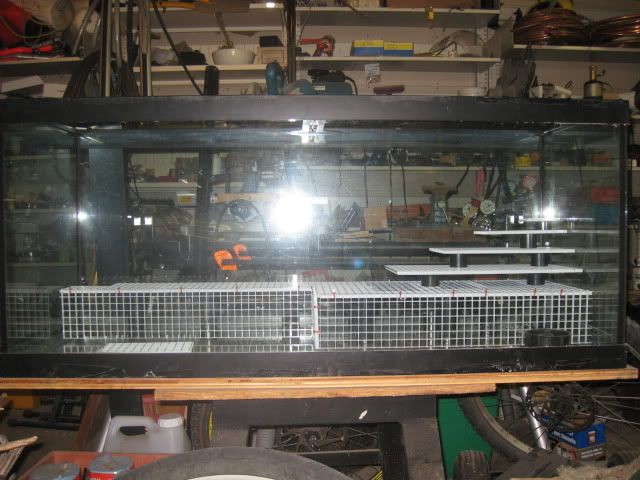 i'll update this thread as i go. i'm probably going to start foaming tomorrow and should ahve some more pics up soon
.