Discussion Starter
·
#1
·
I am putting together a 75 gallon sump to go under my 90 gallon tank. I have always used a canister filter, so a sump will be a new experience. Here is a diagram of what I have in mind.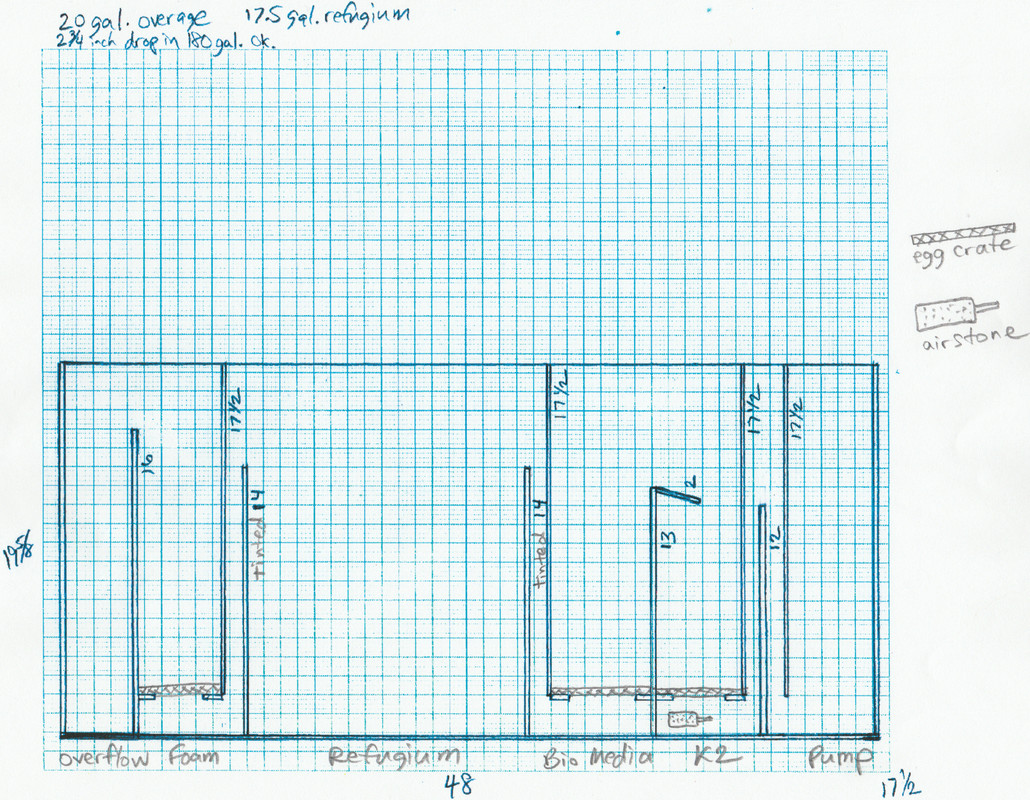 There doesn't seem to be any universally accepted sump configuration. What I hope to achieve here is a sump that will be great when coupled to my new 90 gallon aquarium, and would still be great for a future upgrade to a 180 gallon starfire glass tank.
I am building the stand to give plenty of space (about 12 inches) above the sump for easy access. With the 90 gallon display tank, there are two overflows. The return from the sump will be over the edge.
By my calculations this sump configuration would provide a 17 gallon refugium, and have 20 gallons available space for water in the event of power failure or pump failure. I believe that would be up to 2.75 inches drop in a 180 gallon tank (25 inches high). From what I have gleaned, it would seem to be plenty of capacity here.
I have yet to acquire glass for baffles, and other materials, so changes can still be made to the plan.
The sump aquarium glass is about 0.3 inches thick. What I was thinking for the glass for the baffles would be 0.25 inches for the the pieces that seal to the bottom of the tank, and 0.125 for those that are above the bottom glass.
Is there a good source for glass that doesn't cost like crazy? So far, it seems my best bet is Lowe's or Home Depot. But they don't seem to have anything in clear glass thicker than 3/32". Maybe that would be sufficient for the above the bottom pieces? Maybe make a sandwich of two pieces for each of the bottom attached baffles? Does a sandwich provide the same safety as a single piece? Lowe's has 0.125 mirror glass. Would that work in the refugium chamber in place of tinted glass? Or is mirror glass not as strong as clear glass? Is there a reason to not just use mirror glass for all the baffles?
With the plan in the drawing, what are the errors or shortcomings that can be corrected? For example:
Overflow
In this area, is four inches wide enough? Maybe some wasted width? There will be two overflow pipes dumping into this. Also, there will likely be a valve on the return line to be able to switch to dump into the overflow chamber. I would like to be able to adapt this chamber to using sock filters, in the event that the clear space is never used. I thought it could be a space where small fish could survive if they went down the drain pipe.
Foam
The idea is to have a coarse foam in most of the space, and some filter wool or cotton at the top of the foam chamber.
Refugium
There will be bright plant-growing lights for the refugium. I hope to grow a variety of plants, and probably shrimp in this chamber. Maybe it will be a place also for some small fish that would otherwise fall prey to the angels in the display tank.
Bio Media
There is space for about 1-1/2 gallons each of lava rock, ceramic rings, and Substrat. Probably a fairly fine mesh would be used to keep each layer separated (what is that stuff? Needlepoint mesh?).
K2
I guess K2 is the bio media that is used in a tumbling manner powered by an airstone(?). How much K2 (or what else) should be used in this 4 gallon chamber? My first thought is two gallons media, but is that too much? Too little?
Pump
The pump chamber starts with a bubble trap. Is five inches enough width for whatever pumps would be located here? My one Hydor 1200 GPH pump would easily fit. But I expect to get a secondary pump for backup, if not necessary for maximizing flow. The rise from bottom of sump to top edge of the display tank is 62 inches, leaving me concerned that pumps might struggle to push a good flow(?).
Are any of these chambers too big or too small? Could this be better optimized? I hope that it can be run with low maintenance.
The intent is to run a line from my RO system providing auto-top-off, though I haven't totally figured out how it will be switched on and off. It should also work in conjunction with an auto drain that would probably need to be powered by a small pump. I thought of using float switches and whatever goes along with them. Maybe use something like a lawn sprinkler valve with solenoid in the setup. I'm just not sure of how to plumb and to wire up auto drain and auto top off.
I might also drill a hole on the back glass at some level in the pump chamber as a safety overflow to the outside of the house, though I am not sure how high to drill that hole. Probably it would go pretty high, since it wouldn't be generally used for draining. I just don't want to ever get gallons of water on the floor, no matter what power failure occurs, or what pipes might clog up.
I really appreciate any good insight you can give.