Discussion Starter
·
#1
·
Well today I decided to switch out the substrate on my tank to black rather then the white/tan sand I had in there for the last year or so. Took me about an hour to do and even left the fish right in there while doing it.
Here is the tank the way it was before today -

Here it is after I switch out the sand and rearranged/removed some stuff -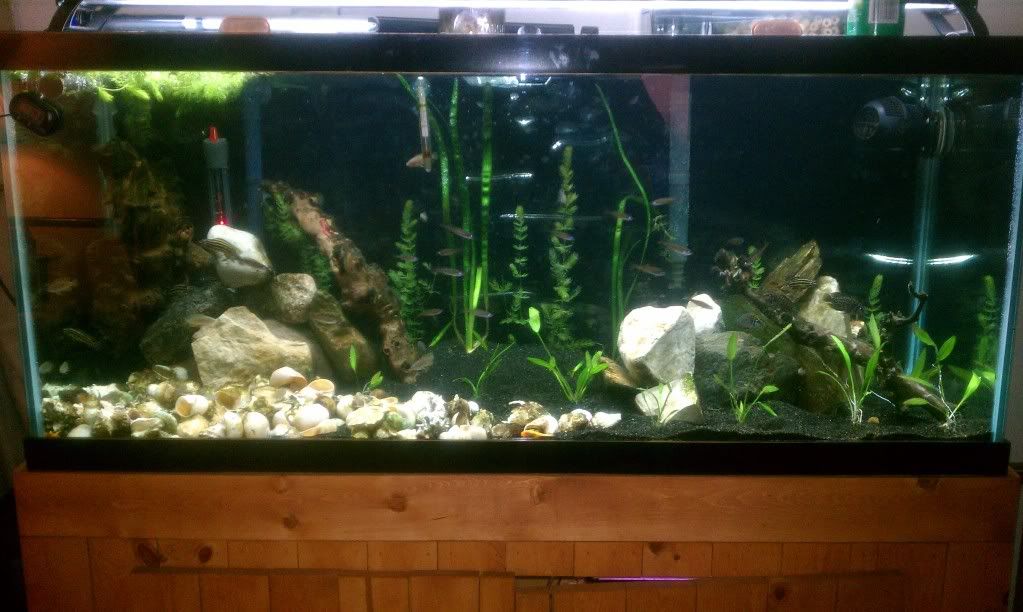 I am running an Eheim Pro 3 2075 canister on it, along with an Aqua Clear 110. I just order a paintball co2 system from Jagged and picked up a 20oz co2 bottle today as well as getting it filled right away. Cant wait for that to arrive so I can get it going. For lighting I am running the 48" CoralLife T5 HO lighting with 1 - 10,000k and 1 - 6700k bulb for a total of 108 watts (54w per bulb).
For plants I have Argentine Swords, couple Jungle Vals, and some Hornwort. I plan on adding some more upon further research on what would be a good fit for my tank, so any suggestions would be greatly appreciated.
For fish I have Black Congo Calvus, Cyprichromis Leptosoma "Kerenge Island", Julidochromis Regani, and a TON of Neolamprologus Multifaciatus that will not stop breeding! Thinking of adding either some Synodontis cats or some Tang Gobies to the tank as well some day but not entirely sure yet.
I am open to all suggestions and comments since this is my first tank with any live plants in it I need all the help I can get.
Thanks for looking and hope you enjoyed!!!
~Ben